'Night Owl Radio' 305 ft. Steve Aoki and Wenzday
Upcoming Event
This week, Steve Aoki selects his Up All Night tracks and Wenzday delivers the exclusive Guest Mix.
Night Owl Radio is available via iTunes, so get to subscribing on your iOS devices.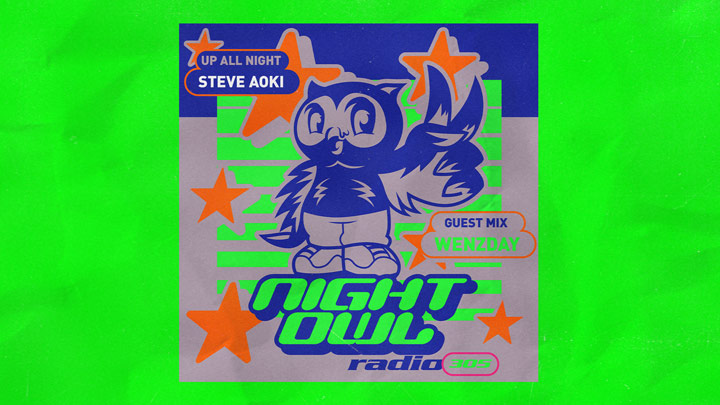 'Night Owl Radio' 305
Wade "I Don't Care"
Dom Dolla "Pump the Brakes" (Obskür Remix)
Chapter & Verse "Forget You"
Pagano "Infinite Regress"
Fab Massimo "Smile for Me"
Hey Dan "Go Stupid"
T.A.F.K.A.T. & Mr. Maro "Whooop This!"
Benson ft. Joe Publick "Misbehave" (Bruno Furlan Mix)
Adapter "Back to You"
Lane 8 & Kasablanca "Run" (Sultan + Shepard Remix)
Pryda "Allein" (Sultan + Shepard Booty)
Shouse "Love Tonight" (VA MO LA Remix)
Lane 8 "Riptide"
Steven Weston "The Solent"
Bicep "Apricots" (Sultan + Shepard Booty)
Laurent Wolf ft. Eric Carter "No Stress" (Stereoclip Remix)
Funkin Matt "Hypno"
Steve Aoki – Up All Night
Steve Aoki & Willy William ft. Sean Paul, El Alfa, Sfera Ebbasta, Play-N-Skillz "MAMBO"
Steve Aoki & Yves V ft. Ryan Caraveo "Complicated"
Steve Aoki & George Benson "Give Me the Night"
Wenzday Guest Mix
Subscribe to the Insomniac Events YouTube channel now.
Follow Steve Aoki on Facebook | Twitter | SoundCloud
Follow Wenzday on Facebook | Twitter | SoundCloud
---
Share
---
Tags
---
You might also like