The Kids Are All Right: Überzone
It's been a while since we've had our fix of Q, the West Coast pioneer known as Tim Wiles who, under the Überzone alias, stocked the record shelves of dancefloor fanatics during breakbeat's golden era with tunes like "Moondusted," "Botz" and "The Freaks." Some fans will recall his appearance in the 1999 rave documentary Better Living Through Circuitry, while others may reminisce over full-length offerings like 2001's Faith in the Future or 2007's Ideology. But what's been popping off at the Advanced Institute of Gizmology since then? In a word: tons.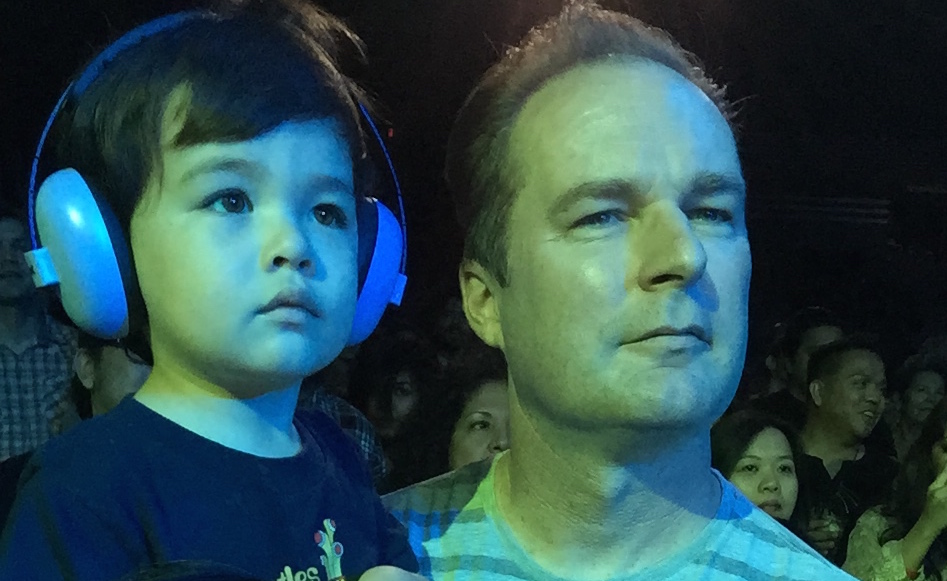 In addition to his studio accomplishments, Q has been living the life of a happy husband and father. He meet his wife, Irene, in 2000 while she was attending grad school and he was in full tour mode. She now works as a psychologist and gave birth to their son, Julian, in 2013. In an effort to spend less time on the road, Q dove headlong into his mixing craft, and has since put in hours for artists like Adam Freeland, Alex Metric, Erasure, Pretty Lights, PANTyRAID, Martin Gore, and many more.
Although he dearly misses playing live, he's hoping to one day gather up his old-school crew for a reunion, as longtime friends are "trying to drag me out on the road," he laughs. What's his dream scenario? A reunion show with "Adam [Freeland], Rennie [Pilgrem], Lee [Coombs], [Simply] Jeff, and all the old crew. It would be so fun to have a show with all the original breaks guys."
How is your career going?
Very busy. There's so much going on. If you asked what I mixed two weeks ago, I couldn't tell you! Not because I don't want to; I'm just a space cadet who's always waking up the next day working on something new. I really loved spending studio time with artists I collaborated with, including Rennie and Lee. Now, I work alone here in my studio with people from all over the world via the internet. They send me all the stems, all the parts, the individual tracks and files from their sessions, along with a couple notes of what they are looking for. Then I mix it here and send it back.
Congratulations on your mix of Martin Gore's album. How did Martin find you, or did you submit music?
I mixed Alex Metric's remix of "Personal Jesus" for a Depeche Mode CD that was released a few years back. I'm not sure if Martin or Daniel Miller heard it, but they liked my mixing. I received an email from Abbey Road Studios [asking] if I'd be willing to work on a record for Martin Gore and Vincent Clark on spec. So basically, when we started the thing, they had some engineers in mind that they wanted to try out. They had us all submit mixes of a couple VC/MG tracks, and they liked what I did, so they went ahead with me for the whole album.
I'm sure you were influenced heavily by Depeche Mode growing up. That must have been an unforgettable moment in your life.
Yes, absolutely. I was beside myself when they contacted me. Depeche Mode, Kraftwerk, early '80s electronic music… I grew up on that. To come full circle in my life and be able to work on a record for Martin is just an honor; it's a thrill. I [actually] wasn't sure if I was going to get the job; it had been over a month since they'd contacted me. I was at Disneyland with Irene when I received the news that they'd picked me. I'd gone through a tragedy in my life that year, so being able to work on that album was a big ray of sunshine.
You also collaborated with Afrika Bambaataa on the single "2Kool4Skool" back in 1998. How was that?
Bam is great! You know what's funny? I love collaborating on music. I love listening to it, I love writing it, and I love performing it. But there's nothing like having that working relationship with another musician you really respect. I don't know if, as a musician, you need that validation at some point or another. There is something about it. I love the relationships that I have with these musicians along the way. When these idols of mine [I had] growing up become friends, it's amazing.

Some producers fear they can't have it all—a busy career in music, raising a child, having a family—yet you make it work.
It's tough to be a parent and [be] on the road all the time, because you want to be with your child, but you just look at all the rock stars who have done it. With me, it worked out really well. Being a producer and mixer allows me to stay home and not have to tour for income.
Is Julian on the drums now, or does he spend time in the studio?
He's a full-on music fanatic and has been since he came out of the womb. Ever since he was a baby, he's definitely had really good rhythm. He has a little drum kit and guitar and loves it when the music is on in the studio. He comes in and dances around—loves being around music constantly. Julian has loved the Beatles since he was born. He picks up Irene's violin and turns it around like Paul McCartney's Hofner Bass. We have tons of video of him running around, playing to the Beatles with the violin turned around like a bass guitar!
Your son loves the Beatles. Anyone else?
He likes the Ramones, Depeche Mode, a lot of '70s music, funk music—anything with a really good beat. He dressed up as Johnny Ramone for Halloween last year!
What are the struggles as a producer and a parent?
He wakes up a lot all night; Irene calls it "sleep regression." I think it's genetic, from my side of the family. He's just like his dad: He doesn't want to go to bed at night. That's what I did, so I can't blame him. He's a little me; he's a little baby Über.
A friend and I said our experience raving all night prepared us to be parents.
Yes, that's true. But parents going through this went to those parties 20 years younger! I decided to tour during my younger years; now I'm older with a kid. I've burnt out my endocrine system with all the years of touring. Now, I just don't think I have anything left!
Follow Uberzone on Facebook | Twitter | Soundcloud
---
Share
---
Tags
---
You might also like