The Kids Are All Right: MC Dino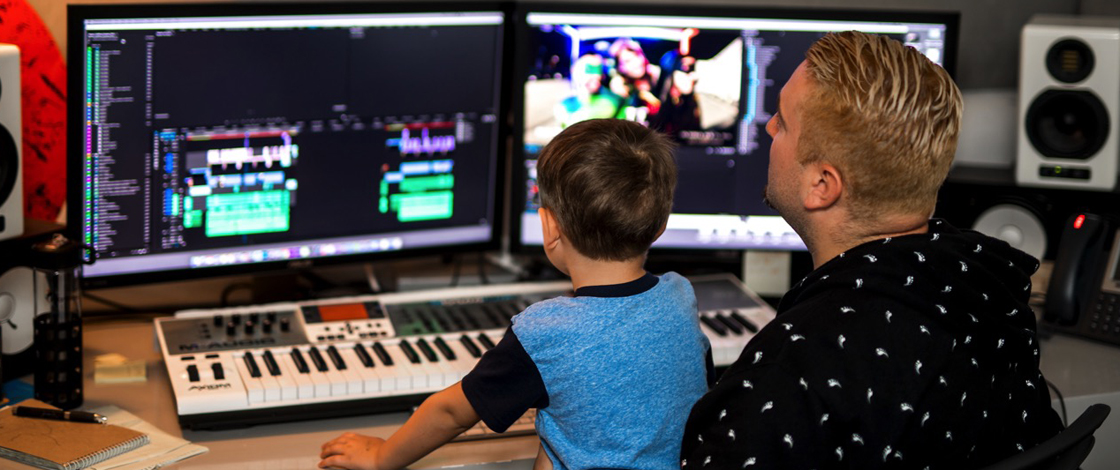 MC Dino is no stranger to following in the footsteps of gifted relatives and passing on the torch to his young ones. Dino Dominguez, resident MC for Bassrush and Insomniac, works primarily in the drum & bass scene and also dabs into dubstep and trap. His parents were heavily involved in the music industry, and his children are now blossoming into little rock stars.
"My 19-year-old Ethan got onstage on the mic with me and Viper Records at EDC Vegas on Sunday," Dominguez explained to Insomniac. "He loves getting on the mic and composes music as well. He's doing a lot of big stuff right now. It's cool."
A Los Angeles resident of 13 years, Dominguez originally hails from Denver, where he kicked off his MC career in 1997 under the wing of his cousin, MC Zezo.
Traveling and touring soon followed, as Dino picked up inspiration from live performances by Roni Size & MC Dynamite, as well as Skibadee & Shabba D. Another unforgettable pairing for Dominguez: LTJ Bukem & MC Conrad.
"[Conrad] was the first one I saw to travel with effects on his voice," Dominguez remembers. "I thought that was so creative and cool. The rest of the guys were getting harder, and LTJ Bukem was very atmospheric."
Dominguez picked up steam as an MC and conquered his first big massive, Nocturnal Wonderland, in 1998. He's been a mainstay at Insomniac events like Escape, Beyond Wonderland, and EDCs around the world ever since (there's a tour with Hospital Records on the horizon). Dominguez also works as a sound designer and video editor, not to mention owning his own Jungle Punk clothing line.
But above all, Dominguez's top priority is parenthood. He's a single father to four children, including 4-year-old Ketcher, who resides with him in Los Angeles, as well as 14-year-old Cloe, 19-year-old Ethan, and 21-year-old Ayla.
Does musical talent run in the family?
Yes. My father comes from a long lineage of Puerto Rican composers, and my mom was a movie and concert promoter. I was around music tons while growing up.
So, they obviously support your career.
They do. I think my dad always wanted me to be a lawyer, but when my parents saw that I was touring and making a living, they were happy.
Do you remember the moment you realized being an MC was your dream?
Yes, I was out with my cousin, who was MC Zezo. He was performing at this place called the Snake Pit, in Denver. He invited me down for a beer, and I remember seeing him for the first time and thinking it was so cool and that I wanted to try it… I was horrible at it.
When did your career pick up as an MC?
I finally got better and did a night there with DJ Fury. We did a weekly there, and it got so big and so cool. My name got out there, and we began to travel together across the States. At Nocturnal Wonderland in 1998, that was my first big massive, and I realized how big it could get.
I remember that Nocturnal, out at the Polo Fields. We used to be able to dance so fast to jungle back then in our 20s.
Oh yeah, now it's like, get me some coffee before a set!
Is your son Ketcher in school yet?
He is in a school program right now and entering pre-K next year.
Is Ketcher into music?
Yes, he loves to sing, and he is always playing on my guitar and keyboards.
How did your son Ethan like it when he got onstage at EDC Vegas with you?
He was so in awe. He was like, "Whooooa!"
Did Ethan take music in school, or was it more of a natural occurrence?
It was more of a natural thing. He did a little bit of music at school, but he started just listening to the music I was putting down, and wanting to do it himself. He taught himself programs and had me teach him about music, but he mostly taught himself about music. He then just got more and more into it.
So, he loves drum & bass?
He loves drum & bass and dubstep—all the dark sounds.
Does your youngest dance around to drum & bass?
Oh, yeah. He calls it "bungle." He bops around to it. It's so cute.
How about the other kids? Are they into music?
Cloe loves music, but Ayla is into literature.
Do your children like going to festivals or events?
The older ones come out to the club when I play in Denver. All my kids come see me in Denver if it's an event. Cloe isn't old enough for the club yet, but she loves my music.
Have you had any challenging moments as a parent? How did you overcome?
The touring and being away from my kids is pretty rough on me and on them. It's important to find the balance between keeping the tour schedule on enough to keep your name relevant, while also spending time with your kid and letting them know that you are always there for them.
Do you suggest spacing it out—the touring and the time spent with kids?
Yeah, spacing it out. And when I go on the small multiple-day tour, I let my son know that I am not leaving because of him; it's because it's daddy's work, and it puts food on the table.
What would be your advice for parents taking their kids to festivals or shows?
I think that sometimes parents stifle their kids too much at shows and don't let them have enough freedom to go where they want to go. Just remember that they are there for the reason you are: to enjoy the music. If they are old enough, let them wander around and check out the stages. Establish meeting points, so you don't follow them around the whole time.
Don't keep them on a leash.
Yeah, definitely don't keep them on a leash. Let them wander around and have fun.
---
Share
---
Tags
---
You might also like