The Kids Are All Right: Dave Dresden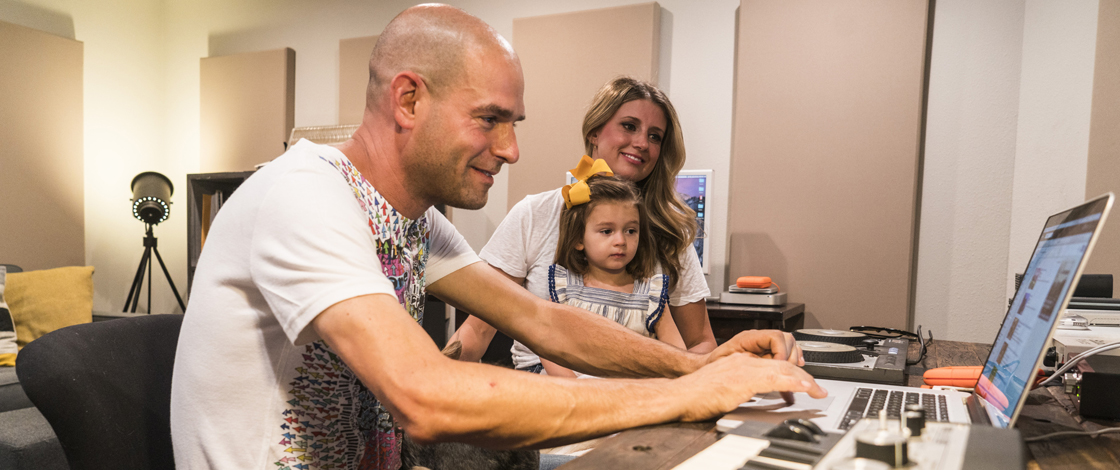 What is unconditional love? For producer Dave Dresden, it might be when your 3-year-old expresses dislike for your own electronic music, prompting you to sing along to Top 40 radio instead.
"It's so funny, because as a 6-month-old, she was dancing and doing arm movements like she was at EDC," says Dresden of daughter Charlotte. "Now she could care less about my music. I have videos on my Facebook of her totally rocking out to dance music. I used to say, 'Our song is not finished until the baby girl dances the whole way through.'"
As a baby, Charlotte played the ultimate judge in deciding the fate of a track. Now as a toddler, it's a strange twist of fate for this producer parent in the electronic music scene.
"Now she screams, 'Stop! Turn it off,' when I play my own music," Dresden laughs. "You can't control it, though. I have dreams of my baby owning the most current, underground music. But now she loves Justin Bieber, Taylor Swift and Selena Gomez. She runs around with her iPad playing them all day long."
While Charlotte is prancing around to Top 40 tunes programmed on daddy's Spotify account, Papa Dresden is busy building a new empire of fresh sounds with his better half in the electronic music world, Josh Gabriel. Since early 2000, the duo famously known as Gabriel & Dresden has blessed dance music with tracks like "Lament," "As the Rush Comes" (as Motorcycle) and their remix of Above & Beyond's "No One on Earth."
The history behind half of Gabriel & Dresden is depicted as a timeline of fate. Most parents who are producers got their start on the decks of their city's top club back in the halcyon days of dance music. In Los Angeles, that locale was superclub Giant, which later became Spundae.
It was at Giant that Dresden, a DJ from Connecticut, dreamed of spinning vinyl. He had been playing in his hometown for 14 years when he received a call in 1999 from pioneering L.A. radio DJ Swedish Egil, who invited him to to be the Music Director at Groove Radio, the internet radio station Egil founded in 1992.
"I was like, internet radio? What's that?" laughs Dresden when he recalls the moment. "Egil told me it was going to be the future. I was in."
"I was a new guy on the scene, going to Giant religiously every week," recalls Dresden. "I hoped and prayed that one day I could catch an opening set. Through my experience of working at Groove Radio, I met Pete Tong and Paul Oakenfold, two of my biggest heroes growing up. I admired Pete Tong for his ability to wear many hats in the business and always being able to walk the line between commercial and underground."
Impressed with Dresden's knowledge and taste, Tong hired him in the fall of 2000 to find new talent for his label, FFRR, and his radio show, The Essential Selection, on BBC Radio 1.
"Pete felt like his radio show was his bread and butter because it was the proving ground for any record," Dresden says. "So I worked my ass off to find him music and artists he'd never heard before. In the process, we definitely found some hits."
While on the search for new, talented artists for Tong, a moment of destiny united Dresden with a man who then became his forever partner in crime in electronic music, Josh Gabriel. The two met at Miami's Winter Music Conference in 2001.
Over the years, Gabriel & Dresden garnered many awards, including numerous IDMAs for both their music and their DJing. They took a hiatus in 2007 but came back together in 2011 with a reunion tour. Sticking to their guns, they continue to create their desired sound—trends and genres be damned.
"I feel like this is a new beginning for us," says Dresden of the duo's current status. "We analyzed the changes in the scene, noticing that the big-room EDM sound is on its way out and deep house—real progressive house and trance—are coming back. That shows to us now that musical tastes are changing and maturing. We've been hitting the studio hard and honing our new sound. It's almost like we had a house and the plumbing wasn't working, so we tore it down and and everything is flowing."
How would you describe your daughter? Does she love music?
She acts like a normal 3-year-old. She prances around the house and dances.
Would you be open to the idea of her wanting to be a DJ?
Yes, I would totally support it. She knows what I do. She has a video game app on her iPad where in one of the scenes is a character in front of the speaker dancing. She points to the person behind the speaker and says, "Daddy!" My wife (Holly) and I tell her, "Daddy knows how to make people dance!" She definitely gets it. She knows I go on planes and plays shows. She's never been there and doesn't know what it's like, but she understands, to a limited degree, what I do.
Have you taken her to music festivals, shows or park parties?
I haven't had the balls to do that yet. I wish I could be like BT and just hold my baby up onstage. That's one of the best shots ever—that photo of BT holding up his daughter at a festival. I dream of the day that I can do that. I think that will happen when we move to Austin, where music is more prevalent.
Moving to Austin sounds awesome. Is your family looking forward to it?
It's a music town, and I think it's going to be great for us. We are here right now. You go to some of the bars here, and the kids are in there with their parents, enjoying themselves. It's part of the culture. I see the future—bringing my child to musical events. Where we live now in the Bay Area, it's not part of the culture. We look forward to it.
Do you have any tips on making it all work—being a producer, going out and playing, and also being a parent?
First thing is, you need a nanny. Second of all, you need a wife who is very understanding of your career and what you want to do. My daughter now understands that when Daddy goes to a show, he returns.
Is there anyone who gives you advice on fathering and being a producer at the same time?
Josh Gabriel had his first baby in 2003. I got a crash course on how to be a daddy and a DJ at the same time. What's funny is that, as they got older, the less they were accepting of him leaving. I haven't experienced that yet. She gets a lot of love from her mommy and nana when I'm gone.
You have help from your parents or hers?
My wife's parents. My parents live 3,000 miles away, but they visit a couple times a year and spoil her.
Do you have any advice for a DJ or producer thinking of becoming a parent? What would you tell them?
I would tell them that it's not nearly as hard as they think it's gonna be. I thought that it was going to be the end of my life! When I found out my wife was pregnant, I was like, "Life is over; it's done. Kiss it all goodbye. You're never going to be a DJ again. You will never make music again!" (Laughs) But you know what? You adapt. As humans, we adapt to every situation we are put in. We adapted as a family. So far, so good.
Have there been any challenging moments you learned from other DJs or producers about parenting?
Josh had three kids between 2003 and 2007, and that's when we were killing it. He was on the road every week or weekend. We were on tour for weeks on end. That is challenging. First of all, your children miss you. Then your wife is stuck at home with the kids. You gotta make that okay. I also talk to Chad (Cisneros, of Tritonal) and he asks questions, but I have not met anyone who has had a super challenge that is worth noting.
You know, children are a part of life. That's the thing about DJs. We are all people who live normal lives. For a normal life, that is making babies and having families. You just figure out a way. It's a very unconventional situation, but you just make the best of it.
Photos by Misha Vladimirskiy | FilterlessCo
---
Share
---
Tags
---
You might also like