We capture a mental fingerprint of some of our musical and cultural heroes and preserve it in cyber-amber for the wonderment of future generations. This is the Insomniac Questionnaire.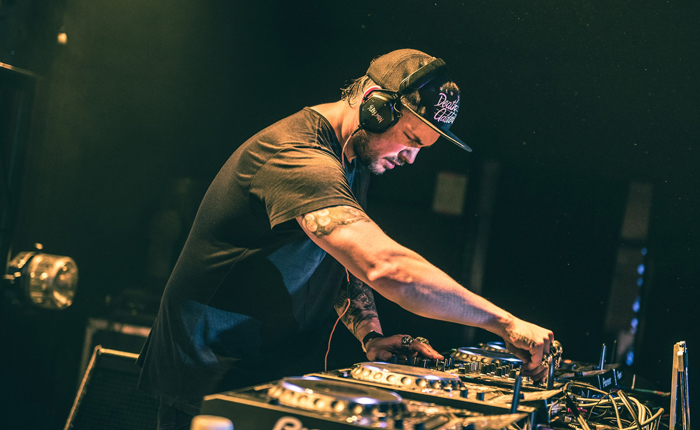 What was your favorite toy as a child, and when and why did you stop playing with it?
My extensive He-Man collection; my parents sold it at a garage sale behind my back!
What is the best advice you've ever gotten? Did you take it?
"Question everything." Absolutely.
What part of your day do you look forward to most?
Sleep.
What's the best time you've ever had without spending money?
Reading a good book alone in a library.
What is your most treasured possession?
My most useful is my phone. My most treasured would be my T-shirt collection.
What is your favorite word?
"Yes."
Do you owe an apology to anyone?
I'm sure I do.
When is the last time you were really scared?
Googling minor health issues online and thinking I had something that would kill me.
What is the last thing you googled?
A dinner menu for a restaurant.
What's the last sound you would want to hear before you die?
Probably my mother's voice.
Do you have any recurring dreams or nightmares?
I am trying to DJ at a show, and my track is ending, and I can't get the equipment to work, find my music, or some other problem is happening to prevent me from mixing. I have this one about once a month.
How do you measure success?
I can pay my bills without worrying about my bank account.
If you could have one magical/super power, what would you want, and why?
Time travel, so I could fix all of my mistakes in life.
Have you ever had a brush with the paranormal or supernatural?
Ha-ha, no.
What do you remember about your first kiss?
It was quite nice.
What four words best describe you?
Perceptive. Witty. Spontaneous. Determined.
What's the last impulsive thing you did?
Buying random T-shirts off of the internet.
Do you have a pet? Tell us a story about it/him/her.
My mini Aussie dog Luna. She is perfectly sized at 25 pounds, has super fluffy hair, ice blue eyes, a happy disposition—and she is smart as hell.
What is your strongest (or best) personality trait?
I'm fun to be around.
Do you believe in any conspiracy theories or urban legends?
No.
Follow Dieselboy on Facebook | Twitter
---
Share
---
Tags
---
You might also like