The Best of EDC Las Vegas 2018
Every year, EDC finds a way to outshine itself. In 2018, the Las Vegas edition of the Carnival felt the most refreshing it has in many years, proving the gathering in the desert still has a few tricks up its sleeve. There were new stage designs, which were met with a tidal wave of excitement. Moving the fest up a full month was an absolute godsend. And rolling out the first-ever Camp EDC experience brought an entirely new dynamic to the Speedway. This year, things just clicked in so many new ways.
While we're stuck here battling the post-EDC withdrawals, we figured the best way to stifle off the separation anxiety is by recapping the most fire moments from this past weekend. We're running through the highlights in our usual Best of style, so get ready to bounce around the festival grounds with us on the quickness.
May Was THE Move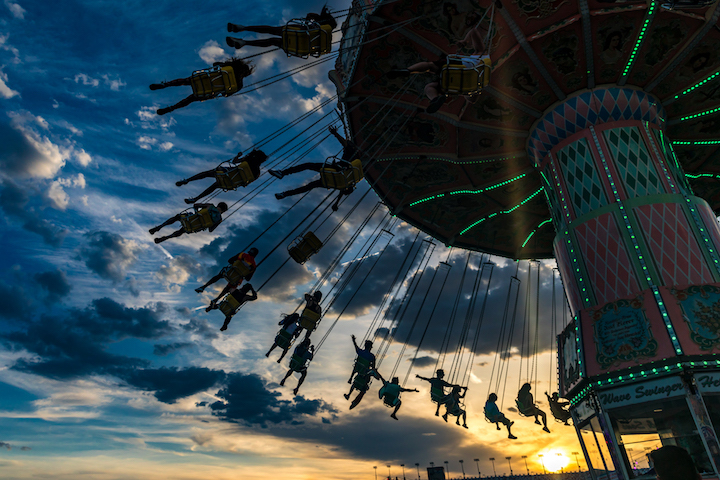 While some might have doubted the decision to bump the festival a month earlier than its usual time in June, we must say that May is far kinder than its next door neighbor. The date change shaved off at least 10 degrees from the sweltering summer heat, and made dancing in the night a veritable breeze. It also meant a much safer space for everyone in attendance, and since the health and wellbeing of our Headliners is priority one, it was reason enough to justify the earlier run. You are our new festie bestie, May.
Opening Ceremony Made So Much Sense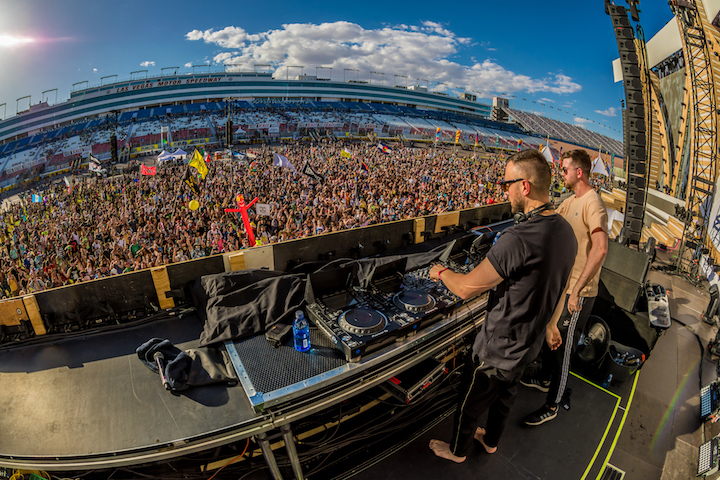 The gates creaked open a few hours earlier than normal this year, which meant Headliners could squeeze in a little more sunshine into their daily routine. Opening Ceremony granted everyone early access to cosmicMEADOW, which hosted a one-stage, one-vibe atmosphere before doors were officially called. The talent on tap was nothing to complain about, either, with Chris Lorenzo and Chris Lake tag-teaming through feel-good house bangers, Night Bass boss AC Slater churning out those beastly basslines, and piano house legend MK getting everyone keyed up nicely. Hosting an official pre-party also helped reduce the number of cars on the road at any given moment (because no one wants more traffic—duh!) making it so that everyone comes out on top in the end.
One Heartbeat at kineticLOVE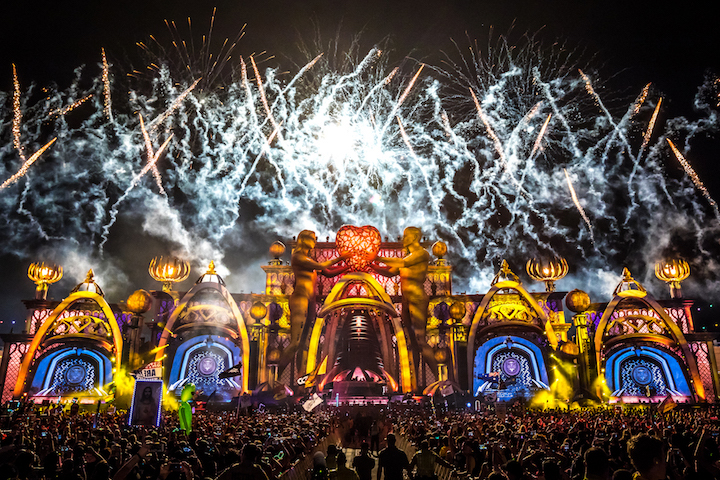 No word seems to sum up our open-door community more than "love." The kineticFIELD fully embraced that ideal with this year's stage design, depicting two lovers, friends, or [insert your own interpretation here] holding up a giant heart. It symbolizes the endless compassion and care that we harness within this culture, and our responsibility to keep that fire alive throughout every encounter on the dancefloor. Throw in the massive flame cannons, light-up waterfalls, and LEDs galore, and kinetic felt all kinds of right while the biggest names in dance music took the honor of passing the torch from Friday all the way through to Monday morning.
Crews Settling Into Some New Digs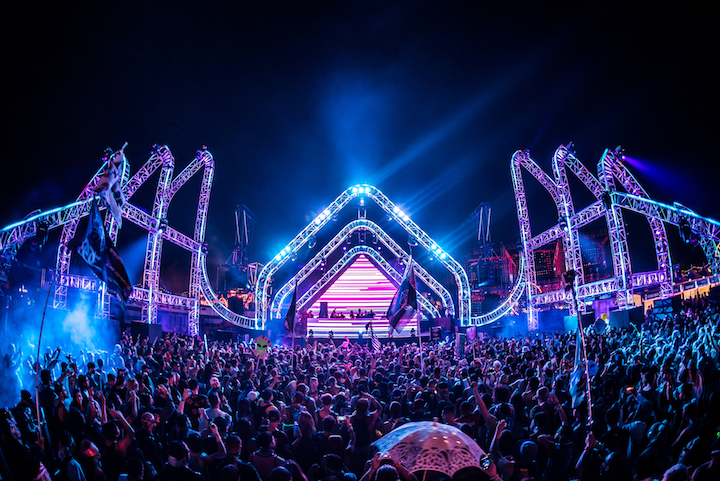 Kinetic wasn't the only stage to get some new design love. Insomniac Records gave the dueces to the upside-downHOUSE and said hello to their new home at stereoBLOOM, where they squeezed in many of the artists they've been repping since the label's relaunch a few years back. The Dreamstate team chucked the tent from last year and got a much needed open-air situation to allow room for the trance fam to feel all of the feels at quantumVALLEY. Bassrush got on the upgrade train, too, with the bassPOD 2.0 ushering in a new army of bots that kept the intensity and a neverending incline. Building on their panoramic layout, circuitGROUNDS upped its footprint and got a proper refresh complete with massive screens that screamed innovation. Perhaps the boldest step taken was by Factory 93, who put a conceptual spin on neonGARDEN by bringing the raw warehouse feel into the festival arena.
Carnival Square Goes One Deeper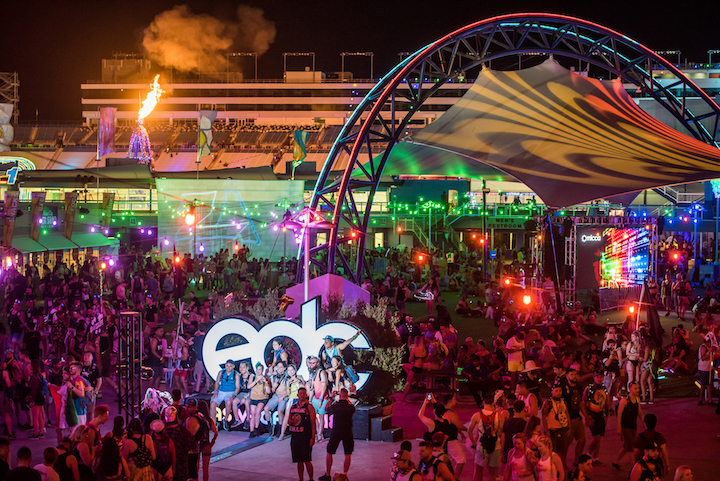 You may have noticed EDC Town was not on the map this year. But with a little bit of detective work, you would have realized those same amenities were up for grabs at the new and improved Carnival Square. The wedding chapels made the jump onto the rooftops of the surrounding buildings allowing the lovebirds swapping vows to soak in the 360-degree view of all that EDC has to offer. People who wanted to send a hand-written memento to anyone missing out on the action could do so on the ground-level Post Office, where personalized postcards were being mailed out each day.
A few new additions helped the Carnival Square up its game this year, as well. EDC VR was introduced for those who wanted to ditch the IRL experience in exchange for a few virtual thrills. Graffiti enthusiasts were able to catch spots on a giant screen, with a laser-powered spray paint can in hand. There was also a fully stocked arcade arena for the hardcore gamers out there. Even if you weren't in the mood to tinker with the new toys on display, this was a decent pitstop to take a breather from the nonstop activities.
New Art, Who Dis?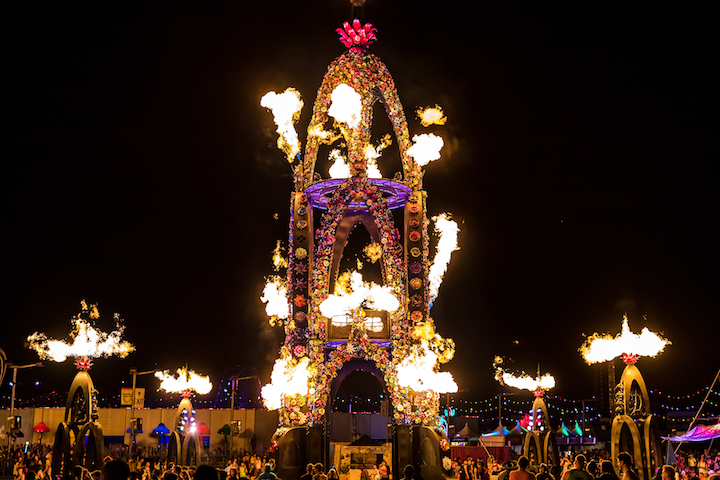 Art is one of the things that EDC lives and dies by. This year, there was a grip of awe-inspiring installations scattered around the grounds that helped many festival-goers step up their 'Gram game. Crowds were lining up left and right to check out the neon-powered fighter jet, multicolored androgynous being clutching a light bulb, or the towering flower-power structure that spit mad flames near the grandstands. The one that really blew up my newsfeed was the psychedelic canopy of LEDs near cosmicMEADOW that pulsated to the most LIT classical music. Mozart would have definitely signed off on it.
Ookay Calls on the Smooth Jazz King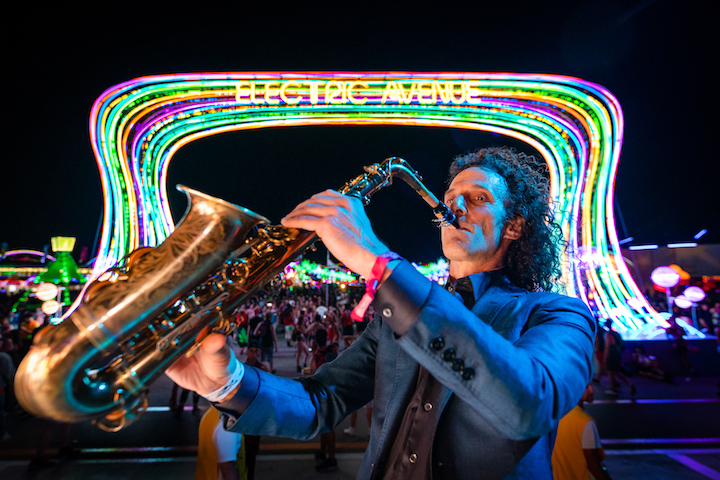 While Ookay was eating up all of the hype for his Sunday set as part of the Binches, backed by Dotcom, Kayzo, Yultron and himself, his solo outing on Saturday almost broke the internet. He brought out the smooth jazz king Kenny G (the center of countless classic memes still circulating online), who made his sax squeal as the accompaniment to Ookay's 2016 single
Thief." Kenny's appearance was certainly the most unexpected cameos from the weekend—going up against Tiësto inviting Aloe Blacc for the heart-wrenching Avicii tribute, Dimitri Vegas & Like Mike rolling out Wiz Khalifa for their confetti-covered "When I Grow Up, and Lil Pump straight-up stunting on his "Welcome to the Party" collab with Diplo). On the merit of meme fame alone, Ookay and Kenny G took home the win this time.
Art Car Surprises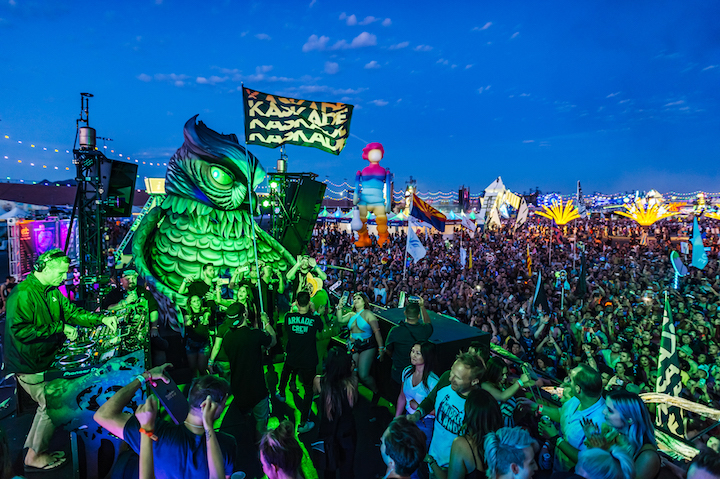 Taking in the spirit of Burning Man, the art cars at EDC play host a number of impromptu sets all weekend long. Not all of them are advertised, which grants these party-on-wheels a special appeal that you don't get at the eight other full-production stages. It's the feeling of not knowing what you're going to get when you walk up to the fleet of art cars that keeps things interesting, and there were few that snuck by most people. Kaskade was one of them, jumping on the Parliament art car for a Strobelite Seduction sunrise set, featuring cuts from his 2008 album of the same name. A set like that doesn't come around very often. Diplo and Mark Ronson also debuted their new Silk City project for the Ship Fam, as the Holy Ship! Crew hosted the Wide Awake Art Car all night long. They were tearing through jams and almost-forgotten gems that practically put Chicago, Paris, Miami and other scenes on the map.
Excision Going Experimental on the Detox Tip
Everyone knows what to expect from an Excision set. He promises to rattle the bassbins and get the headbangers riled up like the best of them. It's always a fully-loaded time. This is how it played out during his circuitGROUNDS set, and everyone felt it in the necks the morning after. But the real draw was the following day when he fired up the decks at bassPOD and turned everyone on to a lesser-known side. With the sure-fire bangers and massive dubstep rumblers already accounted for, Excision was given some extra wiggle room to dive into the deep cuts and expose some of the experimental, lesser-known artists who are keeping the bass scene on its toes. It wasn't necessarily any less lit, which the name might suggest, but it was more of a way for him to push out a set that people don't get to see on any other day.
Post Malone Pulling Those Numbers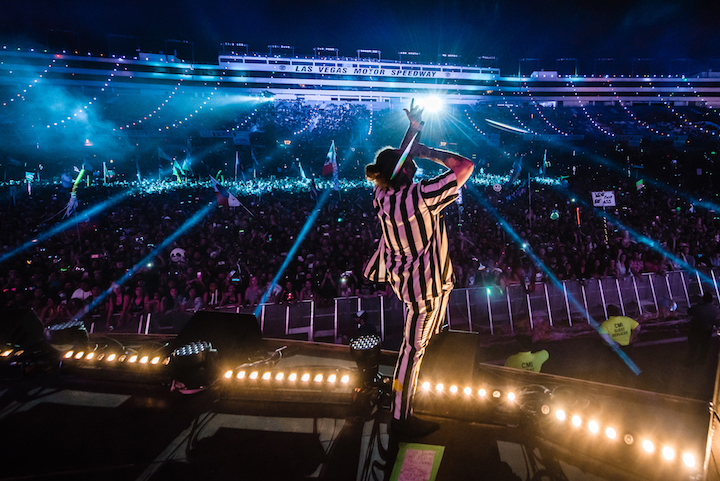 On paper, having an A-lister like Post Malone at EDC may seem like a money grab. But HARD has spent mad time putting people up on hip-hop and dance music alike. So, inviting Stoney in for 30-minute set isn't much of a stretch at all. After cclenchingthe category for Top Rap Song at the Billboard Awards earlier that night, the singing hip-hop sensation hopped on the mic and burned through his hits, including the newer "Psycho," and the tracks that made him: "White Iverson" and "Congratulations." The crowd he pulled at cosmic went from the rail-riders way up front reaching all the way back to the top of the grandstands. As much as some people might say his booking was out of place, those numbers don't lie.
Virtual Self Gives Nostalgia a New Identity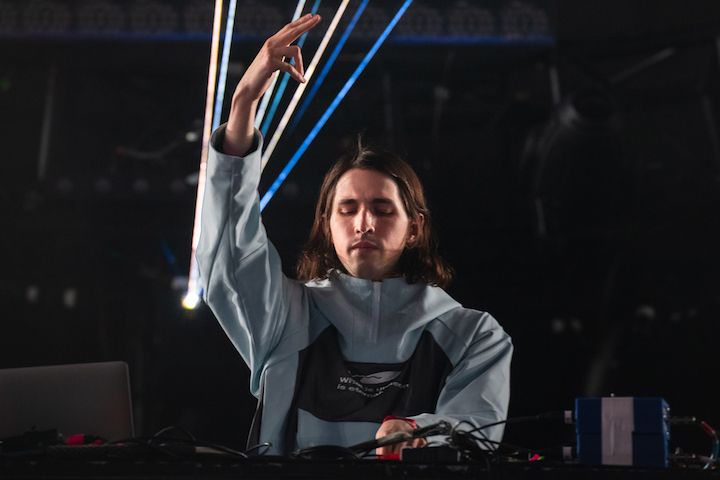 One of the most raved about projects this year is Virtual Self, the pseudonym for Porter Robinson. He blew everyone away last year with his alter ego's self-titled EP, which challenged everything we thought we knew about crossover appeal. His live set at circuitGROUNDS saw him ripping through songs from his release, while flinging out edits that took classic trance hooks and toplines (name-checking "Castles in the Sky" "Halcyon", and "Blood is "Pumping") and mutated their percussive DNA into the industrial-tinged techno, acid house, and breakbeat variety. His greatest trick was taking iconic sounds and making them feel both familiar and foreign all at once. If this is the new direction Porter is headed, it's one I'd be more than happy to follow again and again.
Back-to-Back Sets All Day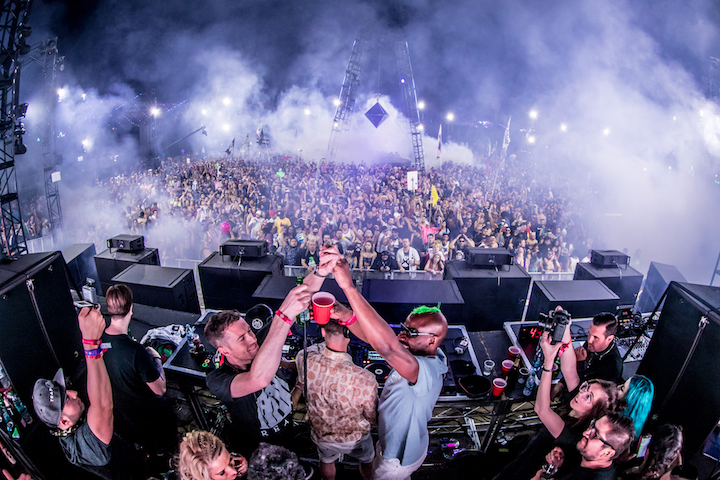 While the lineup had more high-profile and hotly-tipped solo sets than one can comfortably fit into their schedule, it was all the b2b business that provided the biggest bang for your buck. These back-to-back bookings have become somewhat of a calling card for EDC in recent years, and 2018 was the year we doubled-down on this front. Each stage had its own unique pairings, which ultimately play out like a once-in-a-lifetime affair. The most impressive one in my book was seeing Green Velvet, Gorgon City and Detlef one-up each other all night with tech cuts that had the discerning folks reaching for the sky until the crack of dawn.
Camp EDC Changed the Game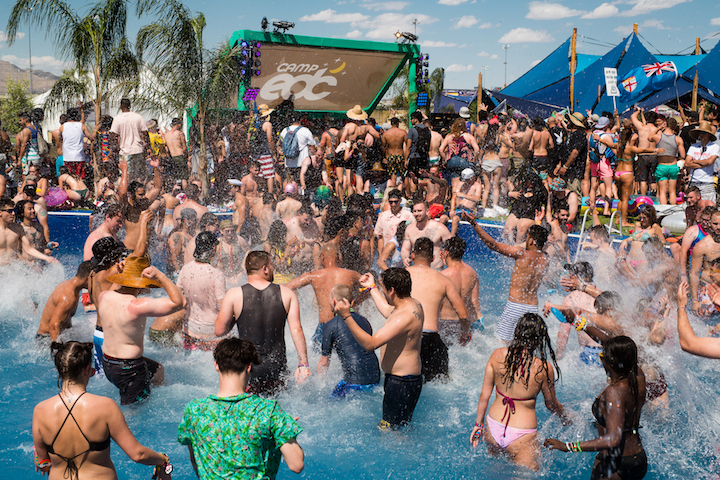 For the first time in EDC's decades-long lifeline, camping was on offer this year and with it came a whole new definition for life spent on the Speedway. Besides giving Headliners the option to bypass the early morning trek back to the Strip each day, Camp EDC tapped into a whole new class of festivaling that shorter operating hours would not allow. On that list is consciousness-expanding talks and workshops, daily yoga sessions (co-starring baby goats who helped you perfect those poses—yes, we said GOATS), and community building exercises that will only help our the culture we love thrive and survive.
Living onsite for the weekend also meant being just a stone's throw away from the actual venue itself, meaning a brisk walk back to base and you're already on to the next afterparty and daily poolside shindig. All in all, it was a nice change of pace for EDC, one that places the future of the festival in an open-ended equation for new growth and possibilities. Don't sleep on this opportunity next year, fam.
With reporting from Sam Yu.
Follow EDC Las Vegas on Facebook | Twitter | Instagram
---
Share
---
Tags
---
You might also like