Stop What You're Doing and Go to neonGARDEN at EDC Las Vegas
The Black Madonna and Tiga were bobbing in sync from the DJ booth. A couple of tunes into their brief back-to-back set, the former eased into the background after dropping a neurotic, old-skool NYC house cut. Tiga was starting to masterfully drag us back under, coloring the track with abrasive hi-hat flutters and random kicks to the chest.
In that moment, it felt more like the Black Madonna vs. Tiga—a sparring match between two of the underground's finest and most revered selectors, ducking and jabbing between one another, creating a spectacle out of that spontaneity.
This kind of subtlety in mood and vibe lives at neonGARDEN. A seamless narrative of beats, breaks, and drops—not a microphone in sight—so deep, you have to wade in and swim out. The stage, presented by Factory93, has always been an outlier at EDC. Sulking off in a dark corner, far from the opulent theatrics and roaring flame towers of the bigger stages, neonGARDEN is a sanctuary for underground house and techno heads that like to lock on to a nuanced groove and ride it out for a while.
Friday night saw Ibiza legend Jamie Jones and his Paradise party brand return to the Speedway to take over neonGARDEN for the night. Jones' chugging tropical tech house has defined a decade of hedonistic Balearic summers on the White Isle, and this year at EDC, he brought along Cirez D, Hot Since 82, Lee Foss, Lauren Lane, and Smitty b2b No Requests to channel the energy of DC-10.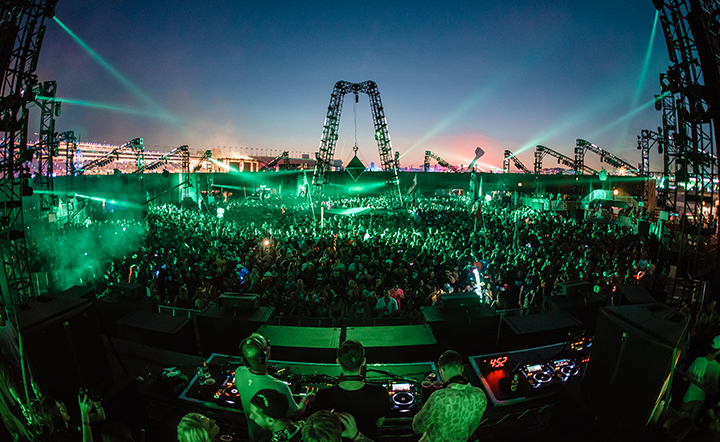 Longtime EDC favorite Green Velvet returned to neonGARDEN on Saturday to present La La Land, bringing with him fellow Midwesterner the Black Madonna, Tiga, Gorgon City, Detlef, CamelPhat, and Melé. The Chicago icon curated a tight lineup that bound together perfectly, building an ebb and flow of hulking techno and deep, pumping house music. Throughout the night, we saw many people drift across the dancefloor, many getting caught up for longer than they expected, and coming away switched on to some new shit.
Dance music has a well-trodden path that begins at the immense mainstages and leads to the dingiest basement clubs. Fans are often drawn into the scene by the names at the top of the bill, but given the variety of stages and experiences at festivals nowadays, they inevitably wander off in search of new sounds and vibes, each experience refining their taste.
"I know that people might mature in their tastes over time," Insomniac Founder Pasquale Rotella explained to Pulse Radio back in 2016. "I know that someone might like hardstyle one year, and the next year they're over it, and they like deep house."
"We want our events to be there for everyone, regardless of what stage they're at in their musical fandom, and we never want to switch off to what their needs might be. EDC particularly is about trying to have something for everybody."
The deeper you go, the more minimal the production, and then you're left with increasingly subtle music in focused environments. This year's stripped-back neonGARDEN pays testament to a subculture that reveres simplicity and subtlety, positioning music firmly in the spotlight. Easy on the screens and newly open-air, this year's neonGARDEN is curiously walled off from its surroundings. Perhaps it's a defense mechanism against the nearby hum of circuitGROUNDS or the billowing cosmicMEADOWS.
This idea of integration with separation is prevalent across the festival, and achieving it has been a work-in-progress for EDC. Pasquale and the team are striving to strike the right balance between keeping everyone happy and challenging them to explore.
"For me, it starts with loving every genre," Rotella continued. "There are amazing artists in every genre that are pushing every sound. But I think it's also very important to acknowledge the separation that exists with a lot of fans, and that most people are pretty loyal to their niche, and it brings me a lot of pleasure to satisfy lots of different people with whatever they might be into."
You've got to keep your ears open for the sneaky hi-hat coming in, grow to love getting clattered with late drops, or give yourself over to the restless euphoria of a complex, three-minute breakdown. Underground sounds are meant to be danced to for hours on end so that the small changes you've all been through together build into something huge.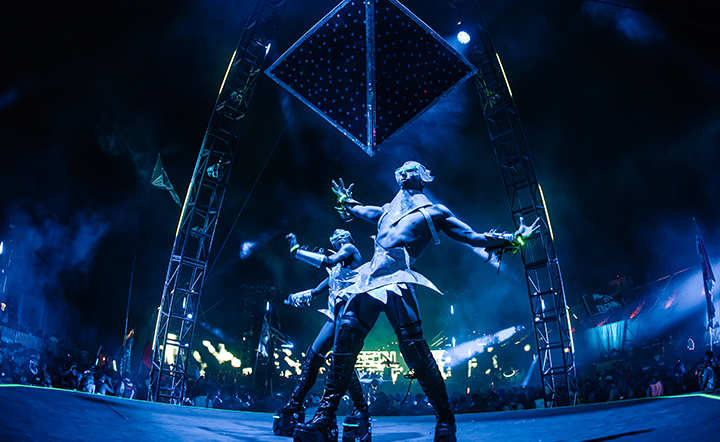 Later today, NYC queer disco heroes Honey Soundsystem will be opening the stage, with Paul Woodford and Adriatique keeping the vibe building. Ibiza legend Maceo Plex is certain to be an absolutely unmissable set, and rising Belgian tastemaker Charlotte de Witte will be closing it out with her uncompromising, bomb-throwing techno. If you like rough, tough stuff, de Witte's sound will suit you nicely.
The EDC ecosystem is a dense, experience-rich cacophony that urges you to get out of your comfort zone and blow your own mind apart. Yet, while it's considerably more understated than the other stages, neonGARDEN plays a really important role in the festival. Get out there today, and spend some quality time on the dancefloor.
Don't forget to pick up some earplugs from the desk outside the medical tent. It gets loud in there. 
Follow Factory 93 on Facebook | Twitter | Instagram
Follow EDC Las Vegas on Facebook | Twitter | Instagram
---
Share
---
Tags
---
You might also like