EDC Las Vegas Hits a New Tempo With Camp EDC
As the sun lit up an uncharacteristically grey Las Vegas sky on Monday morning and thousands of Headliners filed out of the Speedway, Camp EDC was roaring back to life for its final after-party of the weekend. Initially locked in a groove from UK house duo CamelPhat at the pool party stage, the crowd started to meander over to the Tierra tent, where the Wide Awake Art Car had coughed and spluttered up and began pumping out some cosmic playa tech.
It wasn't long before the rain started coming down. After a moment's trepidation huddling under the tent, a handful of warriors kicked their shoes off and started dancing out under the spitting sky. A few minutes later, there were hundreds.
It was a moment that will forever tell what made EDC Las Vegas 2018 so different from those before it. In a vast campground adjacent to the Speedway and dancing under a gloomy May sky, this scene would appear completely alien to EDC Las Vegas veterans.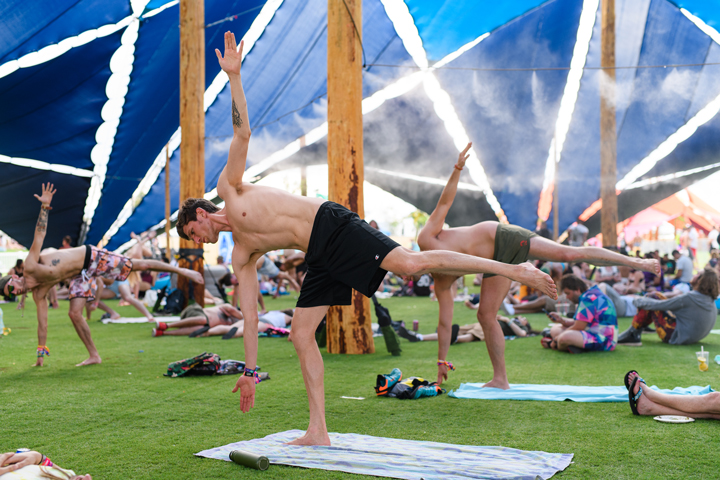 Yet, earlier that day, the languid vibes in the campground appeared equally foreign. Under the Cascada South tent, the Brownies & Lemonade takeover drifted in from the pool as a standup comedian told the final jokes of his set to a thin but eager crowd. To my left, a young couple was sprawled out on the astroturf, practicing acroyoga. To my right, a girl was reading a book.
A book. At Electric Daisy Carnival. 
There was the scent of vegan bowls and fresh-ground coffee, the murmur of conversation, and an air of relaxation typically absent from the Speedway. With a stacked program of movement, wellness classes, and consciousness activities—alongside serious afters and pool parties with surprise guests and takeovers—Camp EDC broke new ground while whirring along at a very different tempo from the festival. 
Restricted to RVs and ShiftPod2s kitted out with AC units, accommodating 15,000 glampers on a vast astroturf oasis was made possible by moving the festival into the more forgiving climate of May. 
"This is something we've been talking about for a while," explains Rich Thomas, Insomniac's VP of Culture. "We've been inspired a lot by Burning Man, which some Headliners might have noticed in our integration of the art cars in the past few years. Camping adds a new dimension to EDC, and we're very happy to have lots of different programming on offer." 
While Camp EDC unquestionably adds more value to the fan experience, some of the campers were very happy to simply have some healthier activities during the day.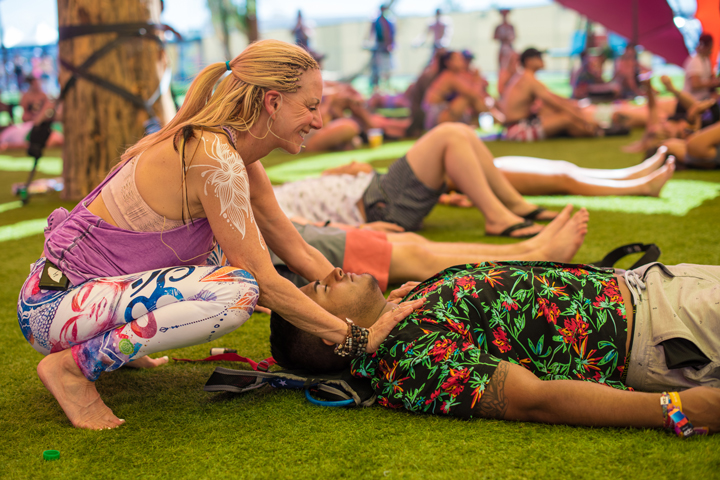 "It's a big step in the right direction," said Jackie McGuire, owner and operator of Rave Family general store in downtown Mesa. "We love that you can come here and choose to eat better, do yoga, relax a little. It's very encouraging to see the festival and the fans grow into that and really make it a part of the experience." 
"Having these kinds of facilities is incredibly important for events like these. Regardless of how you treat yourself at a festival, your body's going to need some rest and TLC," said Ferret, a slightly sun-kissed English drum & bass head. "Being able to wake up and ground yourself first thing is key to having a positive experience."
After doing yoga on the first night, Ferret also attended the Deep Exhale session from local house legend and longtime transformational festival fixture Marques Wyatt. "I actually teared up a little!" he said. "We did a meditation breathing exercise, and you really connect with people."
While Camp EDC has been informed by the growing boom in "transformational festivals"—like Lightning in a Bottle, Burning Man, and Symbiosis Gathering—Thomas feels that much of the spiritual elements of EDC have always been there. 
"We prefer not to think about this as an evolution, so much as a change," added Thomas. "Since its earliest days, rave culture has been extremely spiritual, and Insomniac has always worn that with pride. But by integrating some of these elements—like reiki, sound baths, and yoga—we're balancing the experience and giving people the chance to make healthy decisions."
"[Camping] has been a blessing," added Alan, a veteran festival camper from Huntington Beach. "We've camped at Coachella, HARD Summer, we're going to Electric Forest soon, but when you have A/C in your tent and a super short walk back to the campsite, that makes a huge difference."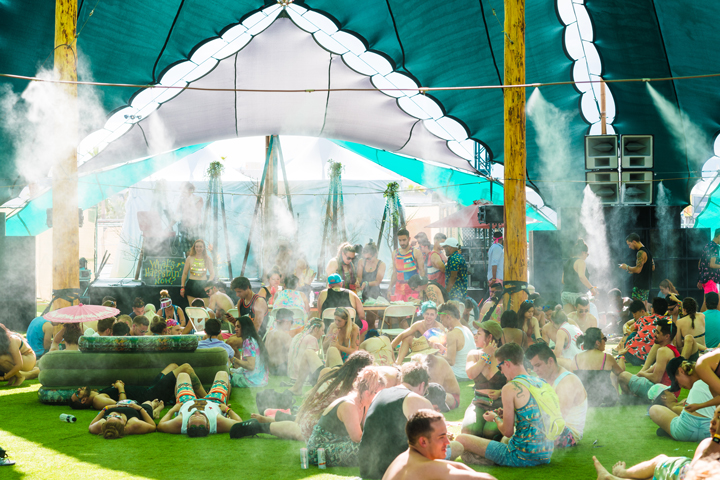 Diana, 26, from Fontana, was attending her fourth EDC. Keen to avoid dealing with the shuttles to and from the event, she was also curious about programming that took a hard left from the festival pulsating out of the nearby Speedway.
"My best friend and I had never camped at a festival before," she said between bites of her coconut quinoa raw veg plate from Buddha Bowl. "But when we realized that everything would be set up and taken care of, and how close it is to the festival site, we thought it'd be better and more fun than staying in a hotel."
When asked how she liked the food, she rolled her eyes back and said, "So good. Why wouldn't you wanna eat healthy food at a festival?!"
But health and wellness is only one aspect of the Camp EDC experience. Giving fans an easy alternative to the wild pool party scene in Vegas was a big draw, with L.A. crews Space Yacht and Brownies & Lemonade both featuring, as well as a very special takeover by Insomniac Records.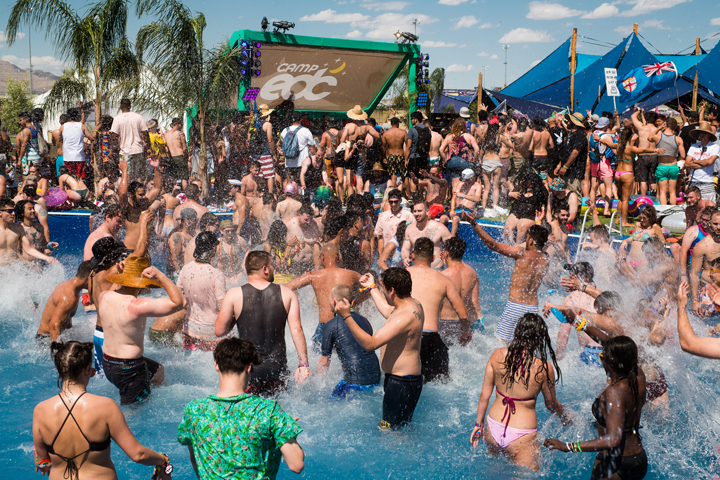 After the festival closed its gates on Saturday, the Headliners streamed back into Camp EDC for the afters. Tatiana brought the heat down with a chill downtempo house set before rave legends Rabbit in the Moon dragged it back up with some deep house, breaks, and tech. The highlight was enduring dance titan Tommie Sunshine, who was lacing together a string of dank bass house and UK garage, proving he's still got a lot more passion for discovering new music.
The vibes were brimming with clusters of fans stomping out the final steps left in the tank for Saturday. As the morning wore on and the sun rose in the sky, they petered out and drifted back to the A/C sanctuary of the tents, choosing their own adventures and resetting the vibes at the first Camp EDC.
Follow EDC Las Vegas on Facebook | Twitter | Instagram
---
Share
---
Tags
---
You might also like