Ride or Die: GTA Go Full Carnie

The first thing you should know about GTA's Matt Toth and Julio Mejia is that they have both logged terrifying experiences on carnival rides: Toth, when the safety bar holding him in his seat came unlatched, making him momentarily weightless and untethered 20 feet off the ground; and Mejia, when his strap on the Gravitron came undone and he was almost spit out the top of the whirling machine.
It's impressive, then, that the duo is traipsing around EDC New York on a hot Sunday afternoon, hopping on rides as fast as we can skip the lines. We first hit the elevated swings, which provide us with 360-degree views of the crowds, the stages, the stadium, and the city skyline in the distance. The guys' screams drown out the other sounds of the festival. They are, in more ways than one, ascending.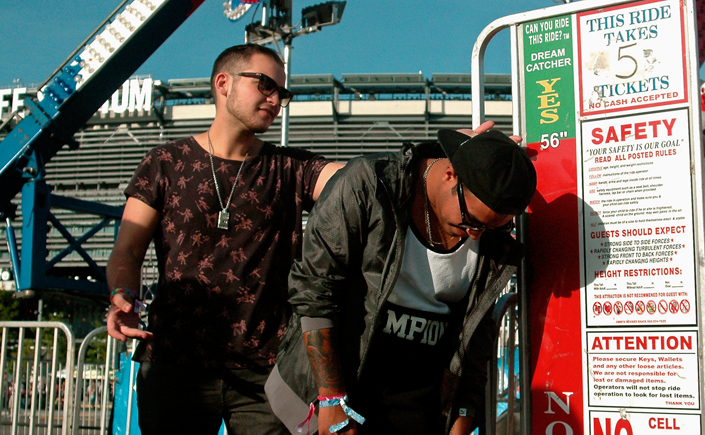 Both sturdily built and sartorially casual, Toth and Mejia come across as friendly, cool (but not pretentious) and wholly normal dudes, except when you remember they just played a monster set that had the crowd inside MetLife Stadium twerking on the 40-yard line. Incorporating jams including Busta Rhymes' "Pass the Courvoisier," System of a Down's metal banger "Chop Suey," Empire of the Sun's "Alive," Ace Hood's "Bugatti," and "Hard House," their forthcoming track with Juyen Sebulba, the set incited much enthusiastic fist-pumping over the course of an hour.
Death to Genres is a middle finger in the face of purists and asserts that dance music is ultimately less about holier-than-thou music snobbery and more about playing the shit that makes people feel epic.
Such party-starting is largely the mission of GTA. Their current Death to Genres tour is a middle finger in the face of purists and asserts that dance music—especially in an era where songs are remixed and sampled faster than you can say "Bangarang"—is ultimately less about holier-than-thou music snobbery and more about playing the shit that makes people feel epic, whether it be EDM, salsa, hip-hop, metal, or any one of the other genres the guys grew up listening to.
"We want people to understand that good music is good music, no matter what label you put on it," Mejia says, "and at the end of the day, we just want everyone to have a good time."
Death to Genres is zigzagging to clubs and big-time festivals across the United States and Europe through the end of the summer. When it wraps, Toth and Mejia will land in Los Angeles, where they're relocating to, as Mejia says, "get amongst it." They've already collaborated with L.A. dudes including Skrillex and Diplo (the latter on the 2013 single "Boy Oh Boy") and are eager to get IRL face time with their peers, rather than just going back and forth via email and Twitter. Toth will post up in West Hollywood, and Mejia is locking in a place Downtown. "This entire move is for our careers," Mejia says. A-Trak has already invited them to hang at his new L.A. studio.
Both Miami natives—Toth has been a certified scuba diver since he was 13; Mejia was and is into skateboarding and video games—the guys met via Facebook four years ago and rose through the local club scene on the power of a huge, progressive house sound that incorporated everything from moombahton to trap. "Turn It Up," their collaboration with Dimitri Vegas and Like Mike, went to #1 on Billboard last year, and they were exposed to high-level pop insanity when they opened for Rihanna on her 2013 Diamonds world tour, which hit 19 countries. "In Johannesburg, we played for 85,000 people who had no idea who we were," Toth says. "But after we finished, the entire stadium was chanting 'GTA.' We started trending on Twitter in South Africa."
Back at EDC, the next carnival stop is a quease-inducing machine called the Dream Catcher, and after that, the spinning Ring of Fire. Girls in daisy crowns ask to have their pictures taken with Toth and Mejia as they weave through the crowd, and the duo oblige in every instance.
The guys are next off to Toronto, then Calgary, and then Los Angeles, where they'll unpack some boxes at their new studio, perform a set for the label heads at Warner Bros, and then take off again for Vegas and points beyond. It's an exhausting trajectory that shows no signs of slowing, but one gets the sense that the guys wouldn't trade this ride for anything.
Follow GTA on Facebook | Twitter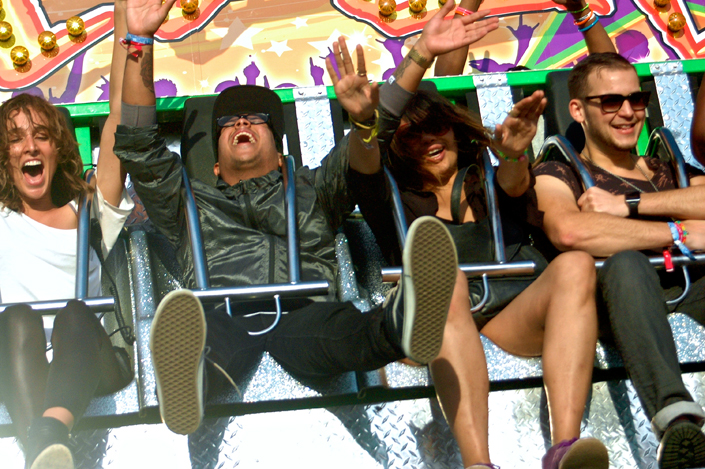 ---
Share
---
Tags
---
You might also like