My Life As: A Whole Foods DJ Booker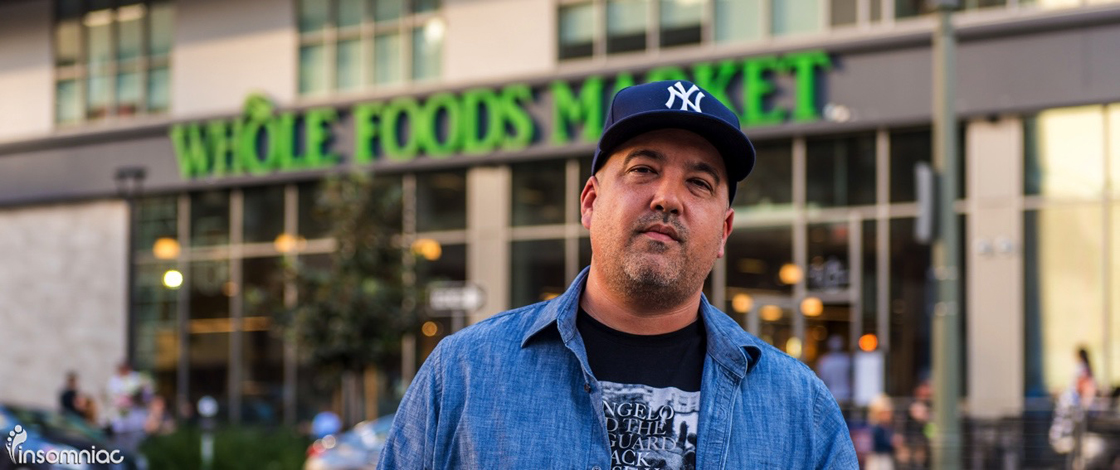 There are few places that couldn't be improved with better music. Grocery giant Whole Foods has taken this truism into consideration and given managers at some of their more prestigious locations carte blanche to hire disc jockeys for their attached bars and eateries.
But behind every DJ's paid gig is a person booking them for it. Asad has been booking acts for the Eight Bar, attached to the Downtown Los Angeles Whole Foods since the flagship store opened last November.
What's your background in music? You're a DJ yourself, right?
I used to, here and there. I still actively buy records. When I do now, it's just for a friend's thing, and I strictly use vinyl. But that's not where my strengths lie.
I started throwing events in high school in the early 2000s. In the company's early days, [car company] Scion gave me money to throw a party in Long Beach. So, I started with that, and now I do six or seven events and parties a year.
What sort of events?
I have one coming up in September that's a Stevie Wonder tribute, with DJ Spinna out of New York. It's all Stevie related: remixes, if someone sampled him, you know. He's been out a few times and partied with us. The crowd went crazy.
We've also been doing a Prince and Michael Jackson party for the past 12 years called Soul Slam. We usually sell out and get 1,300 people, but this year will obviously be crazier.
How'd you start booking for Whole Foods?
I knew the store manager, Mike Bowen. When they opened the DTLA location, this one had the bar in the corner, and they wanted DJs for it. No other Whole Foods does what they're doing right now. Some will have a DJ here or there, but to have weekly DJs—from the day they opened—is pretty unique. Mike asked me in November, knowing that I deal with a bunch of DJs, and I've been doing it ever since. We've had DJ Rashida—Prince's DJ for 10 years—do a set. We've had Raul Campos and Garth Trinidad from KCRW do a Saturday. A lot of locals have come through.
Did Mike have an idea of what he wanted when he asked you to start booking acts?
He's an old friend, and a big music guy himself—a big record collector. He just knew this would work with the sort of people migrating to Downtown L.A. these days. Get the right kind of DJ in there, and you've got a happier customer. They can watch some sports and have a drink and a meal.
How do you go about selecting the right DJs for this gig?
I've been around a lot of these people for a long time, and you learn who is good and who can handle it. There are folks out there who are great in a club, but that doesn't necessarily mean they know how to read a crowd in this environment. It's a different demographic entirely. They have to have some range to their playlist.
That said, it's not a dumb crowd in there. I've heard some of the DJs play stuff that most people might not know, and an audience member would just walk up and high-five the DJ for playing that. Some even get tipped or walk away with a side gig from someone being so impressed by their selections.
Do you think there are particular genres that work best in that environment?
It's all on who happens to be walking through that day. Some of the DJs will play the Clash, or some De La [Soul], or stuff from New Edition's third album, and the crowd will be super into it. But good music from any genre just works.
Have you ever been given any negative feedback from Whole Foods corporate or the manager?
I'll just get normal critiques, like "this person didn't work" or "they were doing good, but they lost the crowd" (though "crowd" is a strong word when it's people sitting down eating and watching the game). There have been a couple where they're playing some commercial song that's on the radio, and that's a little disappointing.
Are there any other forbidden songs?
The only coaching I'll do is tell them, "Don't play top 40, don't play curse words, and don't scratch. Anything else, do you." I've been in there when someone started scratching, and I saw the look on some customers' faces and had to go over and address that.
Who would you love to get to come DJ your Whole Foods?
We tried to get Questlove. He's the name in the cool celebrity DJ space, and he had a cookbook coming out, so that helped tie it all together. But he was a bit beyond the store's budget. This isn't Whole Foods corporate paying here; it's this store working within their budget to make DJs a thing. In an ideal world, with a better budget, we'd love to have had him. But we've got so much talent here that I'm working with, I'm already happy. I don't have a bucket list I'm trying to fill up.
What other places do you think could benefit from have a DJ?
The DMV. That might help make the wait a little more bearable. Or maybe a laundromat in a hip neighborhood—dance with some people while waiting for your clothes to dry. That's something I'd go to.
---
Share
---
Tags
---
You might also like