My Life As: A Hula-Hooper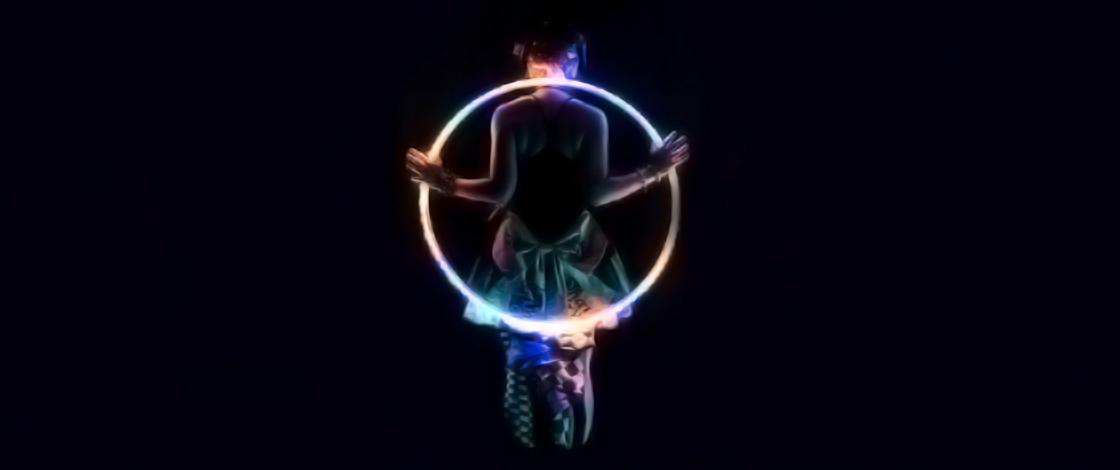 Cool jobs? Everyone's heard a similar conversation on the playground:
"My dad's a pilot!"
"Yeah? My mom's a cop!"
"My brother's on SEAL Team 6!"
and…
"My sister's a hula-hooper. You can check her out on YouTube."
Yep. That's when the conversation turns a corner, peels off over a cliff, and explodes into real interest. Children break out their tablets, words are typed, eyes are WIDEned.
"Sadly, a major knee injury sidelined me… It wasn't until 2012 that I saw another route for my passion. It changed my life."
The next day, (hypothetical) Little Johnny has people opening classroom doors and offering to do his homework, and Carlos, the cafeteria manager, is comping his lunch.
Cool jobs? Meet Cleveland's 23-year-old Angelina Rose. She is a hooper, and here's her story in her own words: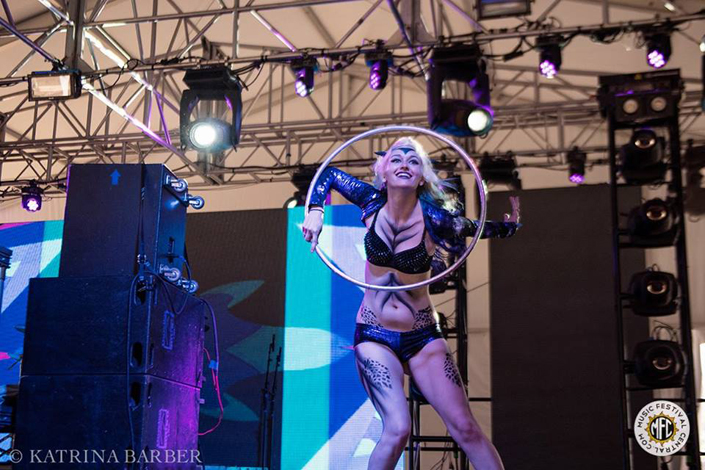 In 2012, I was inspired by a hula hoop performance. No—I was blown away. I fantasized about quitting my job but couldn't at the time, so I used every spare second to work toward the goal of hooping full-time. With anything creative, you've got to pour your soul into it. If you don't, there are thousands of other people willing to. And there are only so many platforms out there—so many publishers, so many art galleries.
Sure, it can be competitive, but more than anything, hoopers and performance artists are putting our heads together to make whatever it is we're working on the coolest thing it can be. We're a close-knit group, and although we live all over the country, we see each other at different events all the time. I just work hard and try to be as positive a force within it as I can.
I started out in dance at the age of 3 with ballet classes, which expanded into pointe, modern and hip-hop. I also picked a few instruments along the way, including the cello, piano and flute. As I grew older, I began to take both music and dance very seriously. In my teens, I auditioned for and was accepted into the School for Creative and Performing Arts in Cincinnati. It's a great place. Unlike most high schools, you're together with people who will actually get excited about new projects. I was able to study many aspects of the performing world, including acting, but sadly, a major knee injury sidelined me for five years. That was 2008. It wasn't until 2012 that I saw another route for my passion. It changed my life.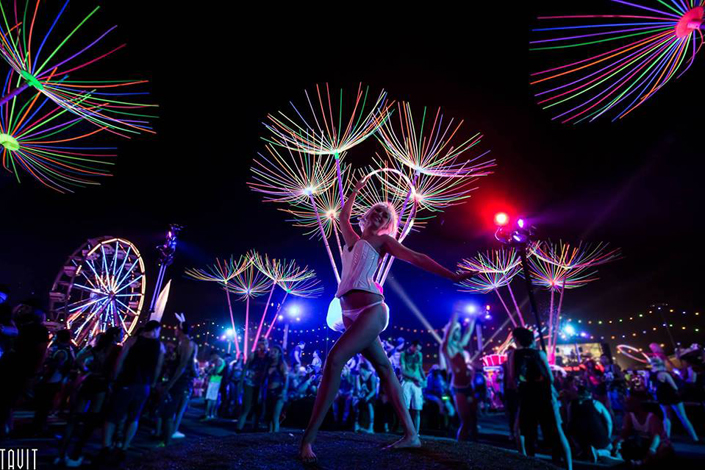 Three years have passed since that warehouse party in the Cleveland Flats, where I saw that lone girl hooping. I've gone with my gut at every fork in the road; this is my thing. I was able to leave the waitress gig behind in January of 2015 and am now a full-time performer, being flown to massives like Electric Daisy Carnival and the Wizbang Circus—though smaller music venues and private events are cool, too. I'm lucky enough to have been sponsored by I Heart Raves and the Spinsterz. I'm also a part of Hoopernova, an exclusive agency for professional hoop performers. I just keep moving forward. It's amazing what you can do when you focus on a single goal. I'm teaching weekly hoop classes at a dance studio, and I've even been able to build my own in-home studio.
I founded my company, Karmatic Hoops, in the spring of 2013 in an effort to share my love of modern flow arts; it's now evolved into Karmatic Visions. It specializes in all kinds of clothing, including daily, festival and performance wear that I hand-design. I'm now getting into painting for black-light. It's all interconnecting. Creatively, I like doing my own thing, working on my own stuff, but it's still awesome to mix with other artists. Everyone I meet at work is in love with what they are doing. I can't imagine doing anything else.
5 Tips for New Hoopers
Anyone can hoop; fitness level and age don't factor in.
Check out "smart hoops"—loops of programmable wonder with Bluetooth and LEDs.
Moves to aspire to: Isolation, Elevator, Variable, and Chest Roll.
Look for a hoop between 36″ and 40″ to start.
Brands the pros use: Phoenix, Astral. Beginners might try a MoodHoop.
FUN FACT: The Hula-Hoop was created in 1958 by "Spud" Melin and Richard Knerr. A ravenous beast with a 40-inch diameter, a thirst for glee, and the soul of a perfect circle, it rampaged across the country, tearing kids and adults alike away from their black-and-whites. Then it found a quiet cave and went to sleep.
Half a century later, performers like Ms. Angelina Rose, Lisa Lottie, and Rachel Lust have awoken the monster by mixing it up with smart hoops (hula hoop meets iPod), giving TED Talks, being filmed for Olympic commercials, and simply having fun. It's aerobic, it's expressive, it's visually shocking—in a good way—but more than anything, it rides the good vibration rail. Rose contributes her own high-energy flourishes to whatever live happening she's at, adding value to ticket prices and smiles to faces.
Try it in your own backyard.
Rose's Top 5 Songs for Hooping To:
Nero "Between Two Worlds"
Purity Ring "Fineshrine"
Pretty Lights "It's Tricky"
Skream "Midnight Request Line"
SOOHAN "Super Heady Spiritual Gangster"
---
You might also like