My Life As: A Strip Club DJ
Christopher Makina Ultra (aka MK Ultra) has been involved in Southern California's electronic music scene for more than two decades. Based out of San Diego and starting mostly with drum & bass and jungle, Chris signed with the well-known SoCal crew Dub Chamber in 2002 and is also part of Bulletproof and Drumz. In 2016, he played a number of gigs outside of SoCal with some big names, including internationally known jungle artist Liondub in Puerto Rico. These days, he claims to be slowing down, mostly content with making mixes and doing live pop-ups on Facebook whenever the mood strikes him, usually mixing jungle, D&B, juke, footwork, and even hip-hop and R&B.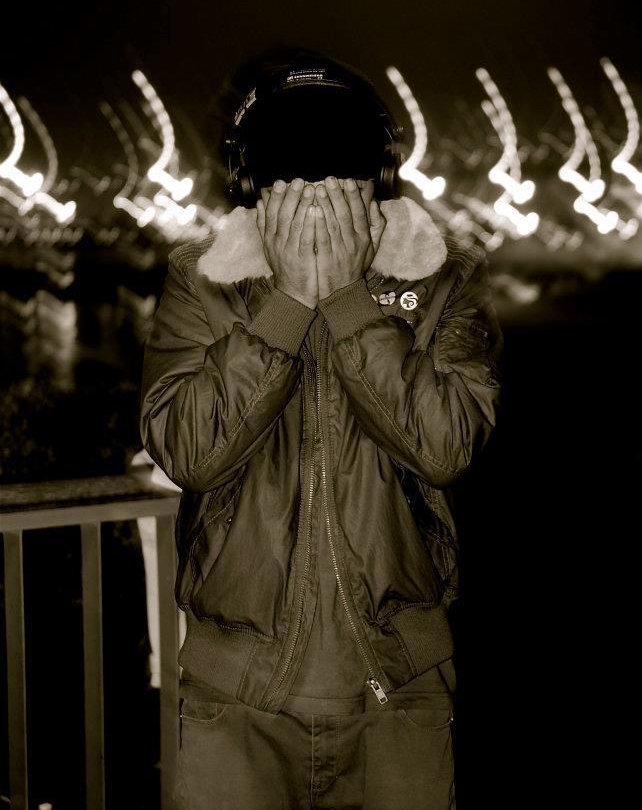 In addition to Chris' dance music rap sheet, he has been a DJ at strip clubs since the age of 21; he currently works at Pure Platinum in San Diego. He also builds automatic weapons, has a son in the military, and has a wife who used to have a girlfriend. In our in-depth series looking at all the different types of people and jobs within the dance scene, Insomniac decided to follow Chris around on a typical day to see how all the moving parts of his multifaceted life go together. Besides, who wouldn't want to go on a footwork-fueled strip club gun-building ride-along?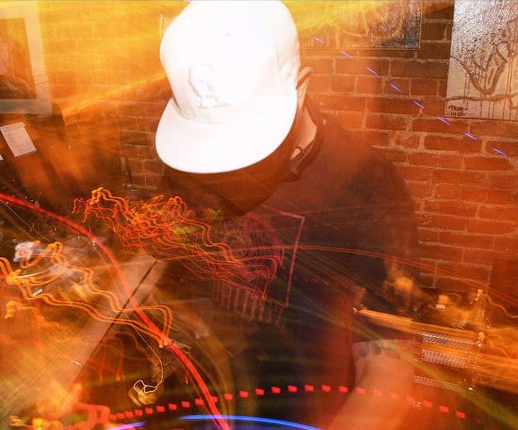 Chris' wife Nykol also works at Pure Platinum as a bartender and cocktail waitress, so the three of us agree to meet at the couple's house near the club on a Thursday night before work. As a couple, Nykol and Chris are sort of the Gomez and Morticia of the San Diego underground scene: every bit as obsessed with each other—as well as with black clothing—and averse to sunlight. "Don't ask me to get up to do anything before 2pm," says Nykol. "I don't know how daywalkers do it." Predictably for her Morticia-esque persona, Nykol wears a pentagram-shaped bra, torn fishnets, and 7″ high-heeled boots—all black. Chris' outfit straddles his diverse interests: a Damascus hat and gun-related T-shirt.
"Don't ask me to get up to do anything before 2pm. I don't know how daywalkers do it."
Chris and Nykol's relationship is of some interest as well, as it was sired in the strip club. Nykol, who has been working at Pure Platinum for six years, says she doesn't remember Chris from when she first started. "But he remembers me," she laughs.
"She's always mentioning stuff that happened," Chris shoots back, "and I'm like, 'Yeah, I was there for that,' or 'Yeah, I know that guy.' And then she's like, 'Really?' I can't believe she doesn't remember." To be fair, Chris did take an almost three-year hiatus from DJing at Pure Platinum before returning recently. "I got artsy for a little while… but if I hadn't come back, I wouldn't have had a chance to meet Nykol and fall in love."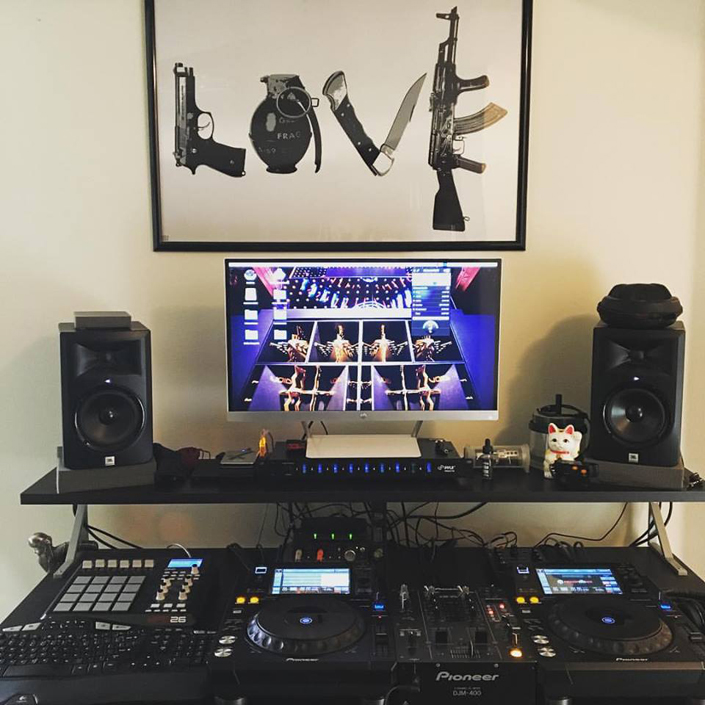 Chris and Nykol arrive at Pure Platinum for their 7pm shift. Nykol immediately goes to work serving drinks, and I follow Chris to the DJ booth. It's funny watching Chris transition into "strip club DJ mode." The booth entails a setup similar to a small dance club, but with one major difference: a microphone built into the console for the DJ to announce the girls. A legendary stereotype has been made of the standard "strip club DJ voice," and Chris certainly lives up to it. It's definitely not the type of thing one would expect at a dance music event.
I ask how much creative freedom Chris actually gets during his shifts. "It's a mix," he tells me. "Some of the girls are really particular, and they want specific songs. Others don't really mind if I just pick stuff that I like or I think suits their personalities." Between dancers, however, when no one's onstage, Chris plays more EDM-inspired versions of pop and R&B songs.
Anyone who's been behind the scenes at a strip club knows what a normal and almost sterile environment it really is. Far from sexy, the dancers, cocktail waitresses and DJ go through the motions of creating a fantasy world for the clients, but it's actually quite formulaic. Nowhere is this more apparent than from the booth. Songs and girls are cued in and out by the omnipresent DJ voice—which never wavers in tone or timbre—girls come up to ask where they are in line to dance, and the manager comes to chat every once in a while.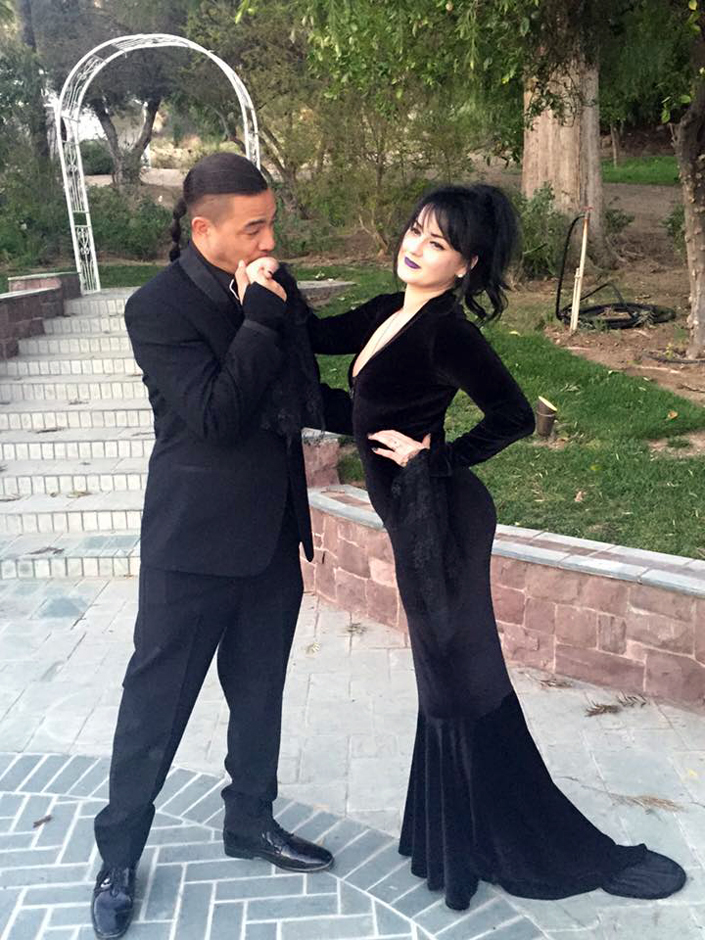 At one point, Nykol comes over and hands me two bottles of bubble bath. "These are from 'the Jesus Girls,'" as she has affectionately named a group of Christian women who come into the club trying to "save" performers from their sinful ways. "Last month they brought cupcakes, and I smacked them out of [one of] the girls' hands. But I'll take the bubble bath."
As the club closes, the girls tip out to Chris, he pays his bar tab, and Nykol cashes out. We head back to the house so Chris can turn into Makina for a few hours. He's decided to do one of his pop-up live sets on Facebook. Since it was a slow night, none of the girls come back to the house, as no one is really in the mood to party. But Chris just enjoys playing the music for the sake of it. "I love the new, slower beats coming out lately. Noisia and Ivy Lab are doing some amazing things."
Indeed, his live set, announced on Facebook just a few hours earlier, is fraught with Noisia and Ivy Lab, along with lots of other experimental, trappy, jukey, footwork-style stuff. He's got a live camera going with graphics that he cues to go along with the changes in the mix. "Facebook hates this kind of stuff, and since Noisia is on it, it'll probably get taken down," he says. "But I kind of like the idea of it being there and gone."
This one-off, there-and-gone play style Chris has going reflects his "semi-retired" attitude. He elaborates on it while putting together a semiautomatic weapon after his mix. "This year will be 21 years of DJing… One thing I have absolutely learned to be successful in this underground culture: You have to be present, all the time. Often, it's not even the talent that is required to get that booking, and I did that for years… I'd hate to say I'm getting old, but I just don't have that time to be at every jungle/D&B show." But he's not fully retired yet. "I'm doing a couple of gigs in February. Pretty excited for them."
For a DJ who works at a strip club, tours North America regularly, builds guns, and does pirate radio mixes whenever he pleases, Chris is pretty soft-spoken and down to earth. To him and many like him, the glamour of the parties, the fantasy sexuality of the strip clubs, and the drama of working with guns are really just a conglomeration of jobs, albeit some more enjoyable than others. After spending a day with Chris, however, the things he's really passionate about are obvious: the artistry of working with machines, his own love story with Nykol and, of course, the evolution of the music he loves. At the end of this strange day, it's the feelings and the art that matter to Chris, not job titles.
Follow MK Ultra on Facebook | SoundCloud
---
Share
---
Tags
---
You might also like