Melody Matters for Ferry Corsten
Upcoming Event
The #TranceFamily were in for a treat when one of the genre's pioneers, Dutch DJ/producer Ferry Corsten, took to circuitGROUNDS as the crowd clamoring for melodies stretched out beyond the arched megastructure. We caught up with Corsten backstage prior to his Sunday night set.
People either madly love trance, or there's the fair share of haters. Even the lovers are vocal about what they believe is and isn't true trance. Where do you see yourself in the current genre landscape?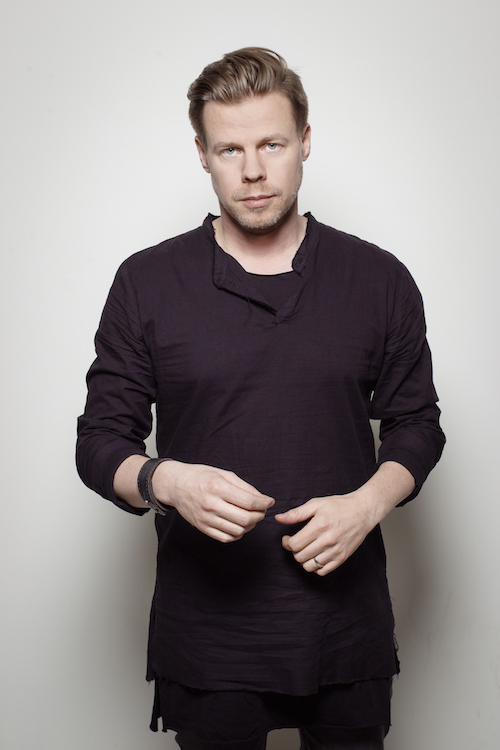 I see myself as a trance producer/DJ. Having said that, I still every once in a while step into the house arena or rub shoulders with some of the EDM stuff, but that's as far as I go. I'm definitely a trance guy. Even within trance, there's a huge debate: "138!" For me, trance is not about the beats; it's not about the tempo. It sounds almost too cliché, but trance is a feeling, and it's all about the melody and the chord changes. I always really enjoy watching this whole discussion and people bashing each other. If you talk about tempo when you talk about trance, then you don't get trance.
Some of your contemporaries have shied away from their trance roots. Why do you think that is?
Over the years, it has become very samey-samey. When you go back in the day, there could be an amazing trance record that was based on breakbeats. For me, the best example would be Way Out West, "The Gift." Come on, isn't that a trance record?—one of the ultimate ones—and it's just a breakbeat. You would never hear a breakbeat anymore in a trance record nowadays. So, I would love to see trance become a little bit more open-minded again. At the same time, that is the problem that—and I really speak for myself as a producer—I face in the studio. My fans really want to hear that, and that particular thing alone. I'm in the studio, and I have to make it over and over and over again. Really? I want to do something else, so that's why I release quite a bit of different stuff every once and a while.
You do have quite a few aliases for those different releases.
I used to have a lot, but I went back to just Ferry; though now I just brought Gouryella back. That's one where I really throw back to the 1990s–2000 trance—that particular emotion. Doing trance record after trance record, sometimes you get tired and want to do something else—a techno track or something a bit more rough and rowdy, or a little EDM almost. But as soon as you do that, people are like, "Boo, you! You're stepping away from it." Open your mind; there's more to it than just the 140 BPM you want. That is the mentality that I miss in a lot of the DJs these days.
When you're in the studio and people are pressuring for a follow-up or to stick to a certain sound, does that impact your creative process, and/or is it difficult to tune that out?
I have to be honest: What you see in the media and on social media is a reflection of what's going on. At the same time, I also want to do what I feel. I'm not there to just follow; I'm also there to sometimes step on the wrong toes. I'm an artist; I feel this or I will release this and you like it or not, but maybe the next one you'll like. To make a follow-up to a successful record is the hardest thing there is, because the expectation is just there and you scored that massive tune, and the next one comes out and people think, "It's like this tune but bigger."
Listen, there's probably about 99.99999 percent of the producers sit in the studio and create amazing records with the biggest amount of luck because they stumble across that cool thing that makes that record right then. That luck you won't have the next time. So if you are sitting there with the coolest record in the world and you have to make a follow-up and you just don't have that thing that made the first one, you will never be able to top it. For me, to step away from that completely and not make a bad second version of your first success, you just try to do something slightly different.
Do you have a regimented process with setting time for the studio? Or do you wait for or find inspiration when it comes?
The only regimented thing in my life is I have two kids now, so they keep you regimented. With this lifestyle, it's very easy to just fly away and live some crazy life and wake up at 3 in the afternoon. Ever since I started making music and started my own business, I said to myself, "Weekends are the weekends. When you're back on Monday morning, do the office hours thing." I try to have a normal workweek because otherwise, it's so easy with this life to just go in all directions. Recently I've picked up running, and I love it; I feel great afterward. Then when I'm in the studio, my mind is fresh—because while running, you forget all the stuff—and I notice I get ideas.
Do you have a running mix, or do you go through new tracks for sets while running?
I could do that, but I love to not listen to anything, really. If I would be listening to something, it'd probably be liquid drum & bass to get that pace.
What direction do you see your music taking in the next year or so?
Obviously, I will keep doing the trance-y thing, and it will come back in a much bigger way. I definitely will be doing trance, but at the same time, I've always had this second love for real electro from the mid-'80s. But my sound will probably get more melodic again.
You've got some new material coming out soon.
EP two of my Hello, World series. I decided to not do a full album this year, but a series spread out over three parts of the year. Every release is a reflection of the previous four months or so, so all the tracks are very fresh. Part one was a bit more vocal, a bit more radio. This one is definitely more dancefloor; it's a bit more trance-y, also. The single that we are teasing is called "Reborn." That will be out in two weeks or so.
Where can fans catch you next?
I'm running my night Full On right now in Ibiza at Space every Monday. There will be a Full On tour in September throughout America.
Follow Ferry Corsten on Facebook | Twitter
---
Share
---
Tags
---
You might also like