Ferry Corsten Has the 'Blueprint' for the Future of Trance
Upcoming Event
Ferry Corsten has been synonymous with trance music for almost three decades. Under the guise of his many aliases, he's responsible for classic cuts aplenty, and his status as a dominating force in the greater electronic music community is well established. And while trance has always been a primary musical focus for Corsten, he's never let genres define him as an artist, pruning inspiration from every branch of the massive dance music tree. What always stands out in his work, though, is his inimitable ability to craft unforgettably moving melodies. There isn't a trance fan alive who hasn't shed at least one single tear during a Ferry Corsten tune.
"Coming back to trance feels like I'm coming back home to where I belong."
This month, he joins us at Dreamstate San Francisco as he prepares to embark on his most ambitious undertaking to date with Blueprint, his sixth studio album as Ferry Corsten, due out May 26 via his own Flashover Recordings imprint. Blueprint, his first concept album, sees the trance icon balancing the worlds of music and futuristic storytelling. Actor Campbell Scott (The Amazing Spider-Man) narrates a transcendent sci-fi love saga storyboarded by David H Miller (House of Cards, Rosewood) and Corsten himself.
For Corsten, the Blueprint project is especially meaningful. "The art and craft of the album has been lost to a digital age," he says of today's audiences. "For others, the vision of a concept album often lacks that atmosphere-enhancing quality."
All throughout, Blueprint is marked with his expertly tuned sound. Its succulent layers of pads, undulating arpeggios, and soaring melodies all prove why he's stayed on top for so long. The album also features "Venera (Vee's Theme)"—a song credited to Gouryella, his classic trance alias—which features the nostalgic pulse of his earliest hits updated with an exquisite layer of modern sonic mastery.
We caught up with Ferry Corsten ahead of his performance at Dreamstate San Francisco 2017 to chat about Blueprint, his relationship with the City by the Bay, and his ever-evolving career.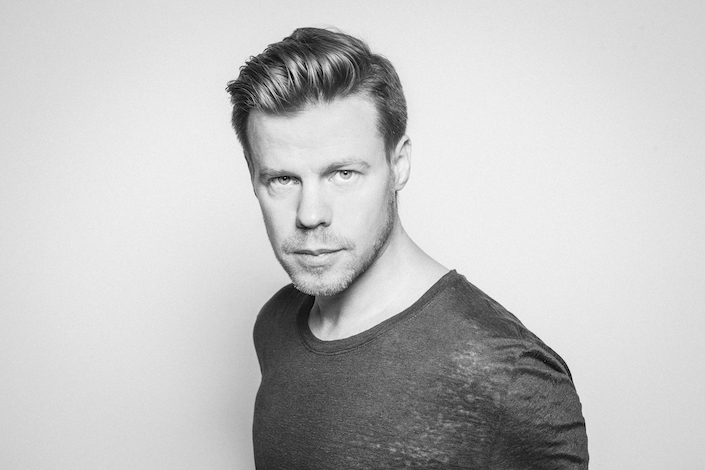 You've been coming to San Francisco since 2003. What's your relationship with the city like?
I love San Francisco. It has the same vibe as my hometown where I live in the Netherlands. The people are chill, and the scenery is fantastic. [Since I travel] a lot, it makes a huge difference when I connect, not only to my fans when I play at a show, but also to the city. It makes coming back easier, and it gets me excited to come back as well, because I feel like I'm coming back to a second home.
It's been over 15 years since the release of Out of the Blue, your 2001 album as System F, and trance is coming back as a more central focus in dance music. Does it feel like things are coming full circle for you?
Definitely. I think the personal path I took as an artist, producing various genres of music, has been enlightening and a very educational process for me. Coming back to trance feels like I'm coming back home to where I belong.
Your new album, Blueprint, marries audio drama and music. Why did you decide to do a true concept album in such a way?
It's been on my mind for quite a long time, but I never got myself to do it, because I didn't know where to start. After Gouryella last year, my dad inspired me to actually take the plunge. I basically chose to combine a music album with an audiobook. I guess that is the best way for me to describe this project.
Why do you feel the full-length album has become a lost art?
In recent years, everything has been evolving around quick and fast. Radio and various streaming platforms and social media cater to this and have almost made it the norm. However, I do feel that change is in the air, and a strong indicator is the increase in vinyl sales. You don't really put on a record only to skip through it for less than a minute, so I do think the longing for a listening experience is coming back again.
What messages are you trying to convey through Blueprint?
We are just on the cusp of releasing this album, and I don't want to preempt people's minds with my messages. It all comes down to your own interpretation. I'm curious to hear what my fans' thoughts are.
The story behind Blueprint has some opportunities for incredible visual activations in a live setting. Is that something you plan on incorporating into your live shows as the album launch gets underway?
Definitely. OSKA designed some amazing artwork; you should look him up. We are working on the artwork to incorporate in our show.
You have several different ways in which you present your music in the live setting. What's special to you about your producer sets?
When I play my Gouryella sets, they are pretty much strictly my Gouryella productions, with one to two tracks that I feel fit with the sound. My Ferry Corsten shows are still trance shows, but also allow me a bit more freedom to play productions from other artists, but still within that trance genre.
Back in 2001, you said you weren't sure if you'd still be DJing in 10 years, yet here you are—16 years later. What do you think has allowed you to have the kind of staying power behind such a long and impactful career?
[Laughs] I know; I can't believe it's been this long. Time flies when you're having fun, I guess. I think my fans are the reason why I'm still here. I'm grateful they have stuck with me over the years to listen to my music.
Catch Ferry Corsten at Dreamstate San Francisco 2017, taking place Memorial Day weekend, Saturday, May 27, and Sunday, May 28, at the Bill Graham Civic Auditorium. For more information, visit the official website.
Blueprint from Ferry Corsten is out May 26 on Flashover Recordings.
Alexander Dias is a trance OG. Follow him on Twitter.
Follow Ferry Corsten on Facebook | Twitter | SoundCloud
Follow Dreamstate on Facebook | Twitter | Instagram
---
Share
---
Tags
---
You might also like