Meet the Solo Riders of Electric Forest 2018
Humans are social creatures. For our earliest ancestors, effective communication meant the difference between living another day and ending up a top predator's lunch. Even though the reason for sharing information has changed, our need to build bonds is still very much embedded in our social DNA.
This yearning to stay connected with friendly faces is part of the reason we tend to plan parties with members of our inner circle, relying heavily on the buddy system to keep us safe and smiling. Your friends are your friends because they can be counted on. They laugh at your inside jokes. They can predict your next move without blinking. They presumably have the same music tastes and get stoked on the same sets. Friends make festivals all the better, indeed. However, there's something liberating about cutting the cord (at least temporarily), taking a leap of faith, and experiencing a festival on the solo tip.
At this year's Electric Forest, there were more than a few courageous attendees who made the trek to the four-day music and arts gathering in the woods by themselves. Each had their own reasons for doing so, but none of them seemed to have any remorse about their decision.
Aidan was the first solo rider we crossed paths with. The Oakland, CA, native attended as part of EF2018's newly launched fan participation initiative, The Wish Machine, encouraging the Forest Family to spread positivity and offering the greatest evidence yet that Forest dreams really do come true. In this case, it was Aidan's Beats and Burritos concept, in which he handed out 60 MP3 players—along with some burritos—to Bay Area homeless, in hopes of filling their bellies and elevating their mood through music. Each MP3 player featured an uplifting playlist of about 250 songs, curated personally by Aidan, with genres including soul, jazz, R&B, reggae, and a few classic jams.
"I see people on the streets, struggling 24/7, and got to thinking how I can lift their spirits in a way that wasn't already being done by most of the shelters," he explained.
Aidan's benevolence landed him a pass for the first weekend, in addition to a silent disco DJ set and complimentary accommodations at the deluxe Electric Avenue campsite. The only catch was that he was granted a single ticket, meaning he would have to fly halfway across the country to attend a festival alone for the first time in his life.
"It's been an extremely different experience. Usually I go to music festivals, and there's a group dynamic behind everything. I came at the earliest possible time on Wednesday, and it was a bit tougher, because I was just walking around by myself. I was kind of second-guessing myself. Then, I kept meeting more friends as things went on—and having access to the backstage area was really helpful."
Hard work and a stroke of luck led Aidan to test the solo waters, but others may come into this situation for different reasons.
We spotted Patrick as he was being bombarded by flocks of people who wanted to snap a photo next to the Trump "Billions and Billions" totem he was wielding. His smile would have never made you guess he was dealing with a crushing breakup.
"This was kind of a tradition for us," Patrick said of the old flame with whom he attended the last four years of the Forest. "I miss having Danielle with me—but it's the Forest, and it kind of alleviates a lot of that stuff."
Instead of wallowing in heartache, he chose to lick his wounds and—regardless of it being "their thing"—was there to make the most of the ticket he had purchased when he and Danielle were still seeing each other. His plan was to let the good times wash away any negative feelings he might be harboring, and it appeared to be working.
"I think you've got to be confident," offers Patrick to anyone contemplating a party-for-one. "You got to be social and be able to talk to people. If you're an introvert, it might be a little hard."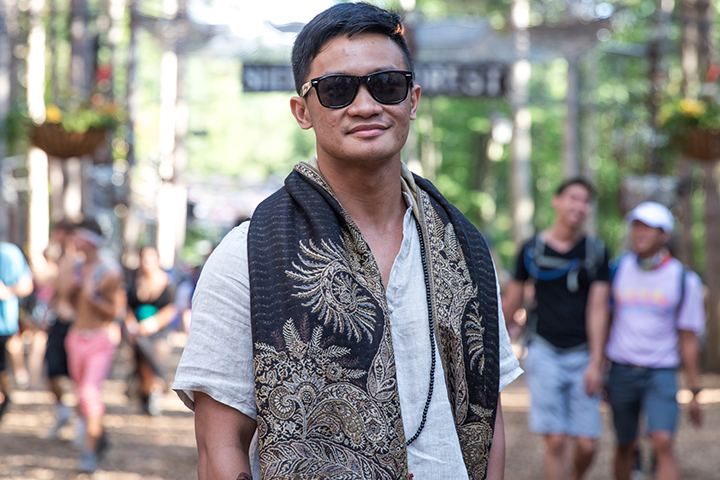 Festivals might feel like an extrovert's game, sure, given their loud and densely populated nature. But even introverts are able to navigate the experience without losing their footing.
"At first, I was kind of scared to go solo to a festival, because I thought I wouldn't enjoy it if I came without any friends," said Frankie, a medical technologist who drove nine hours from Illinois. "I'm kind of different from most of my friends—I love electronic music. They just aren't into this scene."
We spotted Frankie strolling through the Sherwood Forest, with two buddies attached to his hip.
"We met at EDC Vegas this year and ran into each other here," Frankie said, gleefully. "Every time I come to a festival by myself, I'm able to meet new people and hang out with them. Even though I feel shy around people, I try my best to socialize; festivals are the one the thing that makes me able to do it."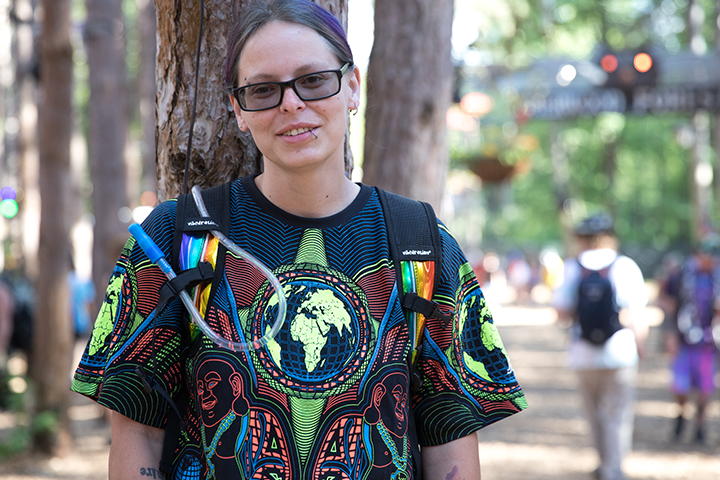 While it may force some people out of their shells, there are certain drawbacks of festivaling alone that are unavoidable. Kelsey, another lone attendee we met, admitted that she underprepared and wished she could bug a friend to lend her a sweater. There's also the matter of not having anyone to split the bill with or step up to the plate when you need help scarfing down that last slice of Spicy Pie. "I noticed I buy food, and I'm like, 'Who wants this?' Because I can't eat it all."
It's a small price to pay for being on your own time, though—a pro Kelsey feels outweighs any of the cons. "It's kind of nice to not have anybody else trying to pull you to where they want to go, so you can go at your own pace."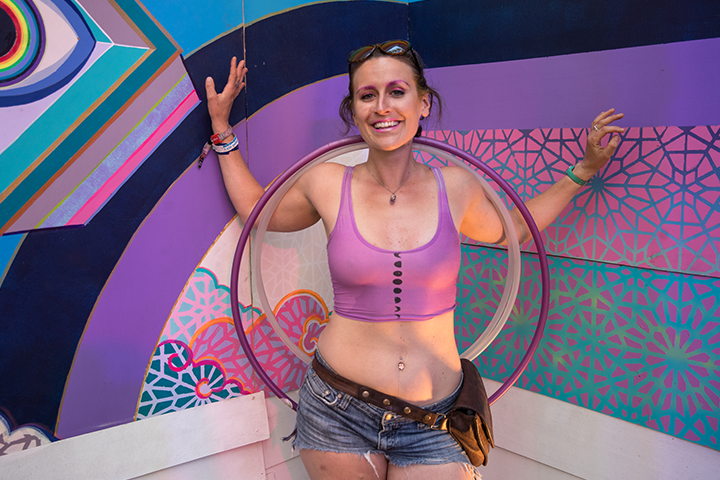 Not being on anyone else's schedule is a positive cited by every solo journeyer we encountered. "The wonderful thing about going alone is you get to be on your own time," said Jenny, who traveled here from just two hours away in Michigan and was confident she made the right call. "You might not be with anybody when you get here, but you leave with a family."
Jenny couldn't stress enough the importance of shedding one's inhibitions and exploring Electric Forest by yourself, even if you do happen to have a group to call your own.
"Even if it's for five minutes—just to have that courage and see how nice everyone is, and to meet other people that you wouldn't have met, because you were talking with that person or the people you came here with. You come back with better stories, because you dispersed and are able to maybe return with more friends and a bigger group of people."
At the end of the day, festivals are all about sharing the things we love with the friends we love. And though it might sound counterintuitive, oftentimes, the best way to make new friends is simply by showing up to the party without any.
Photos provided by Electric Forest.
The second weekend of Electric Forest 2018 takes place June 28–July 1 at Double JJ Resort in Rothbury, MI. Wristbands and lodging packages are available now. For more information, visit the official website.
Electric Forest is produced by Madison House Presents and Insomniac.
Follow Electric Forest on Facebook | Twitter | Instagram | YouTube
Follow Insomniac Events on Facebook | Twitter | Instagram | SoundCloud | YouTube | Spotify
---
Share
---
Tags
---
You might also like