Lady Faith, the Iranian Morality Police, and a Hardstyle Way of Life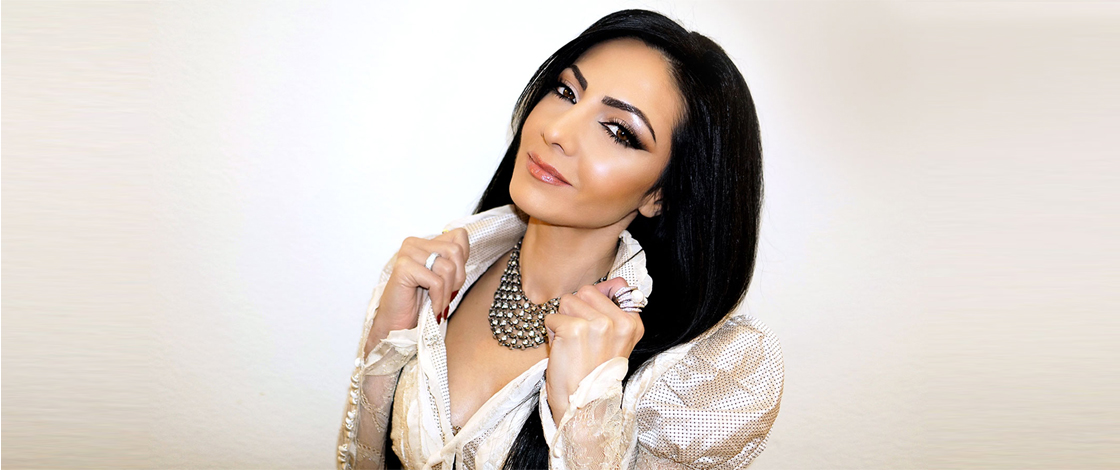 What is it like to be a female hip-hop and heavy metal fan in a place where both are outlawed? What is it like having to dodge the ever-present morality police when you're changing in and out of your traditional hijab that covers you from head to toe? Would you run if you were in danger of being arrested for attending a mixed-gender party? Would you break the social code in order to watch Hollywood films and Western television illegally? Would you leave your homeland behind in order to pursue your desire to express yourself through music, no matter the cost?
These are no doubt some of the many hard choices and questions that the "Queen Bitch" of hardstyle has had to face on her own journey to the top. From her early years clashing with traditional Iranian culture, to her current jet-setting days and nights as a world-renowned hardstyle DJ and producer, the one they call Lady Faith continues to inspire with her unending passion and straight-up love for the harder side of the dancefloor. Whether she's mashing big-room house or classical opera into the mix, the infectious, high-energy hardstyle sound that has become her own has obviously struck a nerve; masses all across the globe continue to clamor for more of that euphoric, ruff-and-rugged sound she delivers.
As we begin counting down the days to her highly anticipated set at EDC Mexico later this month, we thought we'd take a step back and reflect on the long and often challenging road that Faith has had to travel to arrive at this moment in her career. From her early days of navigating the often repressive elements of traditional culture in Iran, to finding her own way in the underground dance music scene of Los Angeles, Faith's journey has been marked by a fierce determination to express herself and follow her passion for music and life at almost any cost. This is her story.
Take us back to your childhood. What was life like growing up in Iran?
I was born in Tehran, the capital city of Iran. My life was quite different than the typical American experience, I imagine. In Iran, there is a culture that governs behavior and a tradition that is very ingrained into our society. It is a system that has been developed over a thousand years and is the bedrock of Persian culture. I was always a bit of a black sheep who never really fit in with that traditional philosophy, but as long as you keep your opinions within your own family structure, you can get away with a lot more freedom than people might think. Still, there are limitations and a very real sense of danger if some of the more strict protocols are not followed.
My family was traditional but on the more liberal side. At one point, my parents sent me to a private religious all-girl school, and I was always required to wear a hijab—basically a collection of clothing that covered a woman from head to toe. Still, when I was a block from the school, the black hijab would come off, and I would get to wear my more colorful hijab, which made me feel free and alive. You had to be careful, though. I was once caught by an undercover school spy for changing my clothing a block outside of school premises, and I was almost suspended. I learned my lesson and made sure I walked at least two blocks away before getting changed, from then onward. They were never going to stop me from dressing how I wanted.
What are your early memories of what life was like outside of Iran, and how were those ideas shaped or formed?
Just below the traditional surface of the Iranian culture, there was always a strong Western pull, especially emanating from Hollywood movies and TV. I had a friend who owned a huge satellite dish capable of receiving some international programming. Occasionally, the police would come and destroy the dish, but she would always buy another one. That was my only real portal to a world outside Iran, so it became an important part of my development.
It seems like, even at an early age, you were fiercely independent. Was there any tension due to your budding individuality and the growing desire to express yourself?
It seemed that whatever my parents and teachers tried, they could not quell my fiery spirit. I hung out with boys at mixed-gender parties. I listened to heavy metal and gangster rap, both illegal in Iran at the time. Eventually my father tried to move us to America, as he could see that I was struggling to adapt to all of the restrictions society placed on my shoulders. Our path was not that complicated, at least for me, but my family had difficulty adapting to America, and we spent many years traveling between America and Iran. That was a tough time. I changed schools four times in six years, and just as I would adapt, my entire life would be turned upside down—from short skirt to hijab and back again.
I imagine that tension is amplified because you are a woman.
Yes, exactly. In Iran, tradition is important, and the role of a woman is largely defined. Guys can get away with pretty much anything; for the women, if you act in any way out of the norm, you can actually be in real danger.
How are these traditions and gender roles enforced?
There were multiple religious police that patrolled the streets of Tehran. Some were official and some were volunteers, but they all had zero tolerance for people who pushed the boundaries of the Islamic tradition too far. The volunteers, or Basij, were the most intimidating, and I have ugly memories of my friends receiving lessons I doubt they will ever forget. I certainly won't.
Of course, as you got older, your interactions with the morality police become even more serious and personal.
I had plenty of issues with the morality police, especially the Basij. During my late teenage years, after arriving back to Iran, I got into trouble more frequently, as I found it really hard to adapt. I was constantly flaunting the rules, and this led me down a dangerous path. One time, both the official and volunteer police raided a big party I was attending. Everybody scattered, and I ended up in a car with a male friend of mine. The police chased me for half an hour at really high speeds. I ended up on the freeway, and when the police vehicle pulled up beside me to get a better view, I slammed the brakes and scooted out of an exit. They were too slow that time. I actually tried that move a second time, with the same result, a few months later.
I imagine it wasn't too long after those experiences that you ended up moving to the United States for good. What was that final journey like? Did you do anything special to celebrate your newfound freedom?
It's not like I just arrived in America, fell on the shores and kissed the sand. The process was longer and very complicated. The last time I left Iran, at the age of 17, I knew I would be staying in America, so I finally allowed myself to contemplate a future that all of a sudden had so many more possibilities. One of the first things I did to celebrate my newfound independence was that I went to watch Lisa Lashes and Anne Savage do a kickass set at an underground warehouse rave in Downtown Los Angeles. I had a blast and partied till dawn. Those two female DJs gave me my inspiration. Being a DJ/producer is the end result of decisions made at that moment, and I have never looked back.
Is there any chance of you returning to Iran as an artist/performer?
I would love to return one day, but I have never returned home, for fear of being persecuted for my lifestyle choices. As a female and Muslim EDM DJ actually born in the Middle East, I have notoriety, and I am not sure how high that goes up the chain. Right now, it's not worth the risk.
With that said, things feel like they are slowly starting to change, and your own restless energy seems reflective of a growing cultural gap between Islamic "enforcers" and a younger generation questioning and resisting Iran's strict behavior codes. Is that a fair assessment and something you sense as well?
Definitely, just consider [Iranian President Hassan] Rouhani. Ten years ago, a progressive president like him would have never been allowed. Who knows what kind of person the next president will be, but I hope he is even more progressive. The international news frequently paints a pessimistic picture of the Iranian youth, but the truth is that the levels of education are very high in Iran, and as such, there is a strong current of liberalization that simmers just below the surface. It will take time for that group to truly find their voice, but it will happen eventually. Maybe one day, more people in the world will get a chance to see the real beauty of Persian culture and history.
We've been talking about your experiences growing up in Iran, but I'm wondering if your attraction to hardstyle is related to that same desire to push against cultural norms, even within the relatively free-spirited world of electronic music?
Absolutely—I am a firm believer in the idea of "Go hard or go home." For me, the harder styles mimicked the rebellious fire in my soul, and it just felt right. I see electronic dance music as an experimentation of the limitations of sound, and for me, the harder styles really push the frequencies to their limits while still maintaining a melodic, trance-like component that pushes human emotions to new levels.
I started my DJ career playing hard house and hard trance, which then morphed into hardstyle. I play hardstyle because I love hardstyle, and for a woman in this industry, I think that is a requirement if you want to survive against all the odds. It's a labor of love for me, made easier by my many "Faithful" fans that keep my spirits up and whose love has become a central component of my existence. My fans are what make it worth the pain and the struggle, and I appreciate them all—even the haters.
Speaking of which, how did the name Lady Faith come about, and what kind of meaning do you see it representing?
"Faith" refers to my belief in myself. Without a strong faith, I would have never had the opportunity to be the DJ/producer I am today. I believed in myself, even when nobody else would. I can't tell you how many people told me I would never make it; yet here I am, a nine-year veteran who—with the help of just one person, my long-term agent Leo Corson—has created something special. I can tell you that the music I am going to release in 2016 is by far the best of my career. It's an exciting time for me and for the rapidly growing American hard dance scene.
The journey I have been on, ever since I made that fateful decision to become a performer, began in dirty underground warehouses and has grown so far since then. Hardstyle is now a standard part of the largest EDM events in America, and some of that change is a reflection of the hard work myself, the other amazing American hard dance DJs and Leo have done over the years. I am very proud that I was able to contribute to the growth of the scene, and I honestly believe that the most exciting part of the ride is still ahead of us.
Last but not least, if you could go back in time and visit your younger self in the days long before you left Iran, what would you say to her? What kind of advice would you give?
If we could only change the past, wouldn't that be nice. The truth is that everything happens for a reason. If I had not followed the path I did, I may not be where I am today. The world is about balance. If you have a true desire to follow your dreams, expect a great deal of hardship along the path, but know that it is that very hardship that makes you the person you are when you finally get there. The key is perseverance and belief in yourself, even when it feels like it is you against the world. Hard work and dedication pays off eventually, and I am an example of that.
This has been really wonderful and insightful. Thanks for sharing your story with us!
Thank you very much, and I hope my story will be an inspiration to those who are interested in my history or are conflicted about their future. If I can go from wearing a hijab growing up in Iran to become an internationally respected female DJ/producer, then anything is possible with a little Faith in your heart.
Follow Lady Faith on Facebook | Twitter | SoundCloud
---
Share
---
Tags
---
You might also like