We capture a mental fingerprint of some of our musical and cultural heroes and preserve it in cyber-amber for the wonderment of future generations. This is the Insomniac Questionnaire. Meet DJ the Prophet.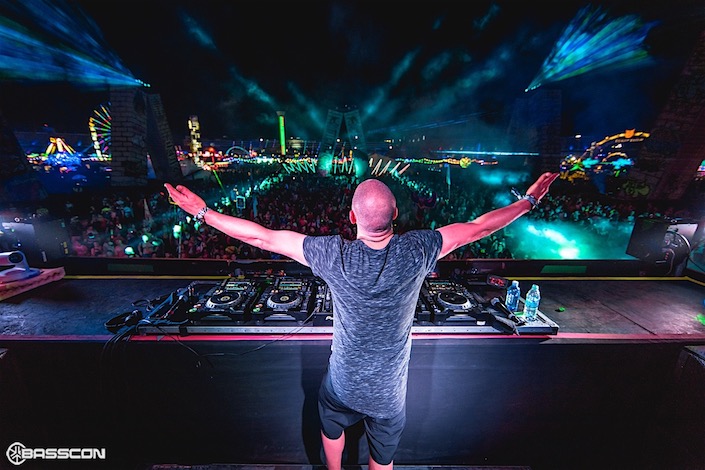 What was your favorite toy as a child, and when and why did you stop playing with it?
My first Sony, because I got a second.
What is the best advice you've ever received? Did you take it?
"Dude, you're too old, man—you better quit DJing!" And yes.
What part of your day do you look forward to most?
That moment when I can easily sit on my toilet and just play an uninterrupted game of Pac-Man.
What's the best time you've ever had without spending money?
Going through my head and thinking of all the nice memories I have.
What is your most treasured possession?
My positivity.
What is your favorite word?
"But seriously."
Do you owe an apology to anyone?
Sorry?
When is the last time you were really scared?
Yesterday, when I came off that toilet I mentioned before.
What is the last thing you googled?
My grandma.
What's the last sound you would want to hear before you die?
Whatever comes from a Roland TB-303.
Do you have any recurring dreams or nightmares? If not, what's the last dream you remember having?
Nope, I don't. My last dream was about sushi—I went to bed a bit hungry.
How do you measure success?
With a ruler.
If you could have one magical/superpower, what would you want, and why?
Guess I would love to fly, like most other people, because it's something we cannot do now.
Have you ever had a brush with the paranormal or supernatural?
Yes, I did. Once in a while, I can communicate with the trees of my neighbors.
What do you remember about your first kiss?
That my dog didn't like it.
What four words best describe you?
I, really, don't, know.
What's the last impulsive thing you did?
Answering this interview.
Do you have a pet? Tell us a story about it/him/her. If not, what is your ideal pet?
I have five Sphynx cats. They are the best! Like a combination of dogs, monkeys, cats and human.
What is your strongest or best personality trait?
I'm loyal.
Do you believe in any conspiracy theories or urban legends?
Yup!
Follow DJ the Prophet on Facebook | Twitter
---
Share
---
Tags
---
You might also like