Interview: For Ferry Corsten, Snowboarding Is the Club Life Antidote
Upcoming Event
Corsten, presumably contemplating his recent snowboarding trip.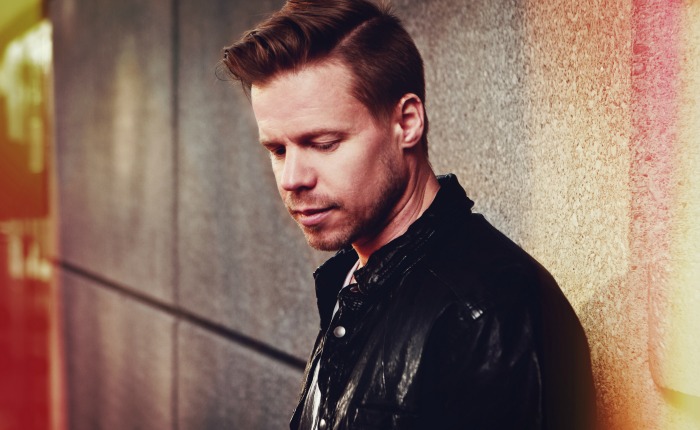 You know Ferry Corsten as an internationally revered music-maker, and also as half of super-duo New World Punx, in which he performs alongside fellow icon Markus Schulz.
The rigors of Corsten's career—loads of traveling and studio time, and an ongoing run of gigs in locations from São Paulo to Dubai—demand that he also find a way to effectively unwind. For Corsten, the preferred mode of relaxation is snowboarding, a sport he's been into for nearly 20 years and does in locations as varied as those on his tour schedule.
Here, the 41-year-old Dutch DJ/producer talks about his love for the sport and its mountain culture. Also, check his playlist below.
How long have you been a snowboarder?
I've been doing winter sports since I was seven or eight years old. I used to ski, and then I went snowboarding about 15 or 20 years ago. I had a gap in between of about seven years when I didn't go at all, because I was traveling the world, DJing.
Good excuse.
Then I rediscovered it, and I was hooked again. It's almost like one of those religious moments in the year for me. It needs to be done.
Why do you find it so meaningful?
It's not just the snowboarding itself. It's also the culture around it, and being in the mountains, away from the crazy, buzzing life that club life and festivals are. It's the complete opposite of that. Put me in sub-zero temperatures, beautiful nature, and peace and quiet. And the riding down, of course, is unbelievable. It's the perfect way to clear my head. It's a way to leave the whole busy year behind you and recharge for the next year.
SEE ALSO: Ferry Meets World
A lot of people compare it to meditation because it requires a certain amount of focus. It sounds like that's what it is for you, in terms of being the antidote to the hectic life you lead professionally. 
Yeah, absolutely. The snowboarding itself is great. There's the rush that you get out of it, and the rest that comes with it. Being in a different environment is so good.
Where are your favorite places in the world to snowboard?
I always go with the family to this place called Ellmau, which is in the Austrian Alps, and it's just a lovely little town and great ski resort. Then, if I'm lucky, I'm also going to France. The last few years, we went to Morzine in the French Alps and Courchevel, which is absolutely stunning. Very long slopes. I've recently been to Japan in a place called Hakuba, which is about an hour and a half from Tokyo. It's really cool if you love Japanese culture mixed with the whole winter thing.
It's not just the snowboarding itself. It's also the culture around it, and being in the mountains, away from the crazy buzzing life that club life and festivals are.
On a scale of one to 10, how good are you?
I would say eight or eight and a half.
That's good!
In terms of going fast, maybe. I'm not the type of guy who's jumping and going crazy and doing all 360s and stuff, because I need my hands. If I break something, it's going to be very hard for me to do what I do.
I have a daughter who skis and who is getting a lot faster than previous years; and with that, she's like, "Come on, Daddy, let's go." She's unpredictable. She just goes straight and then all of a sudden takes a turn right in front of me. That happened last weekend, and I had to break her fall and sort of bruised my wrist. I focus more on trying to carve and going really fast.
Kids are usually so fearless on the slopes.
Yeah, for sure. I like to believe it's because they're closer to the ground, so they don't have that far to fall.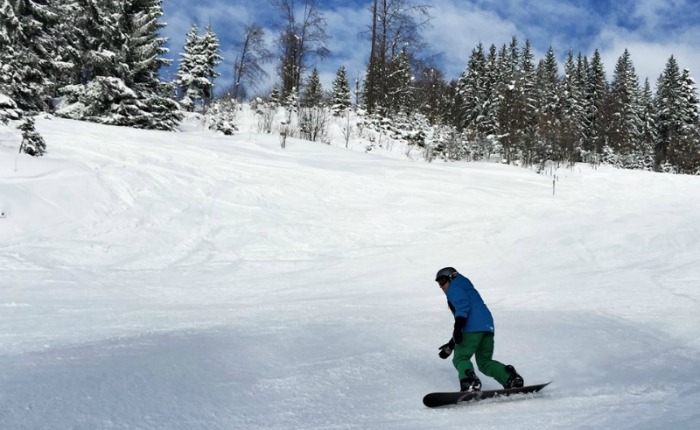 Corsten snowboarding in Austria last month. 
I imagine snowboarding to the songs on your playlist, and in that context they almost have sort of a video game quality. Why have you chosen these particular tracks?
It gives you energy, in a way. If you listen to very dreamy stuff, you get a bit too relaxed. This is funky enough and powerful enough to keep you going. I love the dreamy stuff, but I think I'll get too relaxed, and I need a bit of a kick.
I also must say that I love going snowboarding without any music and just listening to the sound of the board. That's very nice, too, but in this case, it could be this list or drum & bass—just high-energy stuff.
How do you spend your time in the mountains when you're not on the slopes?
I really try and avoid clubs, if there are any. For me, it's all about relaxing and going to the pool or sauna or Jacuzzi and having dinner. You've been on the mountain for the whole day with fresh air, so usually the lights go off by 9pm. I love using the whole day for snowboarding. Some people wake up at 11am and go down the slope once or twice and have a beer. I like getting up at 6:30 am and going up the mountain. I've always been the first guy there, waiting for the guy to turn on the lift.
You get the best snow that way!
Definitely! Especially when it's fresh. So yeah, I get up early, use the whole day, get some lunch. I've never been snowboarding in the States, but over here in Europe, it's the big thing to have these massive lunches. It's nice out in the sun. And you keep going until they close the lifts, and then it's just the swimming pool and sauna and chilling out.
When was your last trip?
I just came back. I'm very depressed right now. Last week, I was in Austria for the whole week, and the last week of December, I was in Japan.
You must feel refreshed. 
Yeah, but it's never enough.
Follow Ferry Corsten on Facebook | Twitter 
---
Share
---
Tags
---
You might also like