Here's What 6 Headliners Look Like When They're Not at Festivals
We all journey down different paths in our daily lives. Some of us serve as COOs of international startup companies; others are travel agents, preschool teachers, or financial service representatives, to name a few. When we venture to a festival, however, we remove our costumes and transform into truer versions of ourselves, meeting in a world that allows us to leave all our worries (and boring-ass clothes) behind.
Insomniac celebrates #TransformationTuesday by asking six unique Headliners to discuss their lives in and out of the festival.
Read our full #TransformationTuesday series to meet even more awesome Headliners. And remember, ravers are everywhere.
HEADLINER: ELENA C.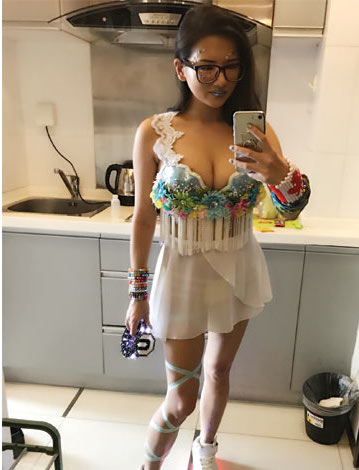 Age: 27
Hometown: Toronto, Canada
Occupation: COO of an accommodations startup
How long have you been raving? 9 years
Which Insomniac event are you most thankful for, and why?
Definitely EDC Las Vegas! I live in Hong Kong now, so it's the only Insomniac event I've been to so far. I love the production, the variety of genres, and the good vibes! I truly feel at home when I step into EDC with all of my beautiful fellow Headliners. Seeing how much we care about each other, even though we are complete strangers, moves me so much. I love seeing everyone get together because of their love for the music. Can't wait to see you all Under the Electric Sky!
HEADLINER: FRANKIE M.
Age: 24
Hometown: Houston, TX
Occupation: DJ/producer
How long have you been raving? 8 years
Which Insomniac event are you most thankful for, and why?
If I had to choose, I would say EDC—because you get to meet people from all over the world. It's a blessing to be able to connect with others on a spiritual and emotional level and to learn about different kinds of people from across the globe. Raving is more than just a special moment—it's freedom, peace, love, and unity.
HEADLINER: JESSICA R.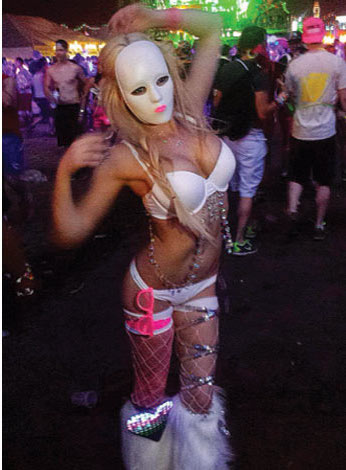 Age: 30
Hometown: Orlando, FL
Occupation: Travel agent/model
How long have you been raving? 12 years
Which Insomniac event are you most thankful for, and why?
Hands down, EDC Las Vegas! It always has an amazing lineup and the most fantastic visuals, and it never ceases to amaze me. It's so large that you will never run out of things to do, sets to watch, and people to meet. EDC Las Vegas is my home. It gets better and better each year.
HEADLINER: MILAN P.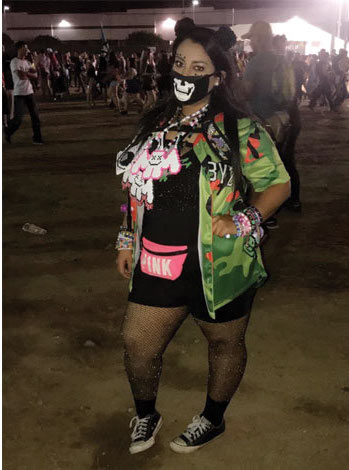 Age: 21
Hometown: Indio, CA
Occupation: Preschool teacher
How long have you been raving? 1 year, 7 months
Which Insomniac event are you most thankful for, and why?
My favorite event definitely has to be Escape: Psycho Circus. It's a rave combined with a huge Halloween party, making it the best Halloween event ever. Everyone's creative side comes out in their costumes, which is amazing. I love seeing what everyone comes up with each year. The vibes are always PLUR, and all of the scary and spooky entertainment is the cherry on top.
HEADLINER: ADAM J.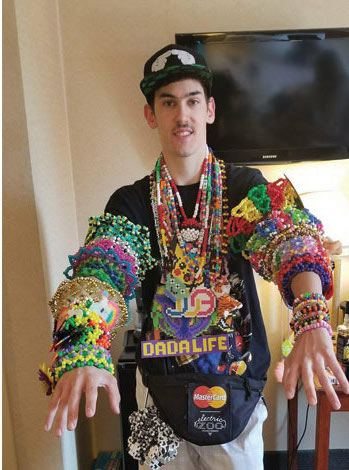 Age: 26
Hometown: Avon, MA
Occupation: Merchandise op specialist
How long have you been raving? 2 years
Which Insomniac event are you most thankful for, and why?
I would have to say EDC Las Vegas. I went this summer with six members of my rave fam and experienced my first plane ride ever. It was awesome. I met so many amazing ravers and had a blast trading kandi, dancing, and taking pictures with new friends. My favorite stage was wasteLAND, since I don't really have the opportunity to see many hardstyle DJs where I live.
HEADLINER: TAYLOR S.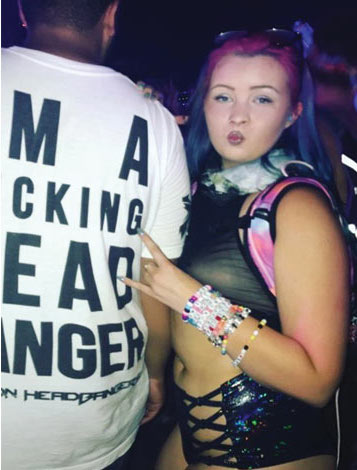 Age: 23
Hometown: Regina, Saskatchewan, Canada
Occupation: Financial service representative
How long have you been raving? 3 yearsWhich Insomniac event are you most thankful for, and why?
EDC Las Vegas is so breathtaking and so mesmerizing—right from the moment you see Las Vegas Motor Speedway, to the crack of dawn on Monday morning when it comes time to leave. Running from one stage to the other, taking in the earthy vibes at cosmicMEADOW while dancing to Major Lazer, sharing water with complete strangers, crying when your favorite DJ plays your favorite song, and being front-and-center at circuitGROUNDS is the best feeling in the world. I would have never thought raving in 110-degree weather would be so awesome.
If you would like the chance to celebrate #TransformationTuesday with Insomniac, please email your best transformation photos to osteinbe@gmail.com by Tuesday, November 28.
---
Share
---
Tags
---
You might also like