Ground Control Keeps Headliners Happy, Healthy and Hydrated
"This is Major Tom to Ground Control, I'm stepping through the door And I'm floating in a most peculiar way And the stars look very different today" — David Bowie, "Space Oddity"
We're roaming tomorrow's frontier with Ground Control, Insomniac's everyday saints. Obscured by clouds, a full moon floats overhead. Lasers flash to Milky Way beats. Over 100,000 breaths take in a dream world pulsing with life. Fireworks rend the air. Smiles are everywhere.
As we follow our guides Sara Napolitano and Nima Sabaghzadeh, we wade into darkness. We're checking for lonely hearts and pangs of anxiety. We open up port-a-potties to make sure no one has passed out unseen. We ask Headliners sitting at the edges of the dancefloor if they have injuries or enough water. If we see commotion, we watch to make sure a lovers' quarrel stays civil. We're checking for anyone getting lost in the cracks.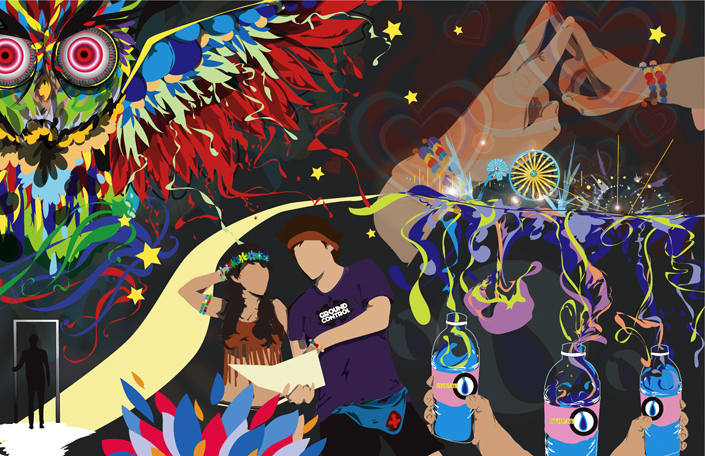 Ground Control is, in a sense, the conscience of EDC. "When you see a couple arguing, you can't act on instinct," Sara says, as we walk into the bassPOD zone, the drum & bass of LTJ Bukem's 1993 classic "Atlantis" clattering against the gravel. "You have to step back and assess the situation: 'Ok, what are these nonverbal communication signals going on between them?' If we assume, we may be putting something onto it that isn't there."
It's a way better experience, because you're doing something you love. You love to rave, but it helps you put something into the rave. 
"Honestly, you feel good about yourself," Nima says later, as he describes why he joined Ground Control. "It's a way better experience, because you're doing something you love. You love to rave, but it helps you put something into the rave. You're helping something you love. The best type of motivation is intrinsic."
With fanny packs and purple T-shirts, Ground Controllers rove in packs of three, carrying multi-channel radios, red light sabers, and bandages. It's part detective work, part Peace Corps. "It's sort of like you're going camping," Sara explains. "It's like you're on an island, a step out of reality for a weekend. You're in Candy Land. Everything's all right. Everything's positive."
Ground Control's mission is to keep things that way. Founded in 2010 by Insomniac fans Laura Newton and Brittany Meckelborg, the group is dedicated to responsible raving. They're also the eyes and ears for medics and safety officers, an advance team that works to prevent crises at a massive festival filled with over 100,000 party-goers, the population size of Peoria, Illinois, or Berkeley, California. They don't preach about what they do or judge anyone's behavior.
"You have to look at the big picture," Sara says. "This is their let-go. This is their release. And for me, this is a chance to be able to steer how others are feeling to help gear it to a more positive outcome."
Laura started Ground Control in 2010 with about 30 of her friends from high school. When Insomniac CEO Pasquale Rotella heard the initial Ground Control proposal, he loved it and invited Laura to build it up with his full support.
"This program has grown exponentially since it started," she tells the 120 volunteers who have flocked for the weekend, as she preps them for the long night ahead. "You guys are the heartbeat of Insomniac. While the fans get to follow our executives in social media and know they're here, they don't often get to meet them in person. You guys are an extension of what we want Headliners to feel at the show."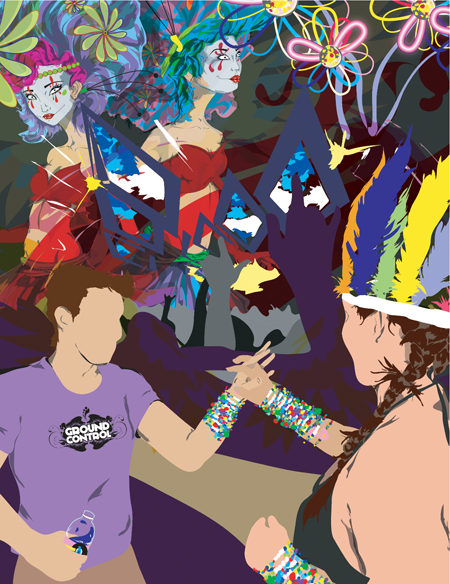 A few months after EDC Vegas, Laura convenes a brainstorm meeting with a team of longstanding Ground Control members at Insomniac's Los Angeles headquarters. "We are trying to push people to go dance, dress how they want, enjoy the music, and take care of their peers," one Ground Controller says. Another talks about the need to confide with each other between shifts: "Everyone exchanging stories motivates you to go back out there." Each insight is part of a diverse mix that makes Ground Control broader and stronger.
"I feel pro-social behaviors are a huge thing in society we need to work on."
Sara, now 23, first joined Ground Control at a previous EDC Vegas. A psychology major at Cal Poly Pomona, her perspective on life was profoundly shaped by growing up with a younger, autistic brother. "It eliminates the cognitive dissonance of being selfish," she reasons. "You're more selfless when it comes to your sibling. There's no struggle internally of 'I want to do this, but I can't.' You give all that up."
"I feel pro-social behaviors are a huge thing in society we need to work on," she continues. "As it's evolving, people are becoming more and more distant with each other, with less face-to-face interaction because of technology. I feel we are being desensitized to the people around us because we are just so into our own worlds. I feel with EDM, it's at a crossroads. For example, at the Speedway, nobody's phones worked. In that time, you either accepted that your phone didn't work, or you were worried your phone wasn't working the whole night."
That same night, as we orbit our way toward the kineticFIELD, where Richie Hawtin and Calvin Harris are taking the decks, Sara and Nima's shift comes to a close. Along the way we've met many Headliners, checked in on their health, pointed them in the right direction, and shared some grooves. "I think as we bring awareness that Ground Control is here," Sara says, "the more the people are going to be accepting of what we're here to offer."
For a brief time, the escape of EDC eclipses the everyday. For some, that means cutting loose and floating away. But for most, it's a precious window into a wider universe. And when someone falls, Ground Control is there to catch them. "When in doubt, check it out," is one of their mottos.
"We were beyond tired," Sara says later about her first Ground Control experience. "It was the third day, and we waited for an hour to get a ride out of the parking lot. It was bittersweet knowing everything had to come to an end—but knowing I had the time of my life. Everyone I was interacting with the whole weekend were new faces. I met so many great people. I helped so many lives; it was a surreal feeling."
Since its beginning, rave culture has been about a new frontier of human interaction. It hasn't always found a way to take that knowledge and apply it back to reality. But Ground Control is perfecting that journey through compassion. At the world's greatest party, where everyone's wide awake and the stars look no different today, the saint's road is now open for all to take.
Follow Ground Control on Facebook | Twitter | Instagram
---
Share
---
Tags
---
You might also like