Project #OpenTalk Provides Peace of Mind After the Dancefloor
Our dancefloors are famous for giving folks the feels. These safe sanctuaries can be hugely emotional places for people, particularly if you're carrying around considerable amounts of baggage upstairs. Sometimes that catharsis can manifest itself as unchained euphoria, with the carnal power of kinetic movement and human connection freeing you of your woes for the evening. But other times, it can give rise to anxiety, amplifying feelings of isolation and loneliness, unearthing buried trauma, and overwhelming you in the moment.
Either way—good or bad, up or down—you're not alone. We want you to know that we're here to talk to you.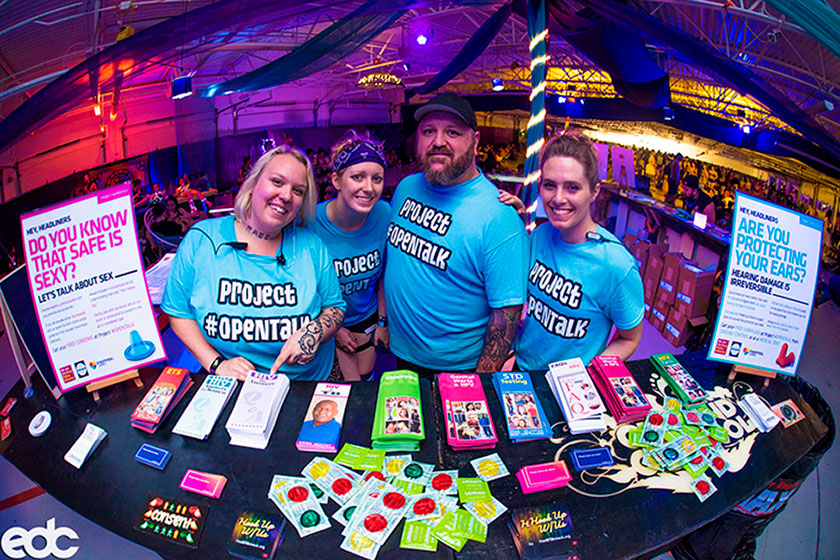 The term "harm reduction" has come to be intrinsically linked to safety surrounding alcohol and other drug use. The notion that we can safeguard festivalgoers against harm—through basic education, frank dialogue, and measures like providing free water and chill-out zones—is one that Insomniac preaches and practices. But we have come to look at harm reduction in a broader context, and in the past year, we have been adding a new and necessary layer to our operations.
Project #OpenTalk is a nonprofit initiative that was developed by Insomniac in collaboration with the Drug Policy Alliance, Healthy Nightlife, and MAPS' Zendo Project, with the aim of "connecting accurate and unbiased drug and sexual health information with crucial emotional support provided by trained peers together under one umbrella." Housed within the Ground Control Oasis at this weekend's Escape: Psycho Circus festival, Project #OpenTalk is a space where fans can stop in and chill out, get some free condoms and water, and chat with some of our trained staff about whatever's on their mind—something we believe is becoming more and more important at our events.
"In the last couple of years, we noticed an increasing number of people in our medical facilities that didn't have a medical problem," says Maren Steiner, Insomniac's Director of Health and Safety and cofounder of Project #OpenTalk. Motivated by a troubling spike in fans seeking support for a variety of psychological issues, Steiner felt that EMTs offering support in the sterile medical tent wasn't the right solution to this problem.
First launched at EDC Las Vegas 2016, the initiative brings together the vast experience that Steiner shares with Stefanie Jones (director of DPA's #SaferPartying campaign) and Missi Wooldridge (founder of Healthy Nightlife and former executive director at Dancesafe), forming—as Steiner delights in stating—"three female crusaders on a mission to make dance music a safer place." With an emphasis on judgment-free dialogue and frank education, the service is yet another innovative layer of support and care that Insomniac is proud to bring to our events.
"This has never historically been the job of a music festival. But Insomniac is a movement for young people, and we need to use that platform to help those young people when they're at their most vulnerable." —Maren Steiner, Insomniac Director of Health and Safety
Steiner's team has also harnessed social media and push notifications via the Insomniac app to implore fans to look out for one another, stay hydrated, and speak up if they're feeling down. This multifaceted effort has resulted in a significantly safer event, as well as an embedded culture of empathy and shared responsibility for our fellow ravers.Project #OpenTalk is the latest addition to a range of innovative harm reduction efforts Insomniac has been implementing over the years. Ground Control was first debuted at Beyond Wonderland 2011 and has acted as an effective first point of contact for fans having difficulties. This concept has since been replicated by festivals around the world. "Ground Control's job is to go out there and find people that need help," Steiner explains. "They're looking in dark corners, looking in the restrooms, looking for people that are sitting off to the side, not having a good time." Many of our Project #OpenTalk workers are graduates of Ground Control.
"We've also focused a lot of efforts on making sure no one feels like they're going to get arrested if they seek help," Steiner adds, echoing a scene-wide concern that fans often misunderstand the role that security plays inside the event. "The police in every jurisdiction we work in will help you if you need help. We don't have a culture of judgment or reprimanding. We're making sure people are safe."
She also notes that Project #OpenTalk has been particularly effective in Las Vegas, due in part to its close proximity to the Nellis Air Force Base. "We have military veterans and those in active duty that are suffering from severe PTSD coming to our festivals, and we're developing a project right now where we're able to connect them with the right people within the military services in order to get the support they need."
While this addition to our on-site support network has proved to be crucial, we acknowledge that these efforts need to transcend the festival and endure long after Headliners return to face off against the demons of their daily lives. "We want to help you find support wherever you live," says Steiner. "We can follow up with you after the festival to make sure you're doing okay and seeking the help you need."
"Lots of young people know they're having problems, but admitting you're having a mental health crisis is scary!" she adds. "You might have just moved away from home, you're away from your family, you don't know how to get mental health support. So, what if we brought some resources to the music festivals that you already go to and connected you with some good people who are just like you—just a little older and with lots of letters behind their names?"
Escape has always been one of Insomniac's, shall we say, wilder affairs. It's Halloween weekend, just a couple of months after the college term begins, and our costumed Headliners often seek to push their mental, physical and emotional boundaries. While this can lead to people finding themselves a little worse for wear, we urge anyone coming to the festival this weekend to stop by the Ground Control Oasis, next to Slaughterhouse, and start your festival with some frank and honest conversation. It might just be the highlight of your weekend.
---
Share
---
Tags
---
You might also like