EDC Debut: Danny Howard's First-Ever EDC Las Vegas Experience Was Surreal
Many artists made their debut on the stages of EDC Las Vegas last year. In the EDC Debut series, we relive the stories of their first time Under the Electric Sky.
Danny Howard knows how to set the tone. His stints as resident DJ for Ministry of Sound in Egypt and the Syndicate, the UK's largest nightclub, have allowed him to lay down the proper vibes for some of the world's best DJs. He's also no stranger to massive audiences: Besides a tour schedule that puts him on festival stages around the world, his flagship BBC Radio 1 show, Dance Anthems, regularly draws in 1.8 million listeners. Still, even an artist of Howard's stature can get awe-struck by the sheer magnitude of kineticFIELD, where 40,000 Headliners greeted the UK star during his debut EDC Las Vegas performance last June.
In a brief moment of reflection, he wondered how he ended up in front of the biggest crowd of his life. And like most artists who have stood in that same spot, he had to admit that the whole thing "was like a dream." But dreaming is for sleepers, and it was time for him to get to work.
As tens of thousands of Headliners descended upon EDC for a night of heavy bass, Howard made it his mission to get people in the mood to party until the sun came up. His widely eclectic set during the early evening on the final night of last year's festival was proof positive that EDC is a place where genre boundaries don't exist.
We caught up with Howard to talk about his debut Under the Electric Sky.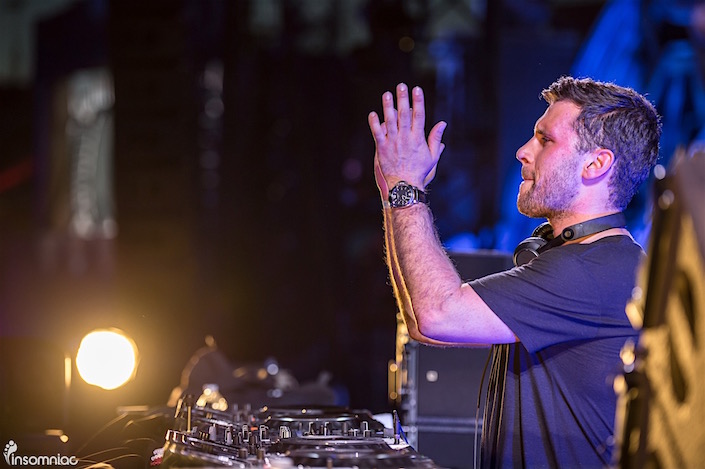 On a massive structure like kineticFIELD, you almost become one of the smallest moving elements on the stage. Does being dwarfed by the enormity of everything allow the music to speak for itself in a way?
[Laughs] That is a very good question! I remember last year in [EDC Las Vegas] being so overwhelmed by how vast it was. I mean, how big can a stage actually be?! I estimated it was probably the length of three football fields next to each other, and then the production was next-level crazy. Water fountains on a stage—whaaaat!?
The music does speak for itself, of course, because without that you have nothing. It's important to get your set right for such a huge event, and then the stage, production and performers really enhance the whole experience. At EDC, [it's] like nowhere I've ever seen before! Incredible!
You helped kick off the final night of EDC last year, right after Mercer. You've spoken a little bit about the job of opening DJs. Even at such a large-scale event, did you feel you had the same responsibility of building the energy and setting the tone for the night?
Absolutely! It's easy for a DJ to see that big stage and get carried away into thinking they're the headliner and completely smash it out. As the crowd gets bigger, your tunes can get bigger, but always bear in mind who is on after you as you finish your set. That said, festivals can be a bit different, as people just want it big there and then. I'm talking more [about] a club vibe with that [aforementioned] rule.
Erick Morillo was one of your biggest inspirations, and you remixed his track, "Break Down the Doors," last year. How did it feel to be tagged for remix duties on one of his biggest classic records?
An honor! What can I say? He's an absolute legend in the scene! It was even more of a surprise to see how hands-on he was with it. He was always in contact on making the remix better, and he even did a bit of additional production on it, which I was grateful for. I never thought I'd work with him, let alone sign a track to his label. Great career moment!
You're a tastemaker in dance music. By the time EDC Las Vegas rolls around this June, which new artists do you think will be dominating the festival stage?
It's a difficult question to answer, as music is made and released so quickly now that artists can literally burst onto the scene in a matter of weeks. You just need that one big song.
On a club level, I would keep an eye on KC Lights. He's from the UK and is working with the manager of house legend MK—Marci Weber, who formerly managed Moby. She knows a good thing when she sees it, and I certainly see it, too. His next track, "Sundown," is on my label, Nothing Else Matters Records, and I think it will be a big festival tune this summer.
EDC Las Vegas 2017 takes place Friday, June 16, through Sunday, June 18, at Las Vegas Motor Speedway. Tickets are available now. For more information, visit the official website.
Follow EDC Las Vegas on Facebook | Twitter | Instagram
Follow Danny Howard on Facebook | Twitter | SoundCloud
---
Share
---
Tags
---
You might also like