Bro Safari and His Voracious Appetite for Harmonics-Enriched Bangers
Nick Weiller launched his Bro Safari project in 2008 as an outlet to explore chopped-up riddims, breakbeat pressure, and other tricks of tempo. His open-floor-plan approach soon encompassed the mechanized drops of dubstep, synapse-rattling 808s of trap, and quick fills of moombahton—threaded together by dramatic builds, dank melodies, and wonky low-end.
Over the years, technology has transitioned from samplers to multiple instances of digital judder, but Weiller's appetite for the sonic fringes is no less voracious. His pitch-bent sound design has established him as a forward-thinking producer of cathartic, harmonics-enriched bangers, while his dynamic sets have made him a North American mainstage mainstay.
In anticipation of his appearance at May's Middlelands festival, being held at the Texas Renaissance Festival Fair Grounds, the veteran bass peddler took an hour to talk with Insomniac about taming the alchemy of production, the forging of a set, and his place in the EDM realm.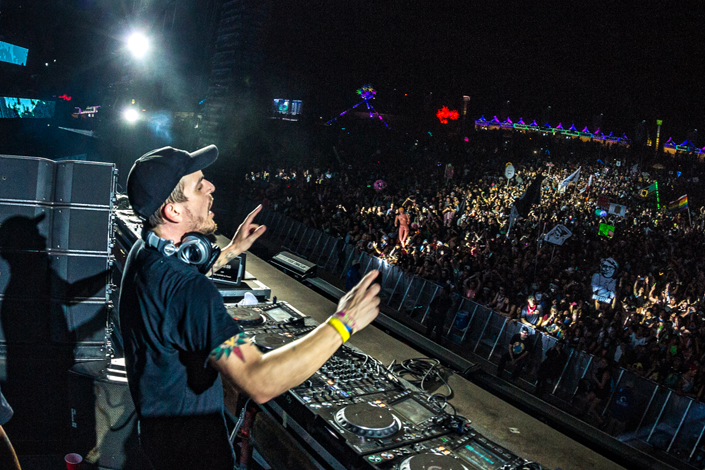 Almost two decades before heading to Middlelands, you gained electronic music notoriety with Evol Intent, a production/DJ trio that has released glitch-hop to dubstep but first emerged making galvanized drum & bass to get appropriately medieval on that ass. How have you seen your relationship with electronic music and bass change since injecting N.W.A. samples into hardstep?
The sound design of making bass music has evolved heavily. But on a personal front, it's been a consistent feeling whether I play a show now, when I first started DJing, or when I was just listening to music that was sub-bass heavy. I've always seen and felt a passionate response from heavy bass music.
Do you still find a place for the same type of sonic onslaught and Aphex Twin/junglist influences that drove those early micro-edited rhythms and dissident bass?
I find myself still using the same techniques I used 10–15 years ago—I've just refined the process. I released a song called "Reality" this year, and the main bassline has the same sharp, aggressive sound I would have done when I worked on an EVLNTNT tune. Sound design has gotten so much cleaner over the last decade that it sounds a bit different, but it's the same feeling of filtered bass. A lot of people say something sounds "digital" in a derogatory way, but it has its charm, too.
When producing, do you spend much time considering live sets and crowds? Do you program specific tones as cues to evoke emotions and reactions?
I spent a lot of time thinking about the crowd too much, to the point I felt I lost sight of what I was doing for a while: Was I trying to please myself, my fans, my peers, or just trying to become a better producer? Now that I had the realization… I've put that aside and made very intentional tones and sounds to inject in my songs.
Some of my favorite things are synthetic strings and pads, and things of that nature, because I feel they do such a good job of conveying a sense of emotion through sound—whether dark, happy, suspenseful. And that's for me. I'm not always sure how it will work on a dancefloor, though I've seen it work. So, if I have a song where I want the intro to be very dynamic and give off a nostalgic feel, I'll put that in before switching it up to a big bass drum or something else that makes everybody goes crazy. Too often, I hear bass music songs that are a simple clap intro with drums and a choppy vocal, and there's so much space where you could do so much more to evoke a reaction in people.
Is there a particular part of the audience you envision these tones will impact?
It depends on whether you refer to me as a producer or a DJ, because I see them as separate things. When I'm DJing, I'm there to let the crowd have a good time. I'm a trap, dubstep, moombahton DJ, and I'm okay with that. I want people to feel, but not like they're on a roller coaster. I want it to be high-speed, high-octane, balls to the wall, but without uncomfortable dips. While in the studio, things are constantly changing… there can be more textural swings, but it's still got a balanced sensibility.
"I'm excited to see what Middlelands will be like, because Insomniac already does such a great job with decorations, and they get to build off such a specific theme."
Looking at the two sides of that dynamic, what do you consider foundational, and what is that little extra flourish of the moment?
I think at the core of everything, I've always been into aggressive music, and I think that's within all my songs. That doesn't mean that it's mean-sounding and dark, just that is has edge and depth. But at the same time, I like to change things up and do simplistic and silly stuff, too. In my DJ sets, I'll play something lighthearted and fun to break up the aggression. I do it in the studio, as well. You have to keep things fresh and interesting for both the crowds and yourself.
Speaking of fresh takes, you'll be playing Middlelands, which is at a Renaissance fairground. How does that stack up to the more interesting places you've played, and do you plan to approach it any differently?
I considered it, but I feel there will be a lot of Game of Thrones edits and intros, so I'm not going to give into the obvious temptation. I'm excited to see what it will be like, because Insomniac already does such a great job with decorations, and they get to build off such a specific theme that can be both fun and funny. I've never been to a Renaissance fair, so I'm excited.
Let's briefly transport ourselves into this land of fire and ice and roast turkey legs and discuss any sonic skirmishes and alliances forged in battle you expect when approaching a big festival. Do you try to use your set to joust with other people on the bill?
I think there's definitely a sense of rivalry at some point in a DJ's career, but it's friendly rivals. Then you lose that after a while. For me, I'm just looking for longevity, consistency; I'm not really planning to take the throne. I've made so many good friends doing this, that it's almost guaranteed I'll run into someone I want to hang out with, which is one of the best parts of playing festivals.
And "alliances"… in the studio, one guy I collaborate with all the time is UFO!, and I recently collaborated with Dillon Francis for a song on my upcoming EP. One person I've worked with for years and deeply respect is Jake [Stanczak], Kill the Noise. And John [Gooch], Feed Me, aka Spor.
You could say they are part of your guild. And on the show side of things, what tracks and artists are the current weapons of choice?
I'd say Dion Timmer is a sick producer, and we have a collaboration on my EP. His production reflects his sensibility of catchy, off-kilter, heavy, dubstep-trap hybrids. Barely Alive is another set of versatile producers with technical abilities that are amazing. And another I'd shout out is Tisoki—he has an interesting vibe and is a technically gifted producer.
What are some more internal influences on the upcoming EP?
This EP is a short collection of songs that all kind of fit this hard-edged, but melancholy-tinged vibe, which is why I wanted to release them together. I put out two singles last year—"Follow" and "Reality"—and those are on the EP because I feel they fit in the same vein as the four new songs. I play guitar on one song, but it's just a little thing here and there. I feel this EP freed me to explore other sounds, move into a new direction, and explore new projects, while continuing to have fun with the Bro Safari project.
Catch Bro Safari doing his thing at Middlelands the weekend of May 5.
Follow Bro Safari on Facebook | Twitter | Instagram
---
Share
---
Tags
---
You might also like