Seven Lions' Definitive Guide to Metal
Upcoming Event
I've never been into metal. I'll admit, it's very much for lack of trying—the genre just hasn't seemed as appealing as others I've wanted to delve into.
Most of my metalhead friends got into the genre around middle school, when I was listening to the horny musings of Blink-182 and a whole lot of emo by the likes of Taking Back Sunday, Fall Out Boy, and Panic! at the Disco (it was an angsty time—what can I say).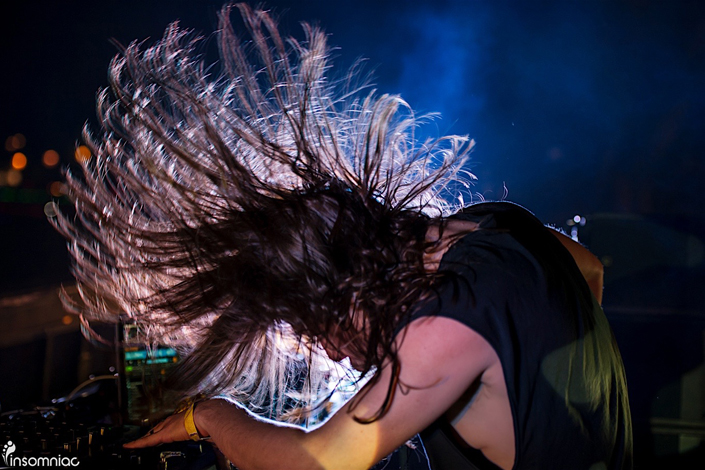 But it's never too late to get into a new subculture, and metal is a deeply interesting one. The lyrics often have Satanic bents, and the bands usually play heavy on the theatrics. Plus, it seems like every metal band has its own cult following—not just the big names or the most out-there names, but every name. Of course, dance music can be like that, too. But a dance music festival is more about the experience as a whole—the dressing up, the meandering between different stages, the lights and decorations—than a singular artist.
I decided to find out what, exactly, is the big deal. That meant I had to listen to a lot of metal. And if anyone could show me, a dance-music-loving metal noob, where to start, it would be melodic dubstep king—and certified metalhead—Jeff Montalvo (aka Seven Lions).
Montalvo got into metal in—surprise!—middle school. "Initially, I really liked the heaviness of it all," he admits.
First it was Astro-Creep 2000 by White Zombie (an album I find, honestly, pretty badass). Later, Montalvo took hits of the death metal band Morbid Angel and the thrash metal band Testament before discovering Swedish melodic metal. Opeth falls loosely within that category and remains his favorite band of the genre to this day.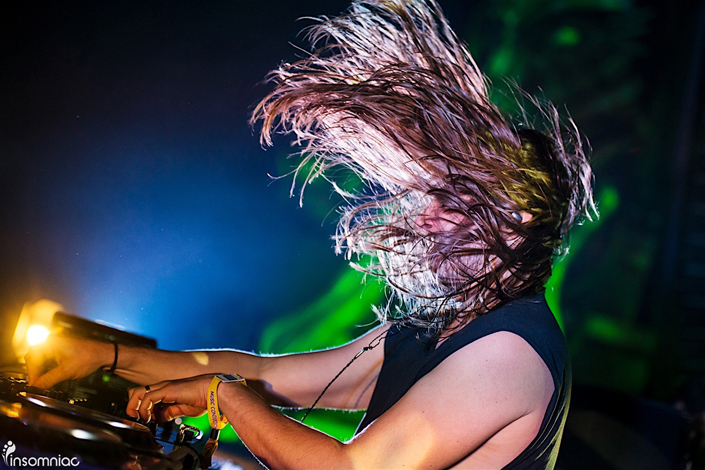 "The more I listened to metal, the more I saw that each band had its own world around it," says Montalvo. "You listen to a Cradle of Filth song, and you feel like you're in a graveyard, and it's super epic and gnarly and dark out. I like songs that transport you to a place you can see." That's something Montalvo strives to do in his own music, too; the timing and combination of beauty and destruction in Seven Lions songs are not by accident.
But Swedish melodic metal isn't particularly common. The subgenre refers mostly to a particular era of metal music coming out of Sweden: old tracks from bands In Flames, At the Gates, and Soilwork would fit the bill. What I've heard, Montalvo tells me, is probably the more mainstream stuff: American thrash metal, popularized by Metallica and others. That's the type of metal that got radio airtime.
Listening to Metallica doesn't freak me out, which is a good sign. The title track of their album Master of Puppets—which received critical acclaim when it was released in 1986 and is applauded as one of the albums most influential in solidifying the American thrash metal sound—is fast-paced and heavy on the major chords, but the screaming I expect to hear never comes. There's some yelling, sure, but nothing ear-splitting. The song is musical, with great guitar riffs, and it clearly has an audience: On YouTube, it has almost 45 million plays. It's not exactly something you can dance to, but it has an I'm-about-to-get-shit-done vibe about it that I dig.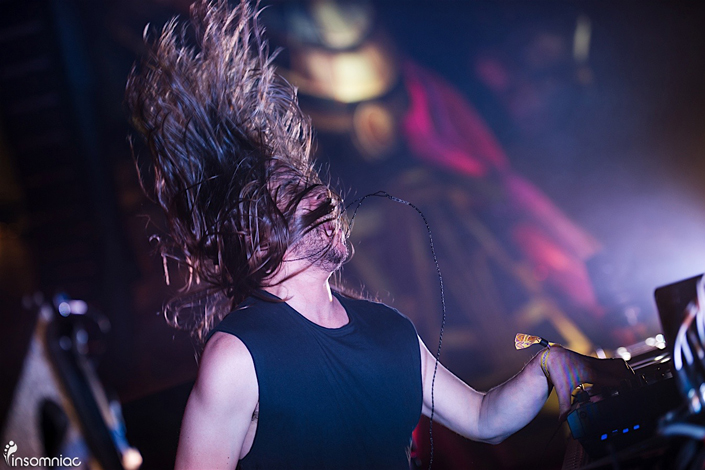 The metal Montalvo likes and listens to, he explains, is on another side of the spectrum. I say "another" and not the other, because in metal there are many sides, and the subgenres are pretty segregated.
"The difference between black metal and stoner metal is huge, for example," says Montalvo. "The former is recorded really lo-fi and crappy, usually. Tempo-wise, it's fast, aggressive. Stoner metal is the opposite: slow, sludge-y, non-aggressive." Neither is really his thing. (Personally, I find stoner metal relaxing and black metal anxiety-provoking.)
Montalvo's favorite subgenres make total sense, once you talk to him and compare them to his own music. Aside from Swedish melodic metal, the genres progressive metal, something called Viking metal, and symphonic black metal also top his list, and each are telling of a different facet of his personality or tastes.
"Progressive metal is about nerdy rhythms and doing interesting, out-of-the-box stuff musically," he says. "Viking metal is all about slaying dragons and kicking ass. The lyrics are about drinking or being a fucking adventurer." Meanwhile, symphonic black metal is melodic but also "really, really evil."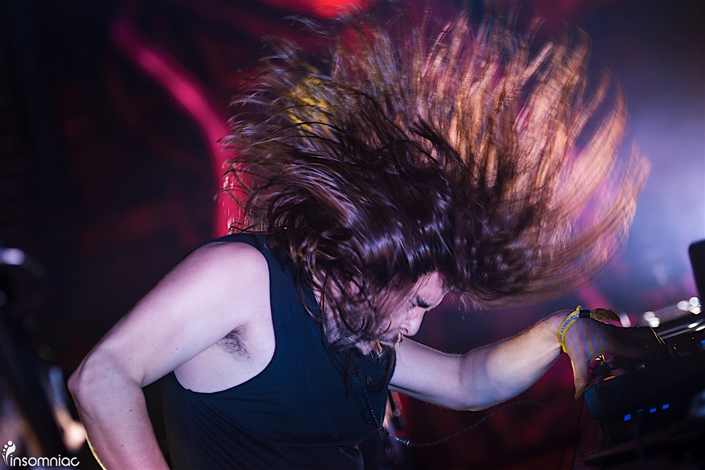 For a metal novice, it's all a bit overwhelming. Now I know how my non-raver friends feel when I try to explain the differences between house, tech house, progressive house, and deep house. Not to mention the ever-increasing subgenres of bass music, the various tastes of trance, and the long rolodex of techno subsets. It's all enough to make a person get firmly behind the movement for eliminating genres altogether.
But back to metal. There's another small hang-up I can't get over. What's all the Satanic stuff about?
Montalvo's not into metal for the Satanism, but being in the scene, he knows a thing or two about it. "I'm not really sure why it started in metal," says Montalvo, "but generally, Satanists don't even believe in a Satanic deity. It's more like, just believe in yourself. It's basically just a super aggressive atheism."
It's definitely a huge thematic element in metal, though. Even more approachable bands, like Ghost B.C., use it as a theatrical element. "It's so over-the-top that it's tongue-in-cheek," Montalvo says. "You'd never believe they're going home and sacrificing goats or anything like that."
"I like songs that transport you to a place you can see."
Speaking of Ghost B.C.: If you're new to metal like me, Montalvo suggests their album Meliora as a starting point for diving into the genre. "They're super mellow, but they have that metal vibe, and the metal look, and the themes of Satanism, and all that good stuff." Opeth's Blackwater Park is another great entry point. "Even my mom likes Opeth," laughs Montalvo.
For musicality, though, you can't do better than the uber impressive drumming on Cephalic Carnage's "Lucid Interval" or the overall sound and precision of Dimmu Borgir's "Progenies of the Great Apocalypse."
I can get behind Ghost B.C. Their track "Monstrance Clock" feels more alt rock than metal, with mellow tones and catchy riffs. They're still singing things like "Come together for Lucifer's son," and the music video is full of characters in Satanic gowns and face paint, but it's all done in an uber chill way. As in, I could listen to this casually, and not just for research's sake.
"Progenies of the Great Apocalypse" is a trip. That screaming I was expecting to hear with Opeth and Metallica? It's here, in Dimmu Borgir's cinematic anthem. I have to admit: Musically, it's impressive. Truly, this could be a Star Wars score (minus the screaming, maybe).
That screaming is in full force again in "Lucid Interval," even more so than in "Progenies." Even the guitars sound like they're screaming, cutting sound rather than playing it. The drums—as promised—are wild, as high-speed as a car chase, and technically complex. Loud. It's maybe not really my style, but undoubtedly impressive.
This foray into the heavier side of metal makes me a bit surer that these particular subsets are something I'll probably keep my distance from, but the softer, more melodic subgenres—those might make it into my playlist rotation. It's a possibility I never considered: I, someone who lives off groovy house music and fainted at my first Excision show, might like metal.
"People who really like music—who actually like music and don't just listen to the radio—generally find themselves in different subcultures, whether it's metal, or punk, or EDM," says Montalvo. "I don't think it takes any certain type of person to be a metalhead."
I might become one yet.
Catch Seven Lions doing his thing at Middlelands.
Seven Lions Metal Music Playlist:
---
You might also like