Bridging the Past, Present and Future With Hype and Hazard
One of the most highly anticipated pairings over the past weekend at EDC Las Vegas was the epic showdown between the drum & bass legends known as DJ Hype and Hazard. Absolutely shredding bassPOD with a back-to-back session that went all-in on everything from bubbling rollers to their signature hip-hop–influenced jump-up sound, the Playaz stalwarts have been crisscrossing their way across North America in what is a historic and long-overdue return for both artists.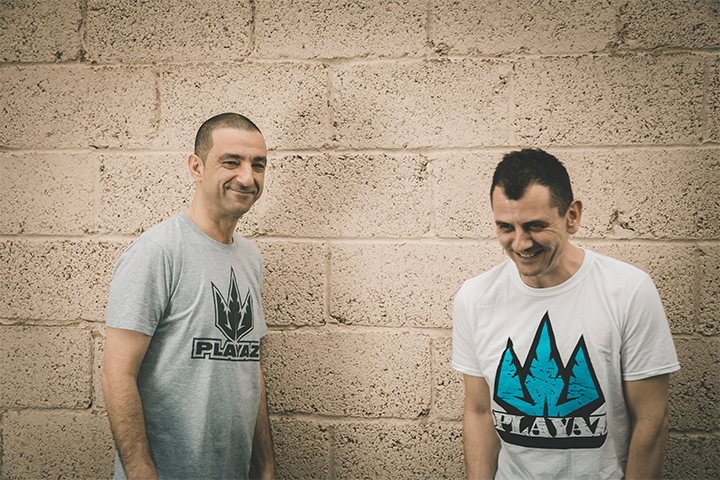 While Hype last graced the States around five years ago, for Hazard it's been close to a decade since he's been able to hop on a plane and do any international gigs, due to what was then a debilitating case of travel sickness. When asked if it was linking up with Hype for a back-to-back tour that caused the change of heart, Hazard tells us, "Last year, I got this new medication that just takes all the sickness and anxiety away, and has allowed me to start doing overseas shows again. It's great, and yeah, it was definitely a plus knowing I'd be touring with Hype for this trip—touring is always more fun with a mate."
With the pair preparing to touch down in Downtown Los Angeles for a Bassrush takeover of the Belasco Theater, we can't help but take a look back at the decades-long legacy that both are bringing to the decks as DJs and producers. With Hype's own role as a founding father of the legendary Playaz imprint, and Hazard's own early contributions to the imprint helping to cement his own legacy in the scene, it's hard to believe there was a time when the pair had yet to meet and had only heard of each other through the tight-knit network of the drum & bass scene in the UK.
"I used to get Hazard dubs from Jason at Back to Basics Records many moons ago," Hype tells us. "At the time, I just assumed he was signed to Back to Basics, so I called up Jason to ask when Hazard's next track would be released. He replied that he had no idea, as Hazard wasn't signed to him at all—they just worked together in a record shop!"
With a quick laugh at the memory, Hype then tells us how he called up Hazard and offered him a spot on the Playaz roster. And the rest, well—you know the rest. From "Mr. Happy" to "Killers Don't Die" and "Machete," Hazard's uncanny ability at crafting dancefloor anthems that continue to stand the test of time make for an ongoing popularity that surprises even him at times.
Take the inimitable "Mr. Happy." We jokingly (but seriously) asked Hazard if he should be receiving some sort of legacy payment for it from the drum & bass scene, as not a weekend goes by, somewhere around the world, without that one getting teased or full-on dropped in the mix by top-tier and bedroom DJs alike.
"To be honest, I think it's the other way around," Hazard responds with a laugh. "I owe the scene for the way the track has been treated! It's amazing to see so many DJs still supporting it, even just for the nice nostalgia when you hear it dropped. It's one of those tracks where, even if you don't like it, I think most people can still appreciate it. I should probably be paying other DJs back for keeping it so popular for so long!"
"I was never that fussed about doing back-to-back sets, but I went along with it, because Hype convinced me it would be fun. After seeing the reaction at Boomtown and doing a lot more since then, I guess he was right."
Flash-forward to the present, and the pair are in the midst of a North American tour that no doubt was born out of the success of their back-to-back pairings at European festivals like Boomtown and Let It Roll. With both sets racking up hundreds of thousands of views on YouTube, the back-to-back session between the two legends was an instant success—although both continue to be cautious about being marketed as a duo.
"I can't remember exactly who came up with the idea," Hazard says, "but I remember our agent persuading us that it was something we should do. I was never that fussed about doing back-to-back sets, but I went along with it, because Hype convinced me it would be fun. After seeing the reaction at Boomtown and doing a lot more since then, I guess he was right."
"Neither of us is particularly fond of back-to-back sets," Hype continues, "but we did Boomtown in 2016, and it was a game-changer. The response to our back-to-back set was overwhelming, and we agreed to do more as a result. I think as long as we don't rinse [the concept] out, as we are both individual artists in our own right, we should be all right. But yeah, it's been fun so far."
Surprisingly, the pair doesn't preplan their sets, and each outing is a chance to create something new. It's an attitude that Hazard credits with the success of their sessions, convinced that "we both know each other so well that it just works—we're not forcing anything. Sometimes, we'll chat about who goes first, but it's a bit of a free-for-all, really." Hype agrees: "We just vibe and get on with it. We have never rehearsed together, ever… We just do what we call 'winging it'—it's definitely more fun that way."
When asked if any tunes are off-limits for the other to play, Hazard gives a laugh and tells us, "There are definitely tunes that we know each other usually play or like to play, so most of the time, we'll just let each other do our thing. Sometimes, though, I'll play a track that I know Hype wants to play, just to wind him up and annoy him—I'll usually look over with a smile and a wink."
Still buzzing off the EDCLV vibes and looking ahead to the final dates on their North American tour, including tomorrow night in Los Angeles, both producers reflect a bit on whether or not crowds have changed over the years and how the scene has continued to evolve.
"I've thought a lot about this recently," Hazard says. "I don't think the crowds are changing; I think it's me. There was a time when I thought the crowds were all getting younger, but really, it's just me getting older! It's funny—I'll be at a gig and see someone in the crowd and think, 'Should you be out this late?!' I'm a father of four now, so it's definitely changed my perspective. But as long as everyone is still loving it, that's the most important thing."
Hype agrees with Hazard's assessment, reminding us that even though "music, fashion, and dance styles change and evolve, at the end of the day, it's still a DJ playing some intense music to a crowd that love to party."
DJ Hype and DJ Hazard are playing a back-to-back set at the Bassrush-hosted party taking place this Friday at the Belasco in Los Angeles, CA. Tickets are on sale now.
Follow DJ Hype on Facebook | Twitter | SoundCloud
Follow DJ Hazard on Facebook | Twitter | SoundCloud
---
Share
---
Tags
---
You might also like