Best of Escape: Psycho Circus 2015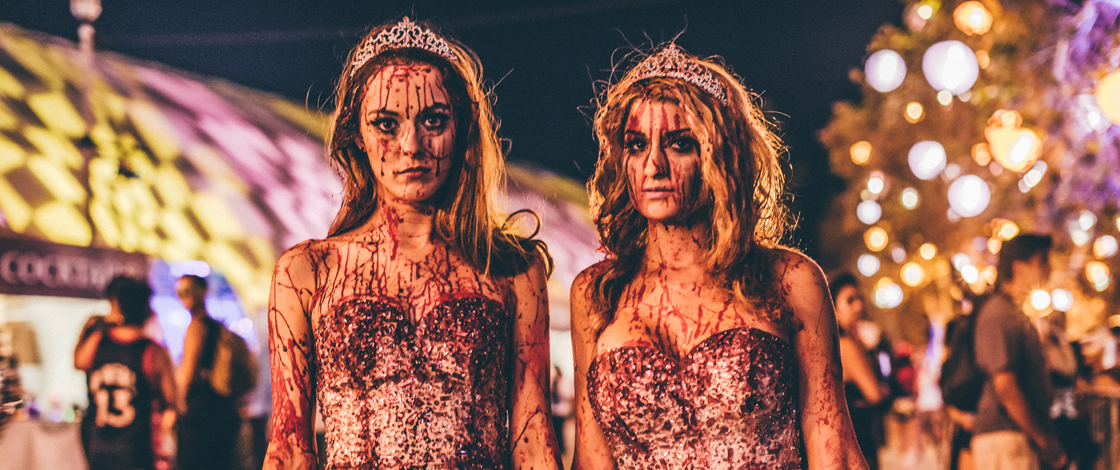 The Psycho Circus came to town this weekend and delivered a hefty load of scares, haunts, and freakishly good times. Escape is always one of our favorite times of the year. Our awesome headliners always step up their costumes to new frights, our performers go from merry pranksters to devilish ghouls, and beats rock harder than hell. These are some of our favorite moments from Escape: Psycho Circus.
Reliving EDC Las Vegas 2015 With EDC 360
It's hard not to catch a case of EDC flashbacks when I'm walking through a crowd of ravers. There's something about EDC that makes me wish I were always there. A part of me desires a sense of EDC permanence, like an EDC theme park, but I know waiting for the festival to come around every June is part of the annual ritual. Luckily for me, I can get a taste of EDC Vegas via the interactive EDC 360 experience. Shot with special cameras, EDC 360 is an immersive, state-of-the-art 360 technology that takes you as close to the real thing as possible. With noise-canceling headphones over my head and a SubPac-powered swivel chair against my back, I sat and relived all the glory of EDC Las Vegas 2015 through the handheld VR headset. When I looked left and right, I was swarmed by a sea of my fellow Headliners. Next thing you know, I'm standing arm's-length away from Fatboy Slim as he's rocking a crowd of thousands at circuitGROUNDS. When the fireworks go off, I look upward to see a sky filled with lights and beautiful colors. In the distance, I hear the laughter and chatter of Headliners, and I begin to wonder if those are recorded sounds or noises coming from real-life Escape attendees. It all feels so real, it's almost unbelievable. It's enough to hold me off until next June comes around. —John Ochoa
Captain Clown and the Angry Bullhorn
If you were hoping to catch some peaceful vibes by the water early in the evening, your chill time was most likely disturbed by the sound of an irate clown in a rowboat shouting insults into a megaphone at passing Headliners as he floated around the pond. Normally I wouldn't condone such un-PLUR behavior, but his put-downs were so on point and the victims didn't seem to mind, so no harm no foul, right? —Rich Thomas
Contortionists and Forked Tongues
At the Psycho Circus, the super freaks come out at night—like the dude with the forked tongue who could wiggle each part individually, or the female contortionist who could bend over, wrap her arms around her calves, and stare out from beneath her butt while walking around in circles. These are the true heroes of Escape—the ones who don't need costumes because they're so damn freaky-deaky as humans. It's like art with legs. —Rich Thomas
Halloween Drops
As a DJ working a holiday event, you're entitled to a fair amount of creative license when it comes to your tunes. On Halloween, that means mixing in sections—or creating entire remixes—from recognizable theme songs, soundtracks or horror movie scores. I caught bits and pieces of A Nightmare on Elm Street, Saw, The Exorcist, Halloween, and of course the famous echoed breaths from Friday the 13th. It was good to hear DJs getting into the Halloween spirit, and not just the bass music dudes. You know they've been waiting for this all year. —Rich Thomas
Creepy Performers
Headliners always know to expect a cast of weirdos, clowns and merrymakers whose primary objective is to roam the festival grounds and interact with fans. They break down the wall separating attendees from performers and bring them into a world of imagination. Escape brought out the bizarro versions of the performers, who transformed from colorful, prancing flowers to zombie clowns, creepy nurses, and a trippy mini Charlie Chaplin. While the performers were there to frighten, it was all in good fun and in the name of PLUR. —John Ochoa
Tightrope Walker
I took a rave rest near the lagoon, where a mass of Headliners rested their feet between sets. As I laid my head on the grass and looked up into the moonlight, I noticed a man walking high above me in the sky. A quick double-take revealed a tightrope walker seemingly floating above the clouds. It was as surreal as it was graceful and allowed a moment of peace in a setting surrounded by madness. —John Ochoa
Taking It All in at the 7Up Viewing Deck
You can't put a price tag on those moments when you realize just how massive and special this party you're a part of really is. Situated behind the Slaughterhouse, the 7Up viewing deck gave Headliners the perfect vantage point to admire the action from above. Of course, nothing will ever come close to being deep in the throes of the crowd, but I'd be lying if I said posting up at this spot wasn't cool, too. —Sam Yu
The Rise of Party Thieves
From Discovery Project alum to Bassrush's favorite new trap DJ, Party Thieves has been stealing the show as of late, and Escape: Psycho Circus was proof of that. Only a few hours into the festival, Party Thieves had the crowd hyped at the Chopping Block. The New York native and newcomer to the scene threw down monster after monster bass record and even mixed in some of the flyest rap tunes out there just in time for Halloween. Hot off an Australian tour, Party Thieves is set for some huge releases in the coming months and has plans to grow the "Theft Army" worldwide. Keep your eyes peeled on one of Discovery Project's most successful acts. Plus, he did his thing onstage while dressed as the white Power Ranger. —Joe Wiseman
Taking an Audio Ride With Richie Hawtin at ENTER.
One of the most popular attractions throughout the weekend, Richie Hawtin's ENTER. stage took over Cannibals' Tea Party for two nights of nonstop dark techno and splashes of tech house. As one of the most influential figures in the techno world, Hawtin is known for wearing many hats, including his Plastikman alter ego and most recently his ENTER. brand, in which he presents a highly curated lineup across the world, primarily in Ibiza. He brought the ENTER. experience to Escape, where techno-heads danced in the dark for hours on end. When Hawtin finally took the stage, it was like watching a surgeon perform a triple bypass surgery: every knob twisted with angular, precise beats contorted to new shapes, and never-before-heard music filling the airwaves. Unlike the overbearing beats of a mainstage set, Hawtin's performance takes time to build; it's never an immediate combustion. A Richie Hawtin set is comparable to taking the scenic route. It'll take a bit longer to get there, but the journey to your final destination will be worth the wait. —John Ochoa
Golf Cart Confessions
For a year now, I've been driving DJs around on a golf cart while they confess their deepest and darkest secrets. I've got to confess that it's pretty damn fun listening to these folks tell their stories—like at Escape 2014, for our debut episode. They say you never forget your first time, and it's true—like Steve Aoki talking about his first time kissing a girl as a pimply teenager (ok, maybe I'm making up the acne part) while attempting to conceal the boner in his pants. There have been many hilariously fun and rather personal nuggets of info like that over the course of filming 17 episodes. This weekend at Escape, though, Golf Cart Confessions had me smiling for an entirely different reason; this was the first time I had the pleasure of hearing Headliners yell out, "Look, there goes Golf Cart Confessions." I heard some variation of that on more than one occasion as I worked my way through the crowd over the weekend. My favorite part came toward the end of Friday night after dropping Paul van Dyk off at Ghouls' Graveyard, when a few fans decided to daisy-chain their arms together to help us get through the crowd. —Boojie Baker
A Bassrush of Blood to the Head
The Bassrushers at Escape were mobbing hella deep on Friday. In spite of being tucked in the far corner of the NOS, the Damus building was completely slammed with Headliners jumping at the chance to get their low-end on. Never dipping lower than full capacity, the stage was swarming with bass-faced fanatics stomping out to a crazy combo of dubstep, trap and drum & bass that made the dancefloor go through a nasty beating. The moment of maximal mayhem for me was catching Prolix, the Upbeats, and Ed Rush & Optical taking turns at tossing out the wickedest work loaded up on their respective USBs. It was so much back-to-back that Drake should have added a line about it in his beef track with Meek Mills. —Sam Yu
Twisting the Synapses at the 3D Haunt
What better way is there to celebrate the Halloween weekend then by dipping into the 3D Haunt on the Escape grounds? While we weren't sure what to expect as we neared the front of the line, the air was buzzing with the sounds of screams and chainsaws. After being handed our 3D glasses and entering the haunt, we found ourselves being less scared of the various ghouls and goblins trying to get a scream out of us than we were mindblown by the jaw-dropping art on display. Glowing under a nonstop array of black lights, the twisted dreamscape that served as the backdrop for the haunted interior was not only captivating in its nightmarish intensity and scope, but seemed to unseat some dark, inner visions from our collective unconscious in a remarkably impressive way. —Chris Muniz
The Big Top Tent Crawling With Crazy Improv, Song and Poetry
I legit believe the performers were having just as much fun as the Headliners. Things automatically veer toward the weird on Halloween, and they were getting extra wacky inside the big top, an interactive space where a rotating cast of characters rocked the stage through song, dance and all-out lunacy. Most of it was on-the-fly fun, with quips getting whipped up on the spot. The improv all weekend was on point and a complete gut-buster, with moments like the rat popping-and-locking while reciting slam poetry or the Mad Hatter and friends conducting a singing séance, in which they channeled the spirit of Johnny Cash to sing George Michael's "Faith." It was a riot, and it became a regrouping point multiple times throughout the weekend. —Sam Yu
The Beautiful Colors of the Hanging Lanterns
If you're ever to step into the NOS Center—the rave capital of San Bernardino County—during daylight, it's a much different world than when nighttime hits. How the concrete jungle of the NOS goes from parking lot plainness to a full-blown spectacle of lights, lasers and bass is an impressive transformation. At the heart of it all is the aerial garden of hanging lanterns. The rainbow-bright orbs shine high and bright above Headliners' heads like a Crayola box in the sky. It looks almost like the trees themselves are trading kandi. It may seem like a minuscule, overlooked detail to many, but I often find myself lost in these small wonders. —John Ochoa
Headliner Costumes Galore
As a working PLURfessional raver living the festival life, I meet awesome Headliners and fellow ravers in outlandish costumes on a regular basis. What may seem odd and weird to the outside world is an everyday norm in our culture. With the Halloween spirit in full gear at Escape 2015, we expected attendees to step up their costumes to a new level, and we were absolutely impressed with what we saw. Some highlights: a dude dressed as a cholo clown; Wu-Tang deadmau5; a bottle of Sriracha; the cast of the Super Mario Bros. and Power Rangers; and so much more. Our favorite: the dude dressed as Aladdin floating his way through the crowds with his magic carpet, which consisted of an IO Hawk draped in a regal carpet. It was a whole new world for all of us. —John Ochoa
Pepper Jack Party in Our Mouths
That Grilled Cheese Truck, doe. I'll be the first person to say that having good eats available at a festival is the easiest way to my heart. In the middle of all the madness at Escape, patrons had top pickings from a row of food trucks and vendors that could start a party on your palate. Instead of playing it safe and doing the kbbq burrito from Kogi, I decided to fux with the GCT. It hit all the spots. Expect a Yelp review from this guy. —Sam Yu
Recondite Goes Live at ENTER.
If you missed Recondite's live set at the ENTER. stage, I deeply apologize. The techno G from Berlin brought some of the finest quality techno I've heard in quite a while. Dark and heavy epitomizes the 60-minute mix, which transversed a range of underground records any techo-head would die for. Squeezing in between Hot Since 82 and Richie Hawtin was quite the task, but Recondite surpassed all my expectations. —Joe Wiseman
My Fortune Reading Freaked Me the F Out
I've never been much of the superstitious type. The idea of having my fortune read isn't usually something I'd sacrifice precious festival time for, but since it's Halloween night, I figured I would play along. As I grabbed a seat, the teller took notice of the background on my phone, an eggshell-colored aux cord wrapped around a fork like a string of spaghetti, and he told me the fork is a very powerful symbol in his line of work. I was instructed to close my eyes and pull a card from a fanned-out deck. Oddly enough, I chose the fork. He proceeded to tell me a lot of the same things I've been dwelling on recently, but the skeptic in me wrote them off as generalizations. I took it for what it was worth, either a crazy coincidence or the real deal, but I had too much dancing left to do to get stuck on magic. —Sam Yu
Throwing up the Dubz for Ephwurd
Even though there were some personal schedule conflicts (which will always be the case when you have so many solid selectors sharing the same air), I knew I had to bite the bullet and throw myself front-and-center for Ephwurd's set. Earlier this week, you got to meet the new project between Bais Haus and Datsik, so you might recall Escape being their debut gig together as the future house-flinging duo. This was the real test to see if their stage presence would live up to the hype they've thrown through the roof recently. It did. Spacing out their own meaty productions between frenetic, growling bangers, they won the vote of the Slaughterhouse. The sea of revelers throwing up the Ws was an obvious sign of approval. —Sam Yu
Crash Alchemy Spires
These spires were inspiring for a few reasons—the first being that they were intended to be a think piece, something you don't encounter often at raves. Artist Colin Hendee explained the immersive installation wasn't for those in search of instant gratification. The piece required reading instructions and spending more than 60 seconds focusing on making it come to life. And life's exactly what the installation represented—each spire stood for one of five essential elements: carbon, oxygen, hydrogen, nitrogen and phosphorus. To seal the Spires' complexity and importance, Hendee told us the love chemical, oxytocin, was also represented in the piece. "Even if you have all of your fundamental building blocks, nothing can materialize without love." Touching and interactive! —Mary Grace Cerni
Moby's Monstrous Set at the Chopping Block
The 47-year-old dance music legend brought a relentless performance to the Chopping Block. Like the DJ equivalent of a horror movie villain, every time there may have been a chance for Moby to let up on his musical carnage, he came back with more. Every bass hit helped keep my blood pumping, even after a long day of festival hijinks. —Mary Grace Cerni
Mike and Cheryl's Above & Beyond Engagement
Above & Beyond have established a unique niche for themselves in the dance music market. For nearly 15 years, the group has been notorious for consistently producing music branded with a melodic quality that really taps into a listener's emotions. Coupled with their trademark onscreen messages to the crowd and their "push the button" opportunity for fans, A&B have proved themselves to really be artists that a very broad spectrum of people can connect to on a deeper level—and the results show in their massive following and sold-out shows across the globe. So, it was more than fitting that the group would work a moment centered on togetherness and love into their Escape set.
It was just before midnight; Tony and Jono had just transitioned out of their remix of New Order's "Blue Monday," when their familiar onscreen text scrolled out that their friend Mike had a question to ask. Seeing this, I'm sure everyone knew what was coming. Sure enough, with the next message, Mike used the big screen in front of the eyes of thousands to pop the question to a certain Cheryl. I don't know where the two stood in the crowd, but the words "She said yes" appeared onscreen, and the newly engaged couple—faceless to most but now connected to the audience nonetheless—surely rejoiced in the cheers of thousands as A&B brought in the fitting vocals of "Thing Called Love." The overflowing Slaughterhouse megastructure collectively felt the feels as few acts other than A&B can really provide. —Skylar Hardenbrook

---
Share
---
Tags
---
You might also like