Best of Escape: Psycho Circus 2017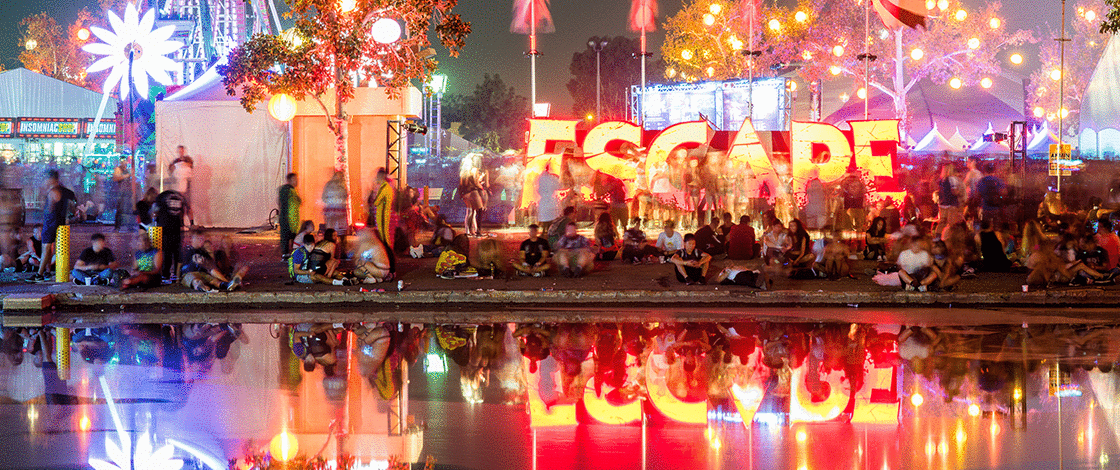 There are so many reasons why people are quick to lay claim to Halloween as their number-one holiday, and each of them plays so well into what makes Escape so ridiculously fun. The celebration itself gives everyone an excuse to dive straight into a costume. Then there's the supernatural aspect, which allows the imagination to go on a rampage in terms of how the production comes together and what the partygoers bring to the table. Plus, we all got to enjoy our fair share of the endless tricks and treats that we chucked out across the generously expanded NOS Events Center layout. It really was a wicked time, and you'll totally get where we're coming from as soon as you start hitting up these Psycho Circus highlights.
We Love Spicy Pie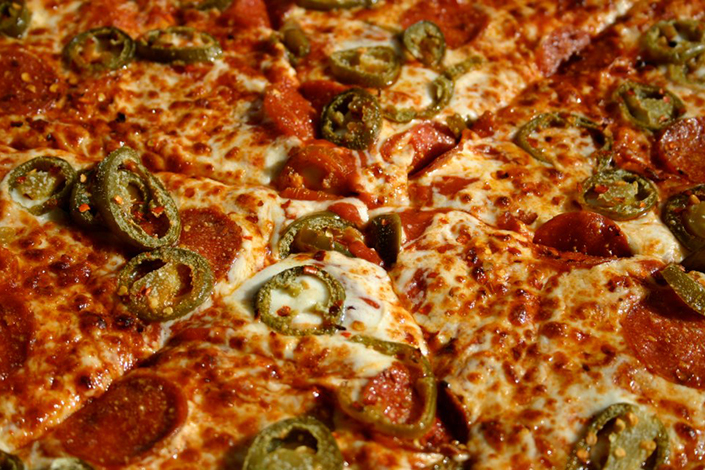 Everyone loves pizza. Ergo, everyone loves Spicy Pie, the foldable festival favorite most SoCal residents know via their yearly fling at Coachella. Well, the spicy crew blessed Escape Headliners with a booth near Slaughterhouse and yay, the streets did run red with sauce. Side note: Insomniac staffers had their pick of five food trucks from which to obtain their nightly sustenance stipend, including one that slang slices. More than a few opted instead to walk clear across the festival grounds and thrown down their own dollars for Spicy Pie. Dilly dilly. —Rich Thomas
Illenium PLURs Out Slaughterhouse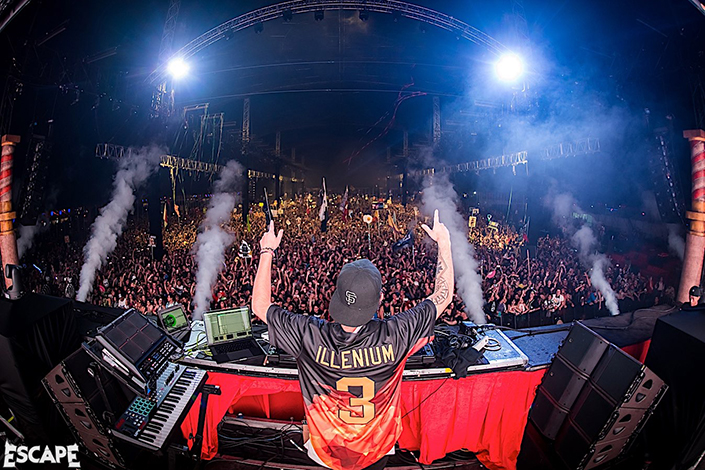 Awake, Illenium's mega-feelsy sophomore album, is 47 minutes of pure emo headbanging quasi-dubstep unicorn sweat. It's heavy and magical, but I went into Friday night wondering if the vibes would translate from the headphones to the mainstage. The number of Illenium totems, T-shirts, and black-and-white #3 jerseys I saw throughout the afternoon definitely hinted at a packed house, and when the time came for Nick Miller to take the stage, the young king delivered, pairing equal amounts of squelching, flatulent bass with backrub-inducing female vocals for a massively potent combo. Big tings on the horizon for Illenium. —Rich Thomas
New Digs for Factory 93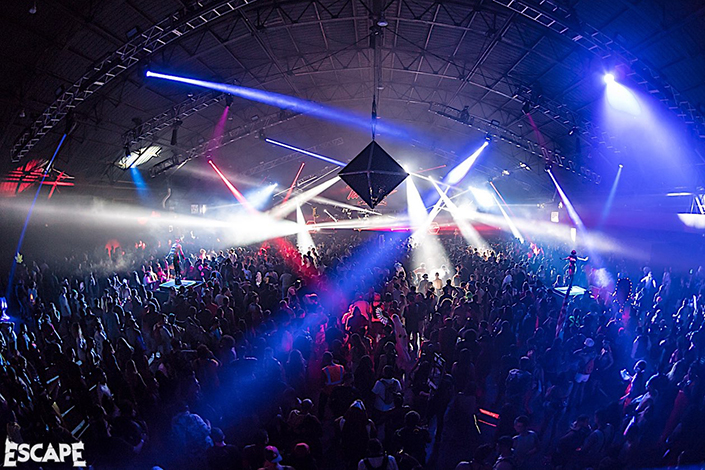 The Damus building was certainly an upgrade for Factory 93 this year (no offense, Citrus—we still love you). Its new, more expansive home this year is a testament to how many converted souls are signing up to be down with the underground. All that extra square footage was put to good use, too, opening up the dancefloor to one of the largest body counts we've seen at that venue, while also providing a little more personal space for some serious body-shaking.
The choice of hosts might also be to blame for the slammed turnout, with Paradise using their Friday takeover to bring just the right amount of groove-driven stimulation (props to Jamie Jones for not only leaning more legit techno, but for also locking in that b2b set with Joseph Capriati, which is still making me tingle). Nicole Moudaber held her own the following day—as the Queen always does—with her MoodZONE night driving directly into the darkness with killer sets from Paco, Tennis, and Pan-Pot. There were times when the music was so captivating that I almost forgot to keep a lookout for the tempestuous aerialists and dancers who were working the platforms like it was no one's business. —Sam Yu
Catching the Breeze at Corona Beach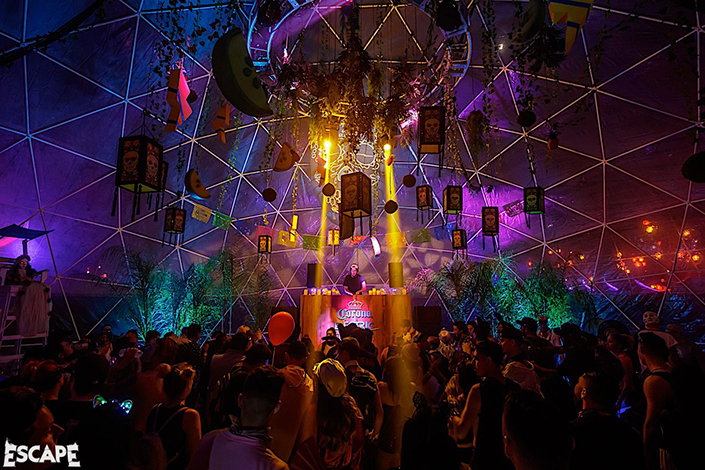 Temperatures were abnormally warmer than the usual sweater weather climes that typically make October a real treat for SoCal residents (this is where we give the side-eye to global warming). While the heat wasn't enough to make the daytime a sweaty hot mess, Corona Beach still felt like a small patch of paradise with its sandy floor exterior and heavy-duty fans blasting out a cool, misty breeze. If you're wondering what in the hell a beach is doing at a Halloween festival, the Dia de los Muertos décor hanging from the dome-shaped structure was an interesting touch to bring it all together. And with a healthy lineup of buzzing artists holding it down on the decks, making routine pit stops at this stage was a no-brainer. The option to sip on an ice-cold tall boy or two didn't hurt much, either. —Sam Yu
Bouncing off the Walls at Asylum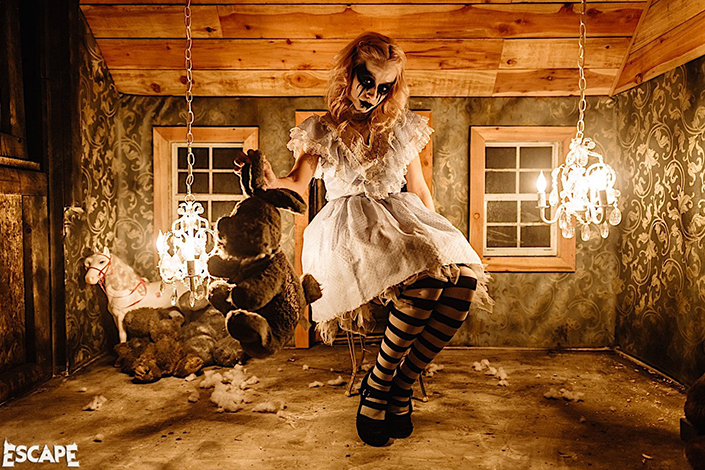 Last year, we unveiled the Asylum, giving our team's twisted thoughts a pulse by constructing a fully immersive maze that's basically a bad trip into the loony bin with the characters of Wonderland. For its return, there were some obvious upgrades in its horror-filled corridors and rooms, which honestly give those theme park haunts down the street a run for their money. Hundreds, if not thousands, of horror-hungry Headliners queued up so they could get strapped into a straitjacket, muzzled with a mask, fed their crazy meds, and then left to fend for themselves while they crept from the psychiatric ward and into a world where killer clowns, insane carnies, and all things deranged run rampant. Even if getting scared shitless isn't your cup of tea, taking the grand tour of the Asylum is not a bad way to get your adrenaline pumping in between sets. —Sam Yu
Shanghai Surprise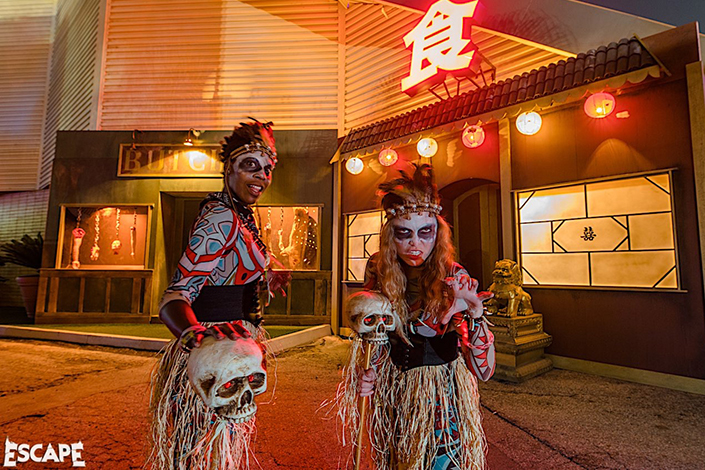 Asylum guests who successfully made it through the ward—and kept their wits about them—might have noticed a nondescript Chinese restaurant facade just outside the Asylum's exit. If you dropped a token on the doorman and took a look in the fridge, you would have found a funky surprise (hint: It wasn't a pungent carton of five-day-old moo goo gai pan). On the other side of the refrigerator door was a fully functioning speakeasy with music, craft cocktails, and just the right amount of dancefloor space in which to carve some shapes. Tso good. —Rich Thomas
Nightmarish Performers Giving Us the Creeps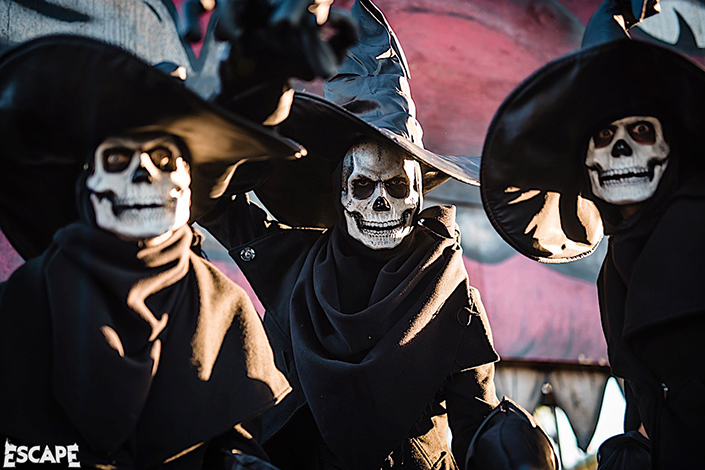 Music and stage designs tend to get all the glory at music festivals; however, there's some secret sauce in how our performance troupes find ways to one-up the experience. Escape brought out the big guns to really bring the circus of pure insanity to life. While they are known for never, ever breaking character while they roam around the grounds, for some reason, they really seem to own it when it comes to being dark and demented. The spread was definitely the stuff of nightmares, with creatures like the bloodshot-eyed teddy bear twins, the prom massacre victims, and evil sideshow freaks—all dying to give Headliners the —Sam Yu
Boys Noize Bringing Back Blog House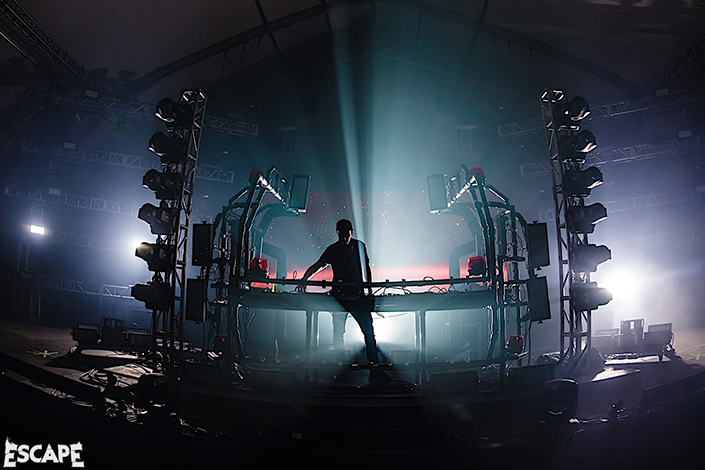 It has been many moons since Boys Noize has done the deed on an Insomniac stage (that is, of course, if you don't count the EDC Week appearance he made in June at the infamous Rehab pool party). Add in the fact that he had a live set up his sleeve, and it was clear that it was due time for a little rave reunion. He came in hot with the full intro from "Thriller," and then he quickly picked up the pace by busting out his homemade blend of lysergic-laced techno and electro. The real kicker (and all the aughts-era heads would agree) came with the heavy emphasis he placed on the short-lived but never forgotten tunes from the bloghouse generation. Anyone who thinks he's hopping on that nostalgic hype train might want to do some homework before talking out of line. —Sam Yu
Setting the Vibe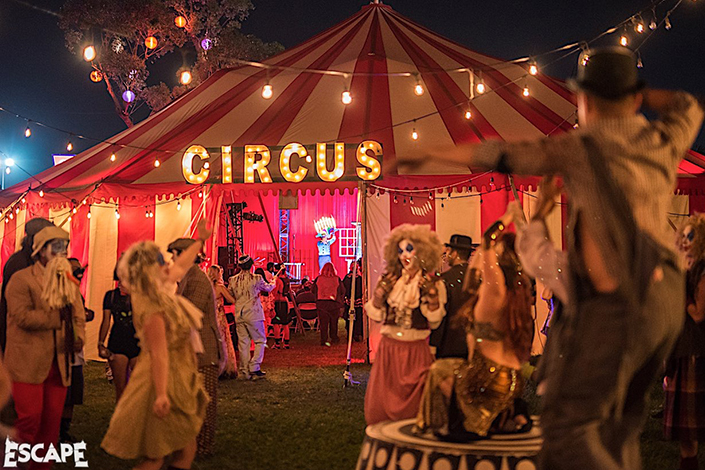 Escape just wouldn't be the same without the Psycho Circus element. It not only sets the vibe for the shenanigans going on inside, but it's one of the spots I found myself returning to throughout the night. Being next to the lake and on grass makes it the perfect spot to kick back, chill, and chat with friends when you're not bouncing around between stages. You could also get some tricks and treats on: There were interactive theater performances throughout the weekend—like the Hurly Burly Hobo Cabaret, the Bearded Lady Sideshow, the Creep Show Contortionist, and a Space Variety Show, to name but a few—as well as palm readers, fortune tellers, and a merry-go-round. —Boojie Baker
Project #OpenTalk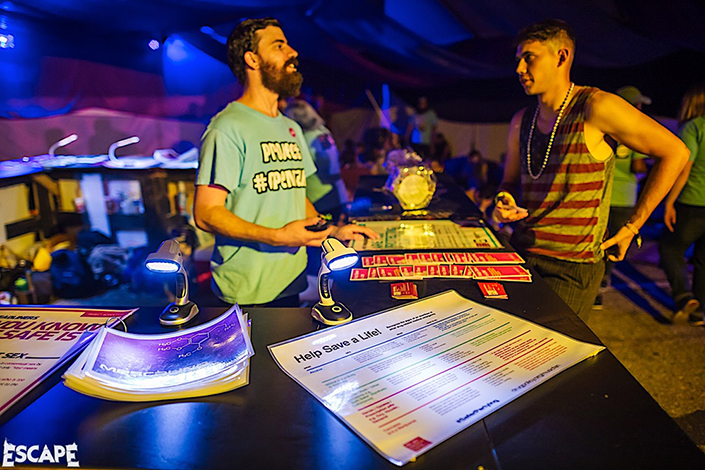 I'm proud to say that harm reduction is a serious topic of conversation around the Insomniac office—and at our shows. Like, incredibly important. All employees go through CPR training; when new hires work their first festival, they get paired up with Ground Control crew members; there's the on-site Consciousness Group; and now, Project #OpenTalk is the latest addition to a range of efforts Insomniac has been implementing over the years. Click through the link above, and next time you're at one of our shows, come by and chat with the Project #OpenTalk team. Because Insomniac loves their Headliners, and it shows. —Boojie Baker
Headliners Rule Our World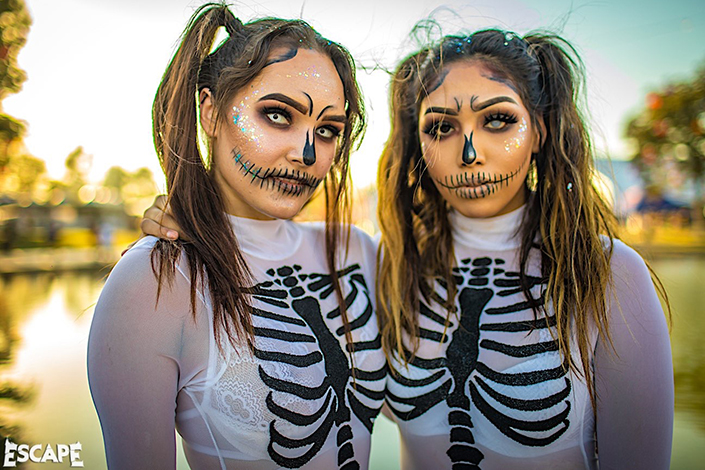 Easily one of my favorite things about doing what I do is the fact that I get to meet so many awesome Headliners throughout the year. Insomniac definitely has no shortage of fans with colorful personalities rocking outlandish outfits. It's one of the reasons why the Insomniac universe is such a brightly LIT affair. Insomniac Headliners know how to make a party a party—and Escape is their most wicked of nights. So, cheers to all who made it—and for making Escape 2017 one of my most memorable yet. —Boojie Baker
EDC Camping Is In-Tents
If you've been keeping up on the news about EDC Las Vegas 2018, you know camping is going to play a big role in the festival's new look next year. At Escape, we debuted a little sneak peek at the tents we'll be providing for our guests: ShiftPod2 "advanced shelter systems" that look like something Matt Damon would have temporarily moved into in The Martian if he needed to have work done on his main house. The air-conditioned tents will have cushy artificial grass floors and string lights, and they are tall enough in the center for a 6'4" person to stand up straight in. Assemble the squad—more details to be announced soon! —Rich Thomas
Reporting from Rich Thomas, Boogie Baker, and Sam Yu.
Follow Escape: Psycho Circus on Facebook | Twitter | Instagram
---
Share
---
Tags
---
You might also like