BadKlaat Knuckles Up for Bassrush Massive 2018
With a heavyweight lineup on tap this weekend—featuring artists from the entire spectrum of the bass music scene—the inaugural Bassrush Massive two-day festival is already set to go down in a legendary way. Whether you're a full-on rail rider, a drum & bass head, or just someone who wants to get lost in weird and wonky halftime beats, Bassrush Massive is where it's all going down this weekend, as bass gods from across the universe prepare to descend upon the NOS Events Center in San Bernardino and deliver some proper rib-rattling basslines and neck-snapping beats.
Even within what is undoubtedly a legendary lineup that spans three stages and two nights, there are a select few names that stand tall above the rest and have us chomping at the bit in anticipation of the kind of punishment they are due to deliver. One of those is the beast known as BadKlaat.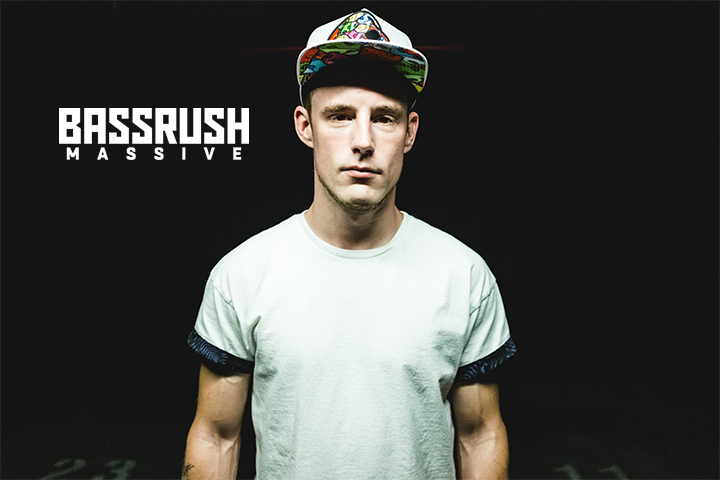 Having risen to international fame after a string of high-profile releases on Never Say Die's Black Label, the UK native has quickly become a leading figure in the dubstep scene alongside the likes of Megalodon, Trampa, and TrollPhace. With an aggressive style all his own, BadKlaat credits his ongoing success to the wide range of music he was exposed to a kid.
"My dad was in a few small bands in my childhood, so I remember always having instruments around the house and being fascinated by them," BadKlaat tells us. "My mum was the biggest Queen fan in the world, and my dad was a huge fan of music in general. He would listen to anything from heavy metal to classical music, so I heard a wide variety growing up."
Still, it was electronic music, specifically the Prodigy, that fascinated the young BadKlaat and opened a portal into early dubstep along the lines of Caspa, Rusko, Jakes, and Joker.
"I'd been playing the guitar and drums from a young age, but when I was around 14, I had a friend who had the game MUSIC for the Playstation. We used to go to his place after school and make music on it for hours. Not too long after that, I got some turntables and started buying drum & bass records—but it was always a dream of mine to actually make the records I was playing. Then I discovered the software Reason and started making drum & bass and grime tracks."
As his skills progressed, so did his confidence and determination to be a part of the music industry as a career. "For as long as I can remember, I always knew I wanted to have some kind of musical career, whether it be in a band or a DJ/producer." When asked what he imagines he'd be doing if the BadKlaat thing didn't work out, he laughs and says, "I'm sure I would still be around music somehow!"
From the outside looking in, BadKlaat's journey—from his bedroom in Gloucestershire, all the way to releasing tunes on Dub Police and Never Say Die—is in itself a dream come true. And BadKlaat is quick to reflect on and show appreciation for all who have helped him along the way. When asked about the key to his success, BadKlaat tells us it boils down to "the fact that I love what I do and that I have always put 100 percent into my work. When I was first starting out, I never would have imagined I'd come this far. It's all a bit unreal at the moment, and things are getting more and more unreal as time goes on."
Classics like 2015's "Head Crush" are responsible for helping BadKlaat break through in a serious way, plus he credits the cut for landing him a coveted position in the Never Say Die family. "When I made 'Head Crush,' I was steadily playing shows around Europe and releasing on smaller labels. But that tune in particular was my introduction to Never Say Die and laid the groundwork for where I am now. Shout out to SKisM for believing in me!"
Flash-forward to the present, and heaters like "Knuckle Sandwich" seems to not only echo the early promise of what has become BadKlaat's signature sound, but also reveal an evolution he credits to his ongoing obsession with improving his productions on a technical level. "I think 'Head Crush' and 'Knuckle Sandwich' both have a similar, aggressive feel. But if you put them side by side, 'Knuckle Sandwich' just sounds a lot more loud and powerful. It was made a few years later, after improving my production techniques."
Equally impressive on the remix front, BadKlaat has emerged in the past year as the go-to man for remixes for the likes of Excision, Modestep, and most recently, Riot Ten and Sullivan King. Known for giving the original tunes a run for their money, when asked about his techniques and secrets on the remix tip, BadKlaat was candid that this one just might be part of the secret sauce that makes him who he is. "I just put the stems into the DAW and go in on them. Sometimes, I have an idea of how I want it to sound beforehand; other times, I just play around till I get something that I like."
Similar to a great chef who trusts the process and doesn't question the unseen forces that guide his hands toward the end product, there's no denying that the magic BadKlaat brings to the fore is centered on his unmatched work ethic and distillation of the creative process into a finely tuned machine. Speaking of machines, if you can't tell by now, we are planning on being front-and-center when BadKlaat takes the stage this weekend at Bassrush Massive. When asked what we should be telling our non-basshead friends to expect when he steps on deck, he is quick to offer up some advice: "Tell them to expect to pull some faces you have never pulled in your life."
With BadKlaat also due to touch down at EDC Orlando in November, we hope this means we'll be seeing much more of this bad man Stateside in the coming year. "Yes, I'm so excited for that one! Getting an EDC slot was on the bucket list. This means so much to me! Who knows where this will take me."
BadKlaat plays at Bassrush Massive 2018, which takes place Friday, July 20 and Saturday, July 21, at NOS Events Center in San Bernardino, CA. Tickets are on sale now.
Follow BadKlaat on Facebook | Twitter | SoundCloud
Follow Bassrush on Facebook | Twitter | SoundCloud
---
Share
---
Tags
---
You might also like