Armin Only Is All You Need
Trance stalwart Armin van Buuren is the only artist of his kin to have remained at the mainstage of festivals like EDC Las Vegas without reinventing himself as an EDM juggernaut, like many of his genre colleagues. Paradoxically, though, in this age of disposable one-hour festival performances, Armin remains the master of the marathon DJ set, known for slaying the decks for as long as nine hours. This feat is captured in all its glory at his epic Armin Only events.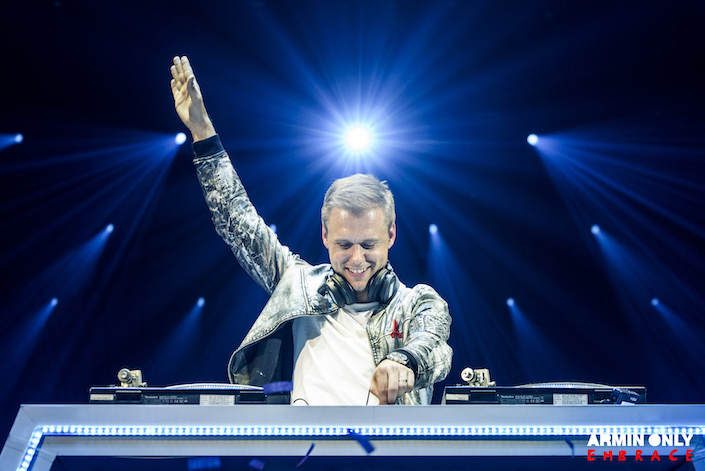 This affinity with the extended set is something that goes way back for Armin—nearly 20 years, in fact—long before he'd even broken into the dance music big league. In the late '90s, while he was studying law in Leiden, south of Amsterdam, he held one of his first residencies at Club Nexus. Far from your average local resident, the young Armin was playing multiple sets a week, most of which lasted six hours or more.
"I love it. This is where I come from," Armin says of his love for extended sets. "When I started DJing, I used to play for seven hours every week, and it was just normal. Now people see it as a special thing to play longer sets, but it's second nature for me."
While all the big DJs might have their own specially themed shows nowadays, Armin has been touring his high-production, conceptual Armin Only show for more than a decade. Initially launching on his home turf in the Netherlands, it revolved around the concept of Armin being behind the decks from the moment you walked through the door till the lights went up.
"It's like a Christmas dinner presented by Armin van Buuren," says the man himself. "Sometimes I love a greasy hamburger, but Armin Only is a lot more elaborate than that. You have a starter and appetizer, another starter, glass of wine, the main course, dessert, and everything in between."
Food metaphors aside, one strength that has always set Armin apart as a DJ is his ability to play trance with all the craftsmanship of masters like Sasha, John Digweed and Danny Tenaglia. His style is defined by buttery-smooth transitions, with all the records mixed perfectly in key and delivered with the kind of restraint that can really hold the attention of the audience over the duration of a long evening.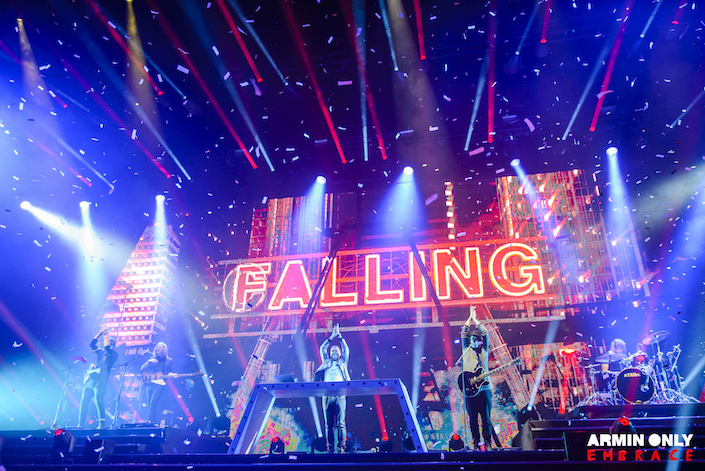 Moreover, his keen versatility on the decks—rarely matched by DJs across any genre—paired with unparalleled performance chops truly brings the Armin Only experience to life. The proof lives onstage: In the earlier nine-hour editions of Armin Only, he would hide behind a white curtain during three hours of warmup, while he smoothly mixed the kind of deep, melodic records to make a progressive fan go weak at the knees. Once the curtain went up, he shifted into peak-time trance and, for the next six hours, journeyed from vocal trance he produces himself, with the vocalists often present to recreate it live, to electro-trance bombs, driving tech-trance thumpers, and everything in between.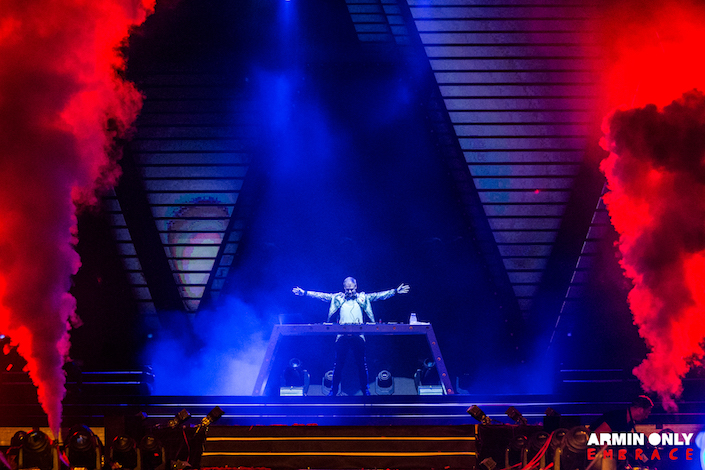 Venturing outside its home country for the first time in 2008, the Armin Only show eventually developed into the high-concept affair we now know it to be, with each new iteration based on his latest studio album. The Armin Only events set to hit California next month—Friday, February 3, at the Oracle Arena in Oakland, CA, and Saturday, February 4, at the Forum in Los Angeles—as part of his Armin Only: Embrace World Tour have been condensed into brand-new, four-hour affairs themed around his 2015 Embrace album.
Debuting at the Ziggo Dome in Amsterdam last May, Armin Only: Embrace has already toured more than a dozen cities worldwide. The show kicks off with the album's title track—a seven-minute, cinematic welcome featuring prodigious jazz trumpeter Eric Vloeimans blowing huskily over rising tempos—before Dutch rapper Mr Probz takes the mic for the sing-along "Another You."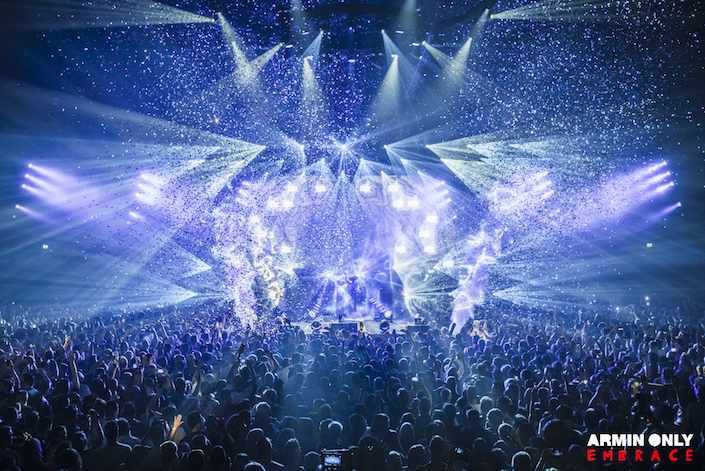 In another key moment during Armin Only: Embrace, Armin casually strolls toward the crowd, lugging what appears to be a record box. Reaching into the crate, he pulls out what is indeed a piece of vinyl, which he holds high above his head, to a scream of audience appreciation. Beginning with a record version of his own eternal classic "Communication," the anthem that kick-started his career back in 1999, the vinyl portion of the performance launches into a barrage of golden-era trance favorites.
The new Armin Only: Embrace tour comes at a time when the producer's long-running reign as lord of trance appears more set in stone than ever. His A State of Trance radio show—broadcast to over 120 stations in more than 80 different countries, with a combined weekly audience of 40 million worldwide—is heading toward its 16th anniversary and 800th episode this year.
The charismatic figurehead—who helped found the Armada Music empire, and who still unites the different threads within the trance scene—has also managed to maintain his presence at the top of the ever-growing EDM heap, performing alongside Hardwell and David Guetta at the biggest global festivals, in addition to specialized trance events. It's a careful balancing act.
"It can be very tough. Obviously on social media, [people] haven't always been nice to me, and I read all the comments," Armin laughs. "But when I look at a crowd, there seem to be two different realities sometimes. There's a reality on social media, and then there's the reality of what's happening on the dancefloor. When I'm DJing, I'm DJing for the fans in front of me. In that sense, I'm never preprogramming my sets."
The same goes for Armin Only: Embrace. In spite of all the guest vocalists and other lavish trimmings, Armin says the show remains a freeform DJ set at its core, drawing a straight line back to those Club Nexus sets in Leiden.
Armin van Buuren presents the Armin Only: Embrace World Tour Friday, February 3, at the Oracle Arena in Oakland, CA, and Saturday, February 4, at the Forum in Los Angeles. 
Angus Thomas Paterson tweets about all sorts of lavish trimmings. Follow him on Twitter.
Follow Armin van Buuren on Facebook | Twitter | SoundCloud
---
Share
---
Tags
---
You might also like