Astrix and the Language of Psytrance
Astrix, one of the global leaders in psytrance today, clearly understands the element of transcendence on the dancefloor is something essentially programmed into the DNA of dance music. The world has recognized his tremendous impact on trance since the release of his debut album, Eye to Eye, in 2002. Ever since, he's developed his own distinctive style within the growing worldwide psytrance movement: His music is steeped in a warm glow of positive energy and radiates the dizzying euphoria of progressive and the driving strength of psy.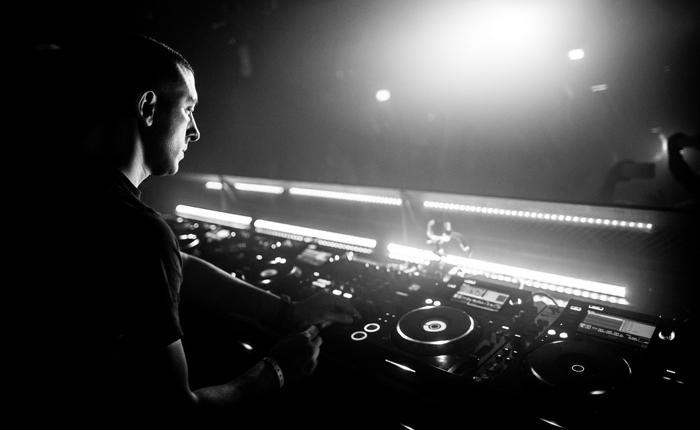 Behind the decks, he's a skilled technician, and with more than 20 years of experience, he's mastered the art of gracefully layering emotion, musicality, and dancefloor-pounding energy into his DJ sets. His inimitable skills onstage—and in the studio—have secured his position at the forefront of psytrance.
Ahead of his (third) eye-opening appearance at Dreamstate San Francisco 2017 this weekend, we caught up with the revered artist to chat about how storytelling, spirituality, and technical perfection converge within the Astrix sound.
Psytrance, which is known for creating an episodic live experience, is currently undergoing a new wave of growth in the States. Do you think this signals that audiences are looking for similarly extended audio experiences from DJs?
I'm not an expert on the EDM scene in the States. I can say, though, that I have always perceived electronic dance music to be about a journey, about creating an autonomous zone—be it in a small club or a huge outdoor festival—where a group of people is sharing a meaningful inner experience guided by the music. I come from the realm of psytrance where that aspect was always the essence of the whole culture, even in the single-track aspect, where a track should present a story and take the listener on an adventure. But really, that is true for every deep musical composition.
Do you feel Dreamstate has taken on a role in spreading trance to the masses?
No doubt about that—the events speak for themselves. I like the fact that Dreamstate had a vision here, saw something special in this music, and rallied behind it with all it has. Dreamstate gets my total respect for that.
Psytrance, more than most genres in dance music, has a heavy focus on the spiritual aspect. How does that play into your own music, specifically?
For me, music is spiritual. The creation process has to be spiritual if you want the music to have depth and a meaning. For my last album, He.art, which was released last year, I made sure that the spiritual aspect [was] present in the creative process. The previous album was pretty much created on the road because of my heavy touring, and I felt that affected the music. This time, [with He.art], I gave much more space and attention to the process in which the music was written, both on the technical and spiritual level. I had small ceremonies before every studio session, combined my work on music with painting and sculpting, tried to really be there, not only physically. The whole creation process with He.art, for me, was very profound, and I hope it is felt in the music. The feedback has been overwhelming, but if it is felt in the music or not is not for me to say.
Is there anything you've learned from becoming a parent that you've been able to apply to your music or your career?
A child is a mirror: You look at him, and you learn so much about yourself. You also learn to appreciate time, as you have a lot less of it.
You recently had to clarify a statement you made in an interview with us earlier this year. Because we communicate so often via text, are there things that get lost in translation due to the lack of personal interaction? Are there things you feel you can communicate through music that you can't via any other medium?
For sure—especially that in our global reality we often converse with people who don't share the same culture and language with us. That is why I trust music so much as a means of communication. If it were up to me, I would communicate only through music with people outside my personal sphere—no interviews, for example. But I don't think my label would approve; neither would you, probably [laughs].
I must say, though, that it was an overall positive experience. Even though there were people who were trying to use it for their own benefit in a very childish and/or manipulative way, I had a real fruitful dialogue with a lot of people who really care about music and are very passionate about it. That is always something that makes me happy.
Catch Astrix at Dreamstate San Francisco 2017, taking place Memorial Day weekend, Saturday, May 27, and Sunday, May 28, at the Bill Graham Civic Auditorium. For more information, visit the official website.
Alexander Dias is a trance OG. Follow him on Twitter.
Follow Astrix on Facebook | Twitter
Follow Dreamstate on Facebook | Twitter | Instagram
---
Share
---
Tags
---
You might also like