Andrew Rayel Is Living in His Moment
Upcoming Event
It's been three years since the release of Andrew Rayel's debut album, Find Your Harmony, and in that time he has further solidified himself as one of the most vibrant artists in trance. His classical approach to production is based on a lifetime of music theory studies. And in a world where simplicity often translates to record sales, Rayel defies trends with original music rich in complexity, emotional awareness, and wide accessibility.
He's currently knee-deep in his global Moments Tour to support his forthcoming sophomore album, Moments, out this week on Armada Music. Despite a nonstop touring schedule, Rayel found the time to produce a beautiful piece of work that exemplifies the young producer's musical maturity. It's clear why Armin van Buuren himself has hailed him as "the future of trance music." Rayel's skills as a composer are on full display throughout Moments, from the deeply emotional piano chords to the magic of the powerful basslines.
He's now preparing for his biggest L.A. solo show to date, when the Moments Tour touches down at the Hollywood Palladium in Los Angeles on Saturday, May 6—just one day after he drops Moments. With so much hype around the album, the L.A. show is sure to be one of the most intense on the tour.
We caught up with Rayel to discuss the life lessons he's learned leading up to Moments, his ability to create more musical moments via his extended tour sets, and his new Armada-directed music label.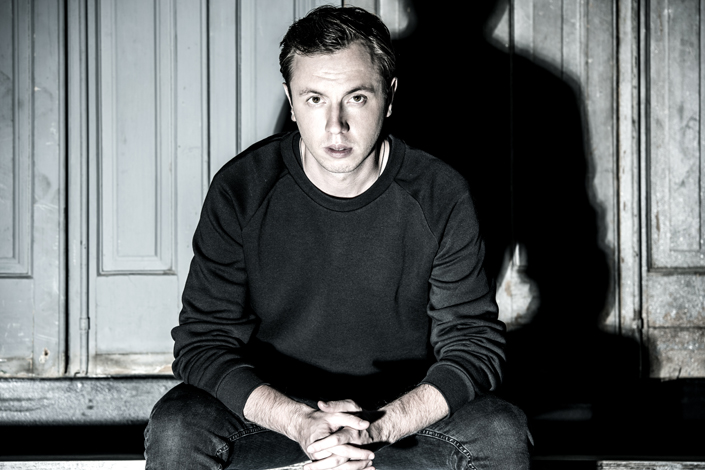 How has your creative process changed since writing Find Your Harmony?
When I was creating my Find Your Harmony album, I didn't plan it too much. I didn't really know what I was doing. I just produced some tracks, came up with a name, and released it. With the Moments album, everything was planned from the beginning, and every song was produced separately to create one big story, keeping the same concept in mind. Through the years, I got more experience, and my sound got way better. Technically, this is a more advanced album.
Was the writing process around this album more fluid? Did you know the direction you wanted to take early on, or did it develop as you wrote?
I knew the basic concept from the beginning; it felt more natural and easier, even though it took me almost three years to complete. I always prefer quality over quantity, so I didn't want to rush it. It also evolved into a bigger story while I was writing it, and that's what I love the most about art. If you give yourself to that magical world, you can end up creating absolutely incredible things! It just sets free your imagination.
You have the opportunity to play longer sets on your tour. Do you feel that sets like this offer a deeper opportunity to create moments and evoke emotions?
Absolutely! I love playing longer sets. It gives me a chance to get everyone through the whole journey and tell the whole story—compared to the festival sets, when you get only one hour and I have to pick only the best and most energetic moments. An hour's not enough! The Moments show is like a movie. You have some action moments with lots of energy and jumping, some emotional moments with lots of smiles and hands in the air, and some deep, dark moments with insane lights and visuals. All those elements are necessary to create the whole story.
Is there a particular story you are attempting to tell with the concept behind the Moments album and tour?
The album is all about remembering those specific moments in life that last forever: the moment you fell in love or got married; the moment you went for the first time to a show and saw your favorite DJ and made new friends; the moment you played your first musical instrument or got your first record. Most importantly, I want to create lots of those unforgettable moments during my show.
You were a producer before being a DJ. Was that transition difficult for you?
I was a very shy person. I was not comfortable when everyone was looking at me, and I was afraid of making any mistakes at the beginning, because I was the center of the attention. But we all [make] mistakes; that's how we learn. In the studio, I felt safer. It was my musical temple, where nobody was watching me and I could do anything I wanted. Right now, I can't see one without the other. I get the energy from my shows, the crowds, and the people, and I go to my studio with that energy and create new music I instantly want to share with everyone.
You recently asked your fans to submit their favorite moments. Can you share one of your favorite stories?
I heard a lot of great moments from my fans, starting with when they heard me for the first time and things like [fans] getting engaged during my shows while I was playing "One in a Million" or "Once in a Lifetime Love." Some were more personal moments, like when someone's child was born, or when they fell in love with someone or spent some good time with their love. It was a pleasure to read all of those messages and moments, and hopefully we can create more of those in the future during the tour.
You recently announced you would be starting a label under Armada. Since you have such eclectic tastes, in what direction do you plan on taking the label?
I was thinking about opening a label for a very long time. Maykel Piron, the chief officer of Armada Music, gave me this idea a few years ago, but I felt at that point that I wasn't ready and I had to focus more on my own music. Now I have my own team that helps me; things got easier, and I can promote other people's music I like. I decided to make it very easy for myself, in terms of the musical direction of the label. Anything I see myself playing in my live sets will end up being released on my label, so it will mainly be music I play, with some exceptions.
Andrew Rayel: Moments Tour takes place Saturday, May 6, at the Hollywood Palladium in Los Angeles. 
Moments from Andrew Rayel is available Friday, May 5, on Armada Music.
Alexander Dias is a trance OG. Follow him on Twitter.
Follow Andrew Rayel on Facebook | Twitter
---
Share
---
Tags
---
You might also like