A 91-Year-Old Grandma Walks Into Escape: All Hallows' Eve…
Charlie Houle, Director of Video Editing for Insomniac, brought his 91-year-old grandmother to Escape: All Hallows' Eve for her very first rave. Here's how her night went.
She's experienced the Great Depression, World War II, and the Civil Rights Movement. On October 31, Charlie's grandmother experienced Escape: All Hallows' Eve.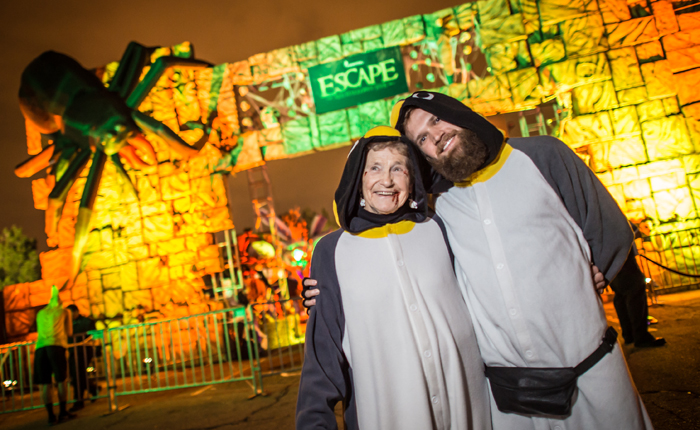 It's not every day that you see a 91-year-old dressed as a penguin at a rave, let alone a penguin with fake blood on her face and Casper the Friendly Ghost earrings—you know, so she could be more Halloween-appropriate.
"They're all having a wonderful time, and nobody's bothering anybody, nobody's fighting, no fisticuffs, nothing."
From dancing on the VIP deck during Tiësto's Slaughterhouse set, to listening to minimal techno at the ENTER. experience, to enjoying Astrix's psy-trance at Ghouls' Graveyard, Charlie's grandmother was a star everywhere she went. Excited Headliners would ask to take pictures with her and show her how to trade kandi. "Look how many I got!" she says, her wrists covered with bright beads not long after entering the grounds.
Despite Escape being her first rave, it was clear from the get-go that Charlie's grandmother understood what this culture is all about. "The sea of people at [Slaughterhouse]—they're all having a wonderful time, and nobody's bothering anybody, nobody's fighting, no fisticuffs, nothing," she says. "It was actually kind of awesome to see this."
After walking around the grounds for a few hours, she quickly adopted the PLUR attitude herself. When a crewmember started to shake her hand but then switched to embracing her with a hug, she immediately remarked, "That's better."
In her 20s, Charlie's grandmother found herself frequenting the Trianon Ballroom in Chicago. The venue first opened its doors in 1922, playing host to different quartets and big bands throughout the years. Instead of shuffling, people did the jitterbug. So when her grandson invited her to come from Chicago to San Bernardino for Escape: All Hallows' Eve, she recalls thinking, "What am I going to do there? It's going to drive me crazy with all these people and music and everything."
"You hear an older person say that [a rave] is just a bunch of noise; but once you get into it, it's a different story."
An hour into the show, however, all her doubts were dispelled. "If I'd had this in my 20s, I'd be here all the time," she remarks.
Though she was offered a golf cart to help get around, Charlie's grandmother opted to experience the show on foot. That's not surprising, given the fact that she works out regularly—aerobics three days a week, weights and stretches two days a week—and also does her own cooking and housework. The secret to her long life? "There is no secret," she reflects. "We are all individuals. What is good for me is not going to be good for you."
It's clear that her years have made her all the wiser. "You hear an older person say that [a rave] is just a bunch of noise; but once you get into it, it's a different story," she says. "I would say: Don't judge until you've actually been. You cannot imagine what it is like to be here."
"This has been an eye-opening experience for me. I love it. I love the rhythm, the music and everything. And I love to dance, anyway. It's been wonderful."
---
Share
---
Tags
---
You might also like