'Night Owl Radio' 424 ft. Escape Halloween 2023 Mega-Mix
This week is the Escape 2023 mega-mix.
Night Owl Radio is available via iTunes, so get to subscribing on your iOS devices.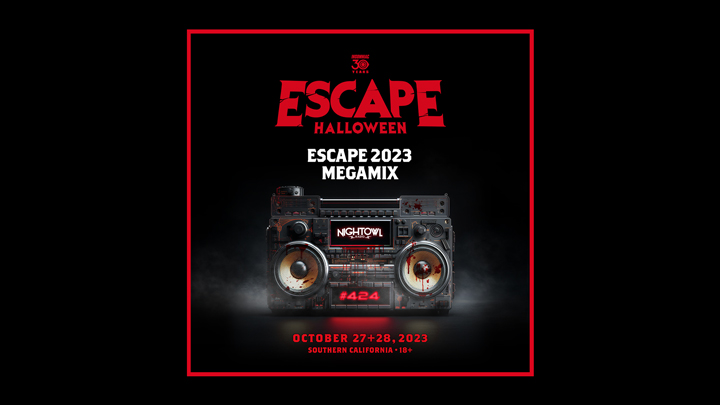 'Night Owl Radio' 424 Track List

Chris Lake & Green Velvet "Deceiver" (VIP)
Ship Wrek & Disco Lines "Misbehave" vs. Hot Since 82 "Love Me"
Hot Since 82 "Love Me"
Habstrakt, Malaa "Molotov"
TLC "Creep" (Lauren Lane Remix)
Joel Corry x MK x Rita Ora "Drinkin'" vs. Chromeo "Words With You" (Tchami Remix)
Jamie Jones "Lose My Mind"
Kaskade, Justus "Dance With Me"
San Pacho ft. Notelle "In Your Mind" (Night Mix)
DJ Snake, Wade ft. Nooran Sisters "Guddi Riddim"
Chelina Manuhutu "Freakiness"
Charles D (USA) & Madeaux "Believer"
DJ Topgun ft. KennyHoopla "City of the Freaks"
KAS:ST "2084"
Lilly Palmer "You Are My Guide"
Ian Asher & Quarterhead "Right Now" (130 BPM Mix) vs. Matroda x TOBEHONEST "Talk To Me"
VLTRA, Francis De Simone "Flowcito" (Loco Dice Remix)
Above & Beyond "Wasp"
Max Styler "Speaker Freaker"
HUGEL, Westend ft. Cumbiafrica "Aguila"
CID x Westend "Let Me Take You"
JVNA "Play With You" (Origin Story)
SLANDER, Synymata ft. Elle Vee "Never Give up on You"
Patrick Topping ft. Raphi "Whisper"
Space 92 "Time"
Timmy Trumpet, Mariana BO, Junkie Kid "WOLFGANG"
Taylor Kade ft. KATT "Love You Like That"
Dj Isaac "Feel so Good"
LLLLNNNN "NEED YOU NOW"
LNY TNZ & AFROJACK "Lift Me Up" (Hard Mix)
ROSSY "SIN"
SENZA "Full Moon"
yetep, Afinity ft. Micah Martin "Never Go Back"
Armin van Buuren "Lose This Feeling"
Darren Styles & Code Black "Feel Love"
KELTEK & Aversion "Eternal Flame"
K?D ft. Nevve "On My Own"
Buns "MNDRUNNER"
Lady Faith & Alee "Boom"
ATLiens "ROBOTS"
Sullivan King & SVDDEN DEATH "Pursuit of Violence"
GRAVEDGR, Hekler & Lit Lords "Buck"
Ecraze & MUERTE "Poppin' Like"
Vini Vici x Reinier Zonneveld "Distorted Reality"
ARMNHMR ft. Britt Lari "In the Middle"
Riot Ten, SAYMYNAME "Loco"
Water Spirit "It Haunts"
GEO & Haaradak "BRING IT"
RUDY "Love Sex Magic" (Macky Gee Remix)
Zomboy ft. Micah Martin "Monsters"
Nia Archives "Forbidden Feelingz"
Culture Shock ft. YOU "Universe"
Calyx "Cobra"
Skellytn ft. UNDY "Dance With the Devil"
Nitepunk ft. Tida "Spider" (Rohaan & Gaszia Remix)
Siren "Vengeance"
SUAHN "Red Light"
Ed Rush & Optical "Mystery Machine"
Wilkinson & Kioto Bug "Never B Mine"
Rezz, MKLA "Haunted Eyes"
Redpill, Black Sun Empire & Virus Syndicate "Executionist"
Smoakland ft. Attitude "Welcome to Smoakland"
1788-L "INTRA-STASIS"
The Upbeats ft. Sambora "For You"
Deathpact "AXIOM"
ATLiens "Space Cathedral" (HE$H Remix)
Zedd, Maren Morris & BEAUZ "Make You Say"
Robyn Balliet "Torio"
Crystal Skies ft. RUNN "Hurts Sometimes"
Hoang, MVSE ft. Rynn "Moments"
Danny Olson & L8NCY "Thnks fr th Mmrs"
Popof "Maze Distortion"
Nitepunk "Slices"
Codeko ft. Sarah de Warren "Violet Sky"
William Black, Fairlane & gavn! "Beautiful Nothing"
NERVO x Ben Nicky ft. Madlucky "Hey Yesterday"
Canabliss "Saudade"
Kaivon "Nobody Compares"
Subscribe to the Insomniac Events YouTube channel now.
Escape Halloween 2022 takes place Halloween weekend, Friday, October 27, and Saturday, October 28, at NOS Events Center in San Bernardino, CA. More info here.
Follow Escape: Psycho Circus on Facebook | Twitter | Instagram | TikTok
---
Share
---
Tags
---
You might also like