5 Essential Artists: November 2015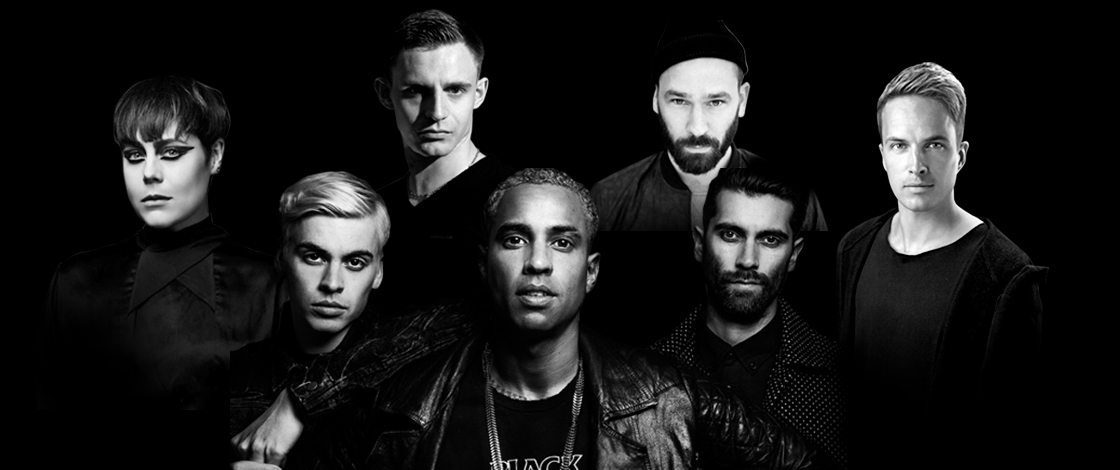 Every month, Insomniac spotlights five exciting artists across all the genres that comprise the electronic music realm—from the trenches of dubstep, the deep-bass bins of house, the unifying melodies of trance, and beyond. Dive into these musical geniuses, and continue your music discovery journey with the 5 Essential Artists series each and every month.
Yellow Claw
From: Amsterdam, Netherlands
For fans of: Major Lazer, DJ Snake, Dillon Francis
Releases on: Mad Decent, Ultra, Dim Mak, and more
Why you should be listening: Yellow Claw is no new name to festivalgoers and trap tricks. They've built a steady career off their energetic live shows and no-holds-barred originals. The three Dutch buddies have steadily climbed charts and time slots, but there's one thing they've still yet to accomplish: a debut album. Wait no longer, as Blood for Mercy comes in for a hard landing November 20 on Mad Decent. It features collabs with Tiësto, Ty Dolla $ign, Pusha T, DJ Mustard and more, which means it's fully loaded and ready to burst. It's going to be a real rump-shaker—guaranteed. As if that weren't enough, they dropped a new mixtape, too, because when you've got three guys and six hands, you can do everything at once. They were trending before, but a complete album will only bring them more success. You've been warned.
Take a spin: "We Made It" is a strong statement from any musician, and from Yellow Claw, it's well deserved. As Blood for Mercy's first single, it's a big foot forward and a true moment of triumph. Lil Eddie on vocals and a rocksteady guitar line lend the tune a taste of the islands, but the breakdown is still trappy enough for Yellow Claw's core fanbase. It's actually quite beautiful in its composition, and maybe that above all is a sign that this trap trio has officially proved their worth.
Follow Yellow Claw on Facebook | Twitter | SoundCloud
Dannic
From: Netherlands
For fans of: Hardwell, Dada Life, Danny Avila
Releases on: Revealed Recordings, Armada Music Bundles, CR2 Records, and more
Why you should be listening: If you follow the DJ Mag polls, you should know Dannic's name via his meteoric rise. Planted firmly in the 26th position, the Hardwell favorite has made a name for himself as a big-room blaster. His original tracks bring the huge Dutch sound with as much energy and bombast as the best in the business. His signature is a funky twist on the classic sparkle of anthem house, and his work ethic is astounding. Dude has dropped well more than 100 songs since his 2012 debut. His skills behind the deck and in the studio have brought him growing shine, and he's hoping to share that spotlight with "untapped talent" through his new label, Fonk Recordings.
Take a spin: Here we see Dannic team with fellow Dutch duo Sick Individuals. Dannic's clean techniques ensure even the dirtiest bits of this hard-edged banger shine through. It's got brain-rattling womp, grimy textures, massive synths, and rocksteady drums. It even has a groovy house vocal sample. Basically, it's going to be the perfect festival moment when Dannic drops this at EDC Orlando. You'll be there, won't you?
Follow Dannic on Facebook | Twitter | SoundCloud
LOUISAHHH!!!
From: New York, NY
For fans of: Gesaffelstein, Brodinski, Erol Alkan
Releases on: RAAR, Bromance, and more
Why you should be listening: LOUISAHHH!!! is the leading lady at Bromance. She's a producer, DJ, singer, songwriter, and all-around boss. She's the queen of darkness, the hippest miss in town, and she's spilling over the edges with dancefloor gold. Her latest EP, the six-track Shadow Work, plays way more like a concept album. It's spiritual and haunting, the journey of an after-hour soul seeking some redemption—maybe. Let's just say those who appreciate Depeche Mode's Violator might have a new favorite record. She must have the work bug hard, because she's also celebrating the launch of RAAR, a collaborative label with Maelstrom. No doubt that will be a mischievous venture.
Take a spin: Fresh off the assembly line comes RAAR's big debut single, featuring both label heads at the helm. Who's ready to pray at the altar of dark techno? This dynamic duo has us on our knees, begging for more. It's deep, it's stark, it's hallow, it's infectious. If this is a sign of things to come, RAAR is at the top of our watch list.
Follow LOUISAHHH!!! on Facebook | Twitter | SoundCloud
Will Atkinson
From: Glasgow, Scotland
For fans of: Armin van Buuren, W&W, MaRLo
Releases on: Armada Music Bundles, Black Hole Recordings, and more
Why you should be listening: People throw the word "prodigy" around like candy on Halloween, but Will Atkinson actually started mixing at the age of seven and producing at 14. Those are real prodigy numbers right there. Tune in to his Mainline Show mix series, and you'll soon fall in love with his diverse style and cheeky sense of humor. Now in his early 20s, he's had more experience than many mainstagers, and you don't get that many years under your belt without picking up a few tricks. He can slow it down, speed it up, and give you something fun and energetic or chilled out and expansive. He gives you psytrance, he gives you breaks, he gives you chart-toppers of all variety. He counts Tiësto, Pete Tong and Paul Oakenfold among his fans, and he should have your support as well.
Take a spin: This song comes on like a rush of blood to the brain; it's like sonic caffeine. It'll set your pupils dilating and your dance muscles into fits. This is only a little taste, as "Mesmerize" doesn't see its official release until later this month, but it's exactly enough to get you all tingly in anticipation for his set at Dreamstate, Insomniac's first all-trance event.
Follow Will Atkinson on Facebook | Twitter | SoundCloud
Jonas Rathsman
From: Sweden
For fans of: Tensnake, Hot Since 82, Detroit Swindle
Releases on: KX, ITH, Ministry of Sound, and more
Why you should be listening: Pete Tong named Jonas Rathsman a future star in 2013, and he's never disappointed. His style is dark and brooding, but it's always backed by a relentless beat. It's sexual, dangerous, and easy to enjoy, and it'll have the coolest house fan peeking over your shoulder. London Grammar and Sam Smith, to name a few, have tapped him for remixes. He just launched his new Elements mix series, in which he explores the outer limits of atmosphere and vibe. Rathsman is also riding high on a new release, the two-track, straightforwardly titled New Generation / Conium, which takes his signature exploratory sound to delicious new dimensions.
Take a spin: A-side tune "New Generation" is a beautiful soundscape perfect for late-night sets or chill-out sessions at home. It's got a spacey ambience to help you detach from reality, tempered with a danceable playfulness and a driving four-on-the-floor beat to keep your attention. It's a true jam and a must-listen for house-heads the world over.
Follow Jonas Rathsman on Facebook | Twitter
---
Share
---
Tags
---
You might also like