10 Things We Learned About DJ Craze From His Reddit AMA
When someone like DJ Craze wants to talk shop, people take notice. The legendary turntablist has claimed the illustrious title of DMC World Champion three years in a row, has been Kanye West's tour DJ, and also runs his Slow Roast label with Kill the Noise. In conjunction with this Reddit AMA, the Miami-based artist just released his new Baby Gurl EP. The five-track release is a banging exploration through the genres that you'll often find in his sets, and features collaborations with London upstart TroyBoi and rapper Trick Daddy. He took some time to answer some questions from his fans, and here's what we discovered.
1. He might have a track with GTA coming out.
2. He's down with Eminem.

3. He stays up-to-date with his current events.

4. He is a fan of Hillary Clinton.

5. He loves his parents.

6. His new track kills the club.

7. He's tight with Native Instruments.

8. He thinks you need to practice more.

9. He bows down to the "Amen break."

10. He respects the classics.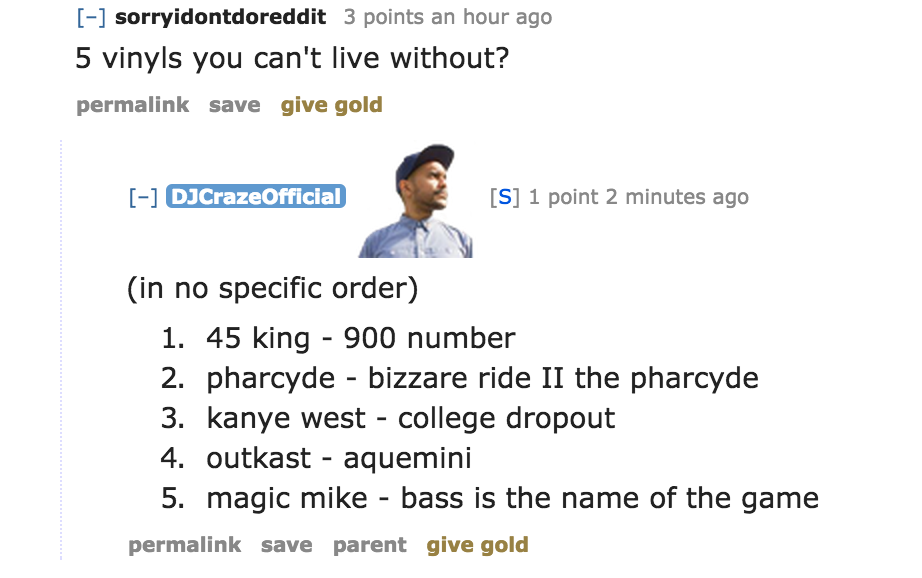 Follow DJ Craze on Facebook | Twitter | SoundCloud
---
Share
---
Tags
---
You might also like