10 Cool Things Found in the Forest
You can meticulously plan your weekend at Electric Forest, but anyone who's already been knows that some of the best stuff at the festival isn't listed in the guide. Sherwood Forest is a kaleidoscopic wonderland filled with art, activities, roving performers, and other whimsical installations (some put on by the festivalgoers themselves) that can be found only by stumbling upon them in the woods. Think synchronicities, serendipities, and dazzling distractions. Trust us—it's incredible.
This year will feature more magic than ever, including these 10 installations that can be found tucked among the trees. With all this (and much more) waiting for you in Sherwood Forest, be sure to find time to get lost in the woods.
1. The secret telephone network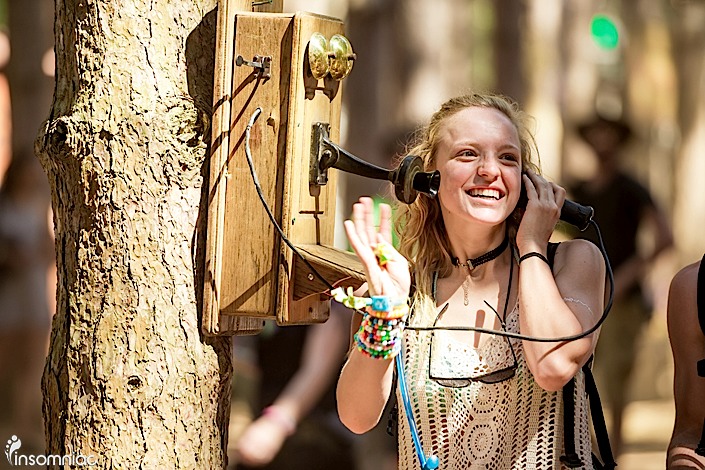 Want to phone a friend? Need some advice? Perhaps you simply want someone to talk to. Pocket your smartphone and tap into the network of terrestrial telephones that will surround the Forest's Grand Artique area. Those who dial in will be able to chat with each other or with the mysterious individuals on the other line. There's no caller ID, and FaceTime works only when you're actually face-to-face with someone—that's what makes this installation so fun.
2. The Luminaria Booth
Tucked away in the Forest, the Luminaria Booth is a collaborative art project featuring twinkling tributes to people who weren't able to make it to the festival. The project was founded in 2009, when a group of friends lost one of their members, Steve, in a house fire. Steve's mother requested some of his ashes be spread in one of his favorite places in the world—Sherwood Forest. His friends did so in the Reincarnation installation and then founded Luminaria so others could pay tribute to loved ones who have passed on, as well as people who simply can't be at the show. The creators of Luminaria say the bags "manifest spirits in Sherwood Forest, closely connecting physical festival-goers with each other and to those being remembered." Stop by to make your own homage.
3. Fairy doors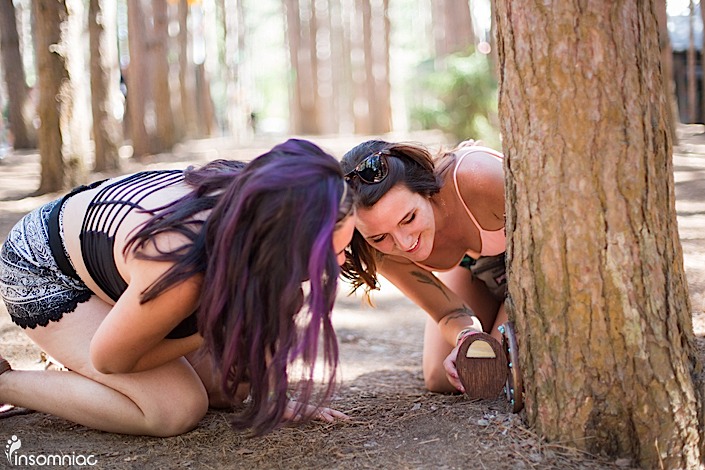 Your eyes will not be deceiving you if you happen to see tiny doors built into trees throughout the festival grounds. Inside these fairy doors are secret messages written for those who find them. Good things come in small packages, so be on the lookout for these tiny, enchanted communications.
4. The secret art of Shrine's temple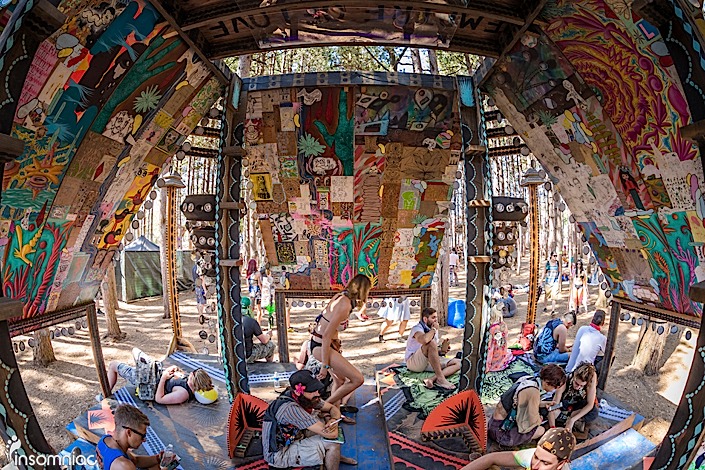 The artist known as Shrine has erected ornate installations (many of them made from discarded trash!) at festivals throughout the country, including Coachella, Lightning in a Bottle, and Symbiosis. A longtime Electric Forest contributor, Shrine will build a temple this year that will be invisible from the outside. Those who find it can explore an interior covered with drawings that he and his children have made as they have grown up together, creating an intimate connection between the Forest Family and this celebrated artist's own clan.
5. The dress-up photo booth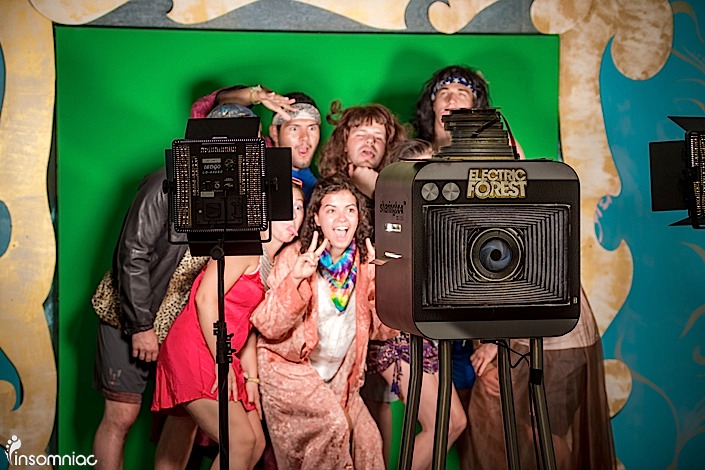 Let's be real: You're never too old to play dress-up. At the Hangar's photo booth, you and your crew can put on some of the delightfully goofy accessories provided by the festival, mug for the camera, and get a professionally shot photographic keepsake of the weekend. Say "String Cheese"!
6. Learn to slackline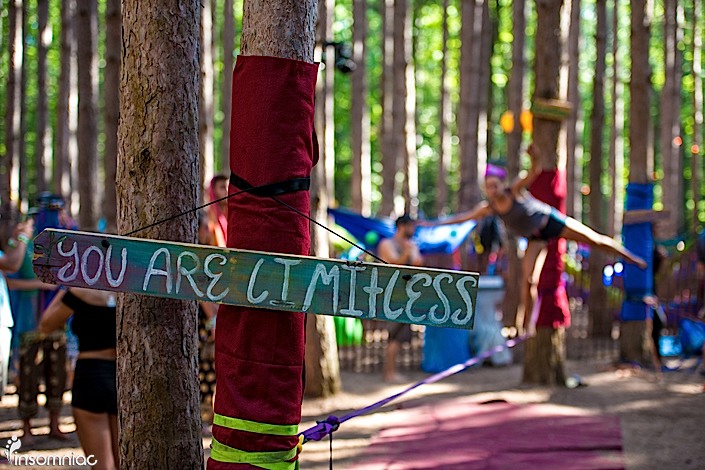 Philosophers say the key to life is balance, a concept Electric Forest is taking literally by offering free slacklining classes. Instructors will be in the Forest during daylight hours to teach attendees of all skill levels how to walk on slacklines strung between the trees. Slacklining is good for equilibrium, posture, total body strength, and core muscles. Most importantly, it's fun, even when you fall!
7. Visit the library
Music is glorious, but there's nothing like getting quiet and cozy with a great book. Literary types will enjoy Sherwood Forest's library, which can be found among the trees and will be stocked with classic novels and comfy chairs. Don't be surprised to hear a spontaneous poetry reading. "The Road Not Taken," anyone?
8. Get buffed by Rosie the Riveter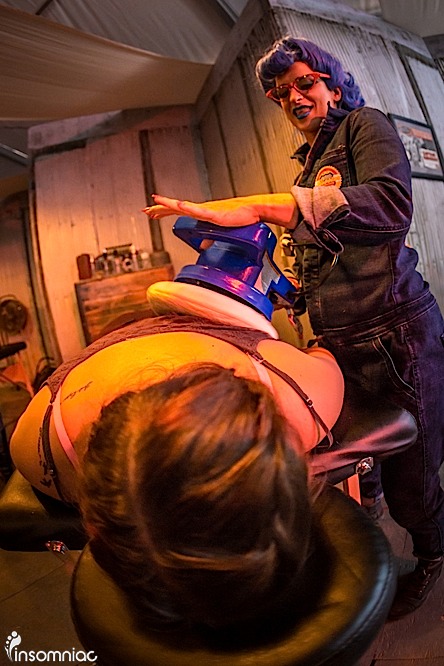 Exploring the Forest is great for the mind and spirit, but all that walking (and dancing!) can leave the body tired and achy. We've got you. Swing by the Hangar and get a full-body buff from the fleet of Rosie the Riveters who will be on-site, making sure attendees are fit for dancefloor duty. The buffers loosen up tight muscles, improve blood flow, and prep the body for exercise—meaning they're just what the doctor ordered to rejuvenate tired attendees. This is a must-try experience, so get in line early!
9. Get a haircut at the barbershop
Didn't get a chance to trim your locks before heading to the Forest? No sweat! Located inside the Hangar, the barbershop's staff of professional hairstylists will be on-hand to coif, cut, and buzz your tendrils so you can achieve that perfect festival look, or just keep your head cooler in the heat!
10. The hidden lounge that may or may not be real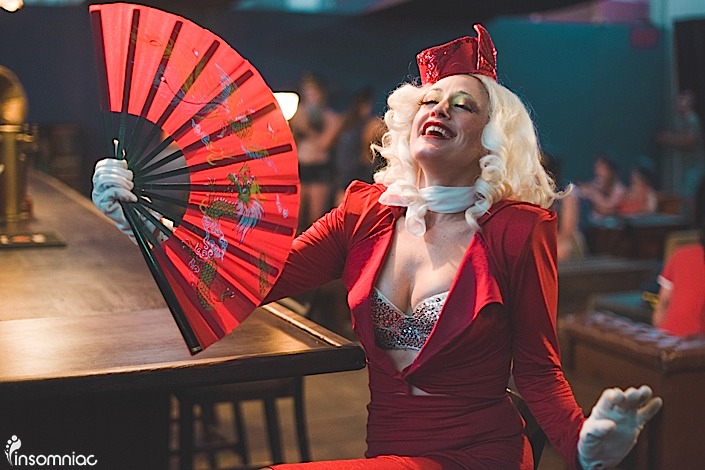 Somewhere in the Hangar, there may be a hidden lounge. And by "may be," we mean, "almost definitely is"—so make some time to find this ultra-exclusive lounge tucked away inside the Hangar. Don't be afraid to ask festival employees if you're on the right path, as you'll need some secret info (like a password) to get inside. With music, costumed performers, special drinks and other fun effects, this area will definitely be worth the search.
Electric Forest 2017 takes place June 22–25 (weekend one) and June 29–July 2 (weekend two) at Double JJ Resort in Rothbury, MI. Wristband and lodging packages for weekend two are available now. For more information, visit the official website.
Electric Forest is produced by Madison House Presents and Insomniac.
Follow Electric Forest on Facebook | Twitter | Instagram | YouTube
Follow Insomniac Events on Facebook | Twitter | Instagram | YouTube | SoundCloud
---
Share
---
Tags
---
You might also like