YDG Teams Up With Ookay on Breezy Bass Vibe "Love Thang" for Insomniac Records
Upcoming Event
California's own low-end young blood YDG seems inexhaustible, in terms of both output and performance. He's currently in the middle of a US tour, after dropping a slew of releases earlier in the year, including a beastly collab with Crizzly. Yet the bass-reveling powerhouse can't seem to slow down, having just released a new track on Insomniac Records. Not only is it a shift in gears for YDG, but it's also a team-up with the one and only Ookay.
After an onslaught of gritty and dirty tracks spanning between dubstep, trap, and more, "Love Thang" leans back to a place of warm breezes for YDG. With its chilled tempo and gentle piano chords, it ushers in the smooth and crooning vocal work by Ookay. This soon builds toward an energetic drop, but the tune restrains itself, opting for an emotively upbeat vibe. It's the kind of catchy backbeat number that will bring anyone up and get stuck in their head for days.
The single is both sensitive and uplifting, yet never so outside of the box that it doesn't feel like a natural extension of YDG's sound. It's definitely another show of tight production and versatile style. Peep it up top, and catch a few words from YDG himself after the break.
YDG and Ookay's "Love Thang" is available here.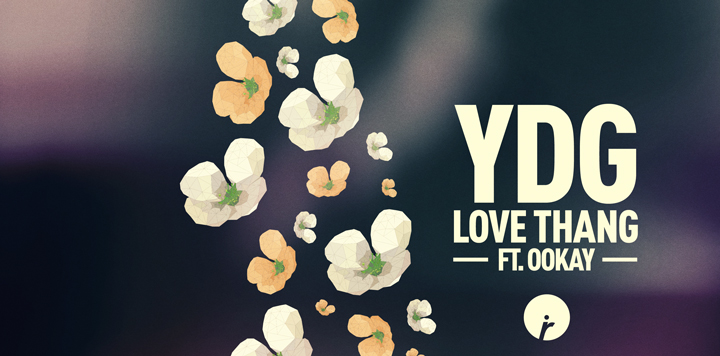 You're about midway through tour, right? How's that been going?
Yeah! So far, this tour has been a lot of fun. I've gotten to visit a lot of cool places I've always wanted to see, like Washington D.C., New York, and Chicago. But most importantly, meeting and performing for new fans has been really rewarding for me.
What's been the craziest show so far?
That's a tough one; even though every city was different, every show had something crazy going on. I'd say it's between Houston, Utah, and L.A.—the crowds in those [places] can party.
You've put out a lot of really gritty tracks lately. What made you switch gears for "Love Thang"?
I wanted to do something different. I had been making a lot of bangers at the time, but I wanted to switch it up and get more "in the feels." I wrote this over a year ago, when I started opening up to experimenting with new sounds, and I still am today.
How did you get Ookay to do vocals on this track, and what was that process like?
It happened really randomly, actually. I went over to Ookay's house, and we were showing each other what we had been working on. When I showed him "Love Thang," I told him it was just missing a vocalist. He liked it so much that he said, "You know, I'm a vocalist, too. Let me hop on it." We just sat in his studio, came up with lyrics, and recorded and finished it all in one night.
You tend to play around with a lot of different styles; what artists would you say inspired you to carve your own path here?
There are so many, but I'd say mainly Eptic, DJ Snake, Excision, and Space Laces. These guys all have created their own unique sound. Even when they try something new and refreshing, they still have a signature sound to it somehow.
How long have you been producing your own tracks, and how many did you have to release before you started getting attention from bigger artists?
I've been making music since I was 15 but didn't take it seriously till I was 17. Well, before I started this YDG project, I was actually making house music and just releasing stuff for fun—so, quite a few tracks. But once I started YDG, I started getting attention from bigger artists just after I put out "All Night" and then my other Ookay collab called "Pop It Off."
You seem to have unrelenting output. What do you have in the works next?
I actually have a lot in works that I can't talk about yet… Once this tour is over, I'm going to put together some all-new originals, collabs, and visuals, and get ready to bring the heat next year.
Anything else you'd like to plug or mention?
Just know: This is barely the beginning for me. What I have planned for next year is going to blow everyone away. It's game time.
Follow YDG on Facebook | Twitter | SoundCloud
Follow Ookay on Facebook | Twitter | SoundCloud
Follow Insomniac Records on Facebook | Twitter | SoundCloud
---
Share
---
Tags
---
You might also like