Valy Mo Connects With Rave & Crave on Laser House "Survival" for IN / ROTATION
There's surprisingly little information to be found about Parisian producer Valy Mo, née Valintin Morell. Or maybe it's not surprising at all, considering he's an artist whose face has so often been concealed by paint, a hypnotic pair of LED shades, and an epic beard. Since the debut of his groundbreaking remix of Crystal Castles' "Kerosene" in 2013, Morell has allowed his music to take the spotlight. His reimagining of Alice Glass' haunting vocals set amid a gut-rumbling bed of jilted bass and soaring synths—which somehow made that Crystal Castles song darker and more strange—compelled the duo to give his bootleg their blessing via social media.
Skrillex was next to sign off on Valy's twisted, bass-heavy beats through the release of the Tokyo Bright EP on Nest HQ. Over the last five years, Valy's sonic imprint has again and again been stamped across a diverse set of beats ranging from bright, soulful house to dark, grinding bass for labels such as Ultra, Universal, Confession, UKF, and OWSLA.
The producer's meandering journey through bottom-heavy subgenres finally led him to a sound he can truly call his own. "Laser house" is the term he's coined to describe his sound, which is slightly aggressive and decidedly rhythmic. It also stays heavy on the bass without ever compromising the allure of a good old-fashioned melody.
His debut release with IN / ROTATION sees him connecting with New Delhi–based duo Rave & Crave on "Survival," which takes this newly minted subgenre to its limits. A thumping bassline gives this sexy slumper its weight, while a sultry flute slithers and slides around as the topline.
We caught up with Valy Mo in a very rare interview to discuss his move to Vietnam, why he's chosen to pull the veil back after hiding his face for so long, and what it means to finally define his sound.
Valy Mo and Rave & Crave's "Survival" is available here.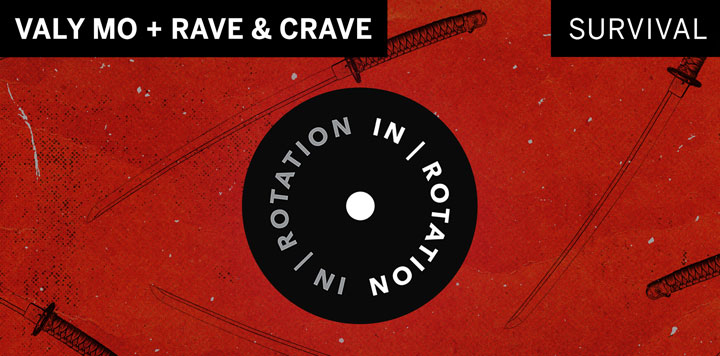 You moved to Vietnam recently. Besides it being a beautiful country with amazing food, what inspired the move?
Ever since I performed at Summer Sonic Festival in Tokyo three years ago, I've had a thing for Asia. I decided to save money and quit everything to live from my music while traveling. This finally happened two years ago. Early 2018, I fell in love with Vietnam—the people, the culture, and the atmosphere—which gave me so much inspiration. I'm based in Vietnam for the moment, but I plan to discover USA next year.
Vietnam has a rapidly developing dance music scene. How are you enjoying being a part of that?
Dance music started having big events and big headliners a few years ago. Indeed, today a lot of young promoters are helping each other develop their favorite genre and the scene in general. What I love here is sharing my experience with young producers, and of course, I also learn from them. I'm currently working with very talented local producers on a few new songs. I would love to express my love for this country through these tracks. 
After years of dialing in your sound, you've found a suitable name for it: "laser house." What does it mean to have such a unique way to define your sound?
I try to give a unique experience through each of my songs, and people usually can't give a name to my music. Laser house is a mix between house rhythm, techno bass, and aggressive topline.
It's been a great opportunity to release on labels such as OWSLA, UKF, and Confession. They gave me the opportunity to bring my vision of music to their audience, although my tracks give a wide berth from what they release. Today, I'm proud to release my new song "Survival" via Insomniac's imprint IN / ROTATION, and I have some big releases on the way that I can't wait to announce.
Your EP on Confession last year, A Nightshift With Valy Mo, played through like you were trying to tell a story. This isn't as common with EPs as it is with full albums. What was the story you were trying to tell?
It is important for me to drop a concept instead of a pack of tracks—to push the music further than being just a sound. It's also about the picture it creates in your mind.
I used to get around in Asia by night with an old motorbike; that's why the names of the songs are related to mechanics and dirt. Listen to this EP, and imagine yourself riding this old motorbike, with the fresh air of the night and the smell of gas.
You do a pretty good job of spreading around the stems of your songs and inviting producers to send you remixes of your work. How do you think this influences the DJ/producer community?
I love to create the whole song around the vocal, but it is so frustrating when it comes to the final version, because there are so many possibilities. I'm curious to see what directions the other producers will take it. Sometimes it's surprising, so I just want to support their good work as much as I can. I'm also very demanding with my own tracks, so I prefer to play the other producers' remixes.
You've appeared onstage with a mask, LED glasses, and face paint, but also sometimes without concealing your face at all. Why do you tend to switch back and forth between covering your face and showing it?
I just try to join a visual concept to my music when I play gigs. As an evolving artist, my character is also evolving, and I try to tell you different stories. After the show, I remove my glasses, my mask, my face paint, and then I'm ready to grab some beers and sit down to chat.
Follow Valy Mo on Facebook | Twitter | SoundCloud
Follow Rave & Crave on Facebook | Twitter | SoundCloud
Follow IN / ROTATION on Facebook | Twitter | SoundCloud
---
Share
---
Tags
---
You might also like