Technotronic "Pump Up the Jam"
The birth of our underground brand Factory 93 not only brought on an adrenaline rush reminiscent of the renegade warehouse era of raving—on which Insomniac was founded—but it also had us thinking back to all the people, places and parties that made this whole operation possible. And with that came a burning desire to crack open our collection and dust off the classic records we couldn't live without. Through our From the Crate series, we break out seminal and obscure cuts alike, imparting some knowledge in the process.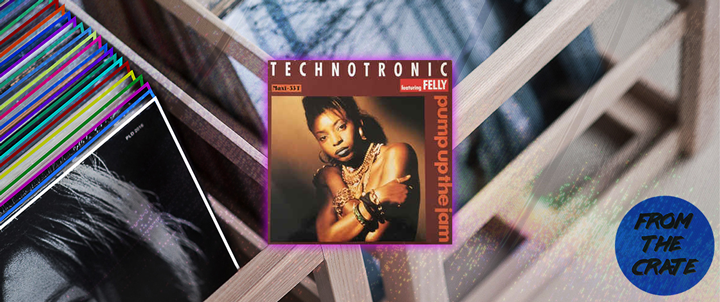 Pump up the Jam, pump it up,
While you feet are stompin'
And the jam is pumpin'
Look at here the crowd is jumpin'
These are some of the best and most infectious opening lyrics in any dance song—period. Hopefully, you've heard this sometime in your life and have yourself pumped up one, or even better, multiple jams.
"Pump Up the Jam" by Technotronic is one of the best dance songs of all time, because—while it should have disappeared in our cultural memory as a sort of punchline or joke or some one-hit wonder—it's still an infinitely playable tune that works in literally any dancefloor context. It doesn't get old, for some reason, and continues to thrive to this day. It's dancefloor perfection.
One of the more obvious reasons it's so damn good is that it's a reworking of Marshall Jefferson's equally indelible house gem "Move Your Body," with those instantly recognizable synth-string stabs. It just works and will probably be played for generations, even though few people know its story.
But first, a brief primer on the Belgian music scene, which produced this corker of a track. Belgium had a fertile dance music community, especially in proportion to how small a country it was. The Belgians truly found their dancehall identity via the "popcorn" scene, a Belgian take on Northern soul—i.e., a bunch of young, white European folks importing predominantly funk, soul, and boogie and playing them slowed down. This got kicking in the '70s and kept going strong into the '80s, establishing a strong disco culture aided by the lack of laws regarding closing times at bars and clubs. So, the parties started going on for days.
Later in the '80s, popcorn would merge into Belgian new beat, a darker, midtempo synth style that took the tiny nation by storm. The new beat craze created an export that DJs around the world were gobbling up.
Jo Bogaert was an American teacher who immigrated to Belgium and wanted to bring hip-hop, another American export, and fuse it with European, particularly Belgian, dancefloor sensibilities in a European take on hip-house.
Bogaert used the Marshall Jefferson sample as the spine of the track. The style Bogaert was going for would later be called "Eurodance," with shades of classic house, hip-house, and new beat.
Bogaert felt that his image—that of a nerdy, professorial white guy—would not be enough to take his project to the next level. So, following a tradition of white guys in Europe in the '70s and '80s, using people of color as props to sell an image of urbanity (see: the career of Frank Farian), Bogaert founded Technotronic.
"Pump Up the Jam" was the first single, and Bogaert used the Marshall Jefferson sample as the spine of the track. The style Bogaert was going for would later be called "Eurodance," with shades of classic house, hip-house (a short-lived but good micro-scene where rappers rapped over house beats), and new beat.
Bogaert enlisted Ya Kid K to write and perform vocals. She does both the rapping parts and the somewhat off-key (but still great) singing on the song. But when it came to promoting the single and the album behind it, Bogaert cast Congolese model Felly Kilingi to play the vocalist in the music video and album cover.
Lyrically, there isn't a whole lot going on, but it's simple and effective. It's the delivery that's dripping with attitude. Ya Kid K had lived on multiple continents and had a variety of styles at her disposal. It's her spunky charm that really makes the cut one of the greatest of all time. But listeners wouldn't know they were her vocals and lyrics until several months into the promotional cycle of the record.
The single was a crossover smash hit, immediately connecting and resonating with multiple crowds in cities around the world before eventually hitting #2 on the Billboard Hot 100 singles chart and doing well elsewhere. It's the first house-centric tune to chart this high. The success prompted a bunch of US TV appearances, during which it became clear that Felly was not the actual singer. A decision was made to have Ya Kid K perform, and replacement album art and other materials were printed.
Like any good hit, "Pump Up the Jam" spawned innumerable remixes and imitators, even though hip-house wasn't long for this world. Hip-hop and house would individually become musical mainstays, of course, but their overlap would never really receive this type of commercial success in America again.
Ya Kid K and MC Eric would remain a part of Technotronic for a few albums, with diminishing returns, though it wouldn't be fair at all to call Technotronic a one-hit wonder. Three other singles charted highly in the US and UK: "Get Up! (Before the Night Is Over)," "This Beat Is Technotronic," and "Move This." Variations on the template laid out in "Jam," these songs were decently to well received. But the idea of a house music group would prove difficult in an American market still dominated by traditional bands and solo pop stars. They were somewhere in between and a little too abstract or Euro for Americans to fall in love with their personas.
Nonetheless, Technotronic did seep into other areas of pop culture. "Jam" was included on the first (of many) Jock Jams compilations, a series that sought to capitalize on sports/workout music. The songs included in these early Jock Jams CDs would become staples at sporting events around America. So, to this day, you will still hear "Pump Up the Jam" at anything from a hockey match to a basketball game, and it's just part of our lexicon.
Technotronic also crept into kids' films; "Pump Up the Jam" was licensed in Space Jam, and a Technotronic side project contributed a cut to the first Ninja Turtles movie as High Tek-3. Taking it even further, Ya Kid K would join Vanilla Ice (for the four months when he was relevant) on the second Ninja Turtles movie OST (this writer had the tape and used to play it often).
This is all without mentioning the billion or so remixes, edits, megamixes, and other interpretations of "Jam." In the '00s, a group called DONS remixed it and was gobbled up, breathing new air into the track for a new generation.
It's pretty much a given that this one will outlive us all. It doesn't need our help or blathering on to cement its place somewhere on a very short list of the best dance records of all time.
---
Share
---
Tags
---
You might also like