Marshall Jefferson "Move Your Body"
The birth of our underground brand Factory 93 not only brought on an adrenaline rush reminiscent of the renegade warehouse era of raving—on which Insomniac was founded—but it also had us thinking back to all the people, places and parties that made this whole operation possible. And with that came a burning desire to crack open our collection and dust off the classic records we couldn't live without. Through our From the Crate series, we'll be breaking out both seminal and obscure cuts alike, imparting some knowledge in the process.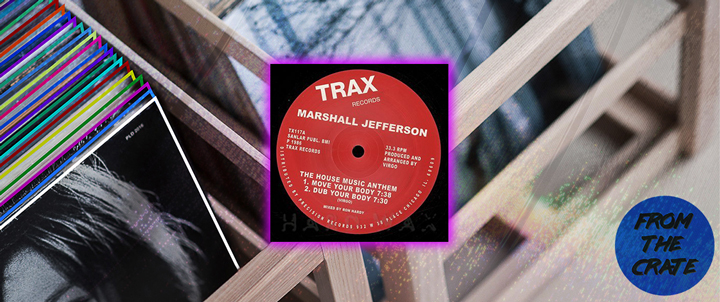 Somewhere, a record obsessive has made a list of the untold number of songs that reference their own genre, singing their own praises to anyone who will listen. That list is lengthy: "Rock and Roll All Nite," "Boogie Woogie Bugle Boy," "If That Ain't Country," "Pop Muzik," "Sheena Is a Punk Rocker"…hell, for all we know there's a Gregorian chant titled "This Is How We Chant."
The catalog of '80s house is particularly awash with such self-alluding tunes—there's "House Nation," "This Is Acid," "7 Ways" (which is actually more of an instruction-manual track, but close enough), "I'll House You," "Ready to House," and any of the scores of songs that sample Chuck Roberts' "My House" spiel, just to name a handful. Some of these tracks have faded into the ether of dance music history, while others have endured—but one of the first, and perhaps the one that best personifies the pure, ecstatic pleasures of house, is 1986's "Move Your Body," the debut track by a young Chicago postal worker named Marshall Jefferson.
"Move Your Body" also is known as "The House Music Anthem"; somewhat confusingly, both names appear on the original Trax Records release, while a rerecorded version of the song that subsequently came out on D.J. International is titled "Move Your Body — House Music Anthem."
"I stupidly thought I could do a better version in a big studio," Jefferson said years later of that alternate version. The 10-minute remake has its charms, but the rawer Trax version is the one you want. Whatever you want to call it, and whichever version you opt for, "Move Your Body" is one of house's most-loved tunes, delivered with an exuberant confidence that's hard to resist.
With a tumbling, near-barrelhouse piano (some sources cite this as the first house track to incorporate piano, though that's debatable) coalescing around a series of big, blocky riffs that conjure up a feeling of spiritual fervor, tinged with just a hint of melancholy—along with a hissing hi-hat, throbbing bass, and of course, a thumping kick drum propelling the rhythm—it would be a magical enough number in its instrumental form. But it's the lyrics, sung with a blend of euphoria and sensuality by Jefferson's then coworker Curtis McClain, that cement the song's reputation. "Gotta have house music all night long/with that house music you can't go wrong/give me that house music, set me free/lost in house music is where I wanna be/it's gonna set you"—those words are imbued with a kind of naïve brilliance that impart the joys of dancing to a four-to-the-floor rhythm far better than any intellectual analysis of rhythmic movement could hope to convey.
"Move Your Body" came to Jefferson, fully formed, while toiling over letter-sorting machines at work. He then figured out the drum, bass and keyboard parts—he had purchased a sampler and a Roland TB-303, among other bits and pieces of gear—and gathered McClain, Rudy Forbes, and Thomas Carr together to lay the track down. Jefferson was pleased with the results; the others, less so. As the story goes, the DJs he initially brought the track to also had their doubts, mainly due to its florid piano intro. But when he delivered a cassette to Ron Hardy, the esteemed Music Box maestro loved it and immediately hammered it five times in a row. Frankie Knuckles later adopted the song as well, and that was that: The track became a local house music hit, slowly spreading its way to DJs well beyond Chicago's city limits.
Committing it to vinyl was a different matter. Apparently, Trax co-owner Larry Sherman also didn't like the track—again, because of the piano—but he was glad to take Jefferson's cash to press the tune up for Jefferson's own Other Sides Records, though it took him a full 13 months to do so. By that time, Sherman, not known as the most scrupulous member of the nascent Chicago house community, realized the song was a smash. So, he allegedly scratched out the original "OS2" ID number on the original pressing, replaced it with a Trax ID, and released it himself. The label features Jefferson's name in that familiar bold Trax font and also states that the song was "produced and arranged by Virgo" (Virgo being one of Jefferson's many production aliases), but it fails to give any mention of his collaborators. Needless to say, McClain was none too pleased, nor were Forbes and Carr. But even Jefferson himself didn't gain ownership of "Move Your Body" till years later, in 2012. By that time, needless to say, the track was acclaimed as one of house history's seminal moments.
But "Move Your Body" is far more than a moment frozen in time, more than an artifact from the genre's formative days, more than a golden-oldies relic. It's an ode to the pure, unleashed, liberating power that house can bring—one that, 30 years later, can still bring whoops and hollers when dropped in the right club at the right moment. And if your copy has "OS2" imprinted on the run-out groove… well, you've got yourself a collector's item.
---
Share
---
Tags
---
You might also like