Sage Armstrong and BOT Work the Wiggles on "Flashy Lights" for IN / ROTATION [Free Download]
Upcoming Event
Lodged between the planes of a professional booty-shaking contest and an underwater rave is where the latest collab between Sage Armstrong and BOT finds itself. In the last year, the two wacky house heads have been buckling down in the studio together, pumping out one sweat-glazed release after another for vital imprints such as Dirtybird, Fool's Gold and Main Course. They are now adding yet another W to their ongoing hot-streak with the club-aimed "Flashy Lights."
Working symbiotically like a mortar and pestle, they grind out a naughty little number that oozes personality out every crevice. A shuffling percussive backbone provides the framework for the sloshing synth lead, a recoiling bassline, and whirring flourishes that couldn't be more suited for Armstrong's blasé vocal work. They connected big on this one, and that's not up for debate.
We hollered at both of these fine gentlemen to have them shed some insight on "Flashy Lights" and touch on their loose partnership. And if you're trying to imagine what this tune sounds like on a proper system, you might want to try stopping by upside-downHOUSE at EDC Las Vegas on Sunday night, because Sage will be there holding it down.
Sage Armstong and BOT's "Flashy Lights" is available here.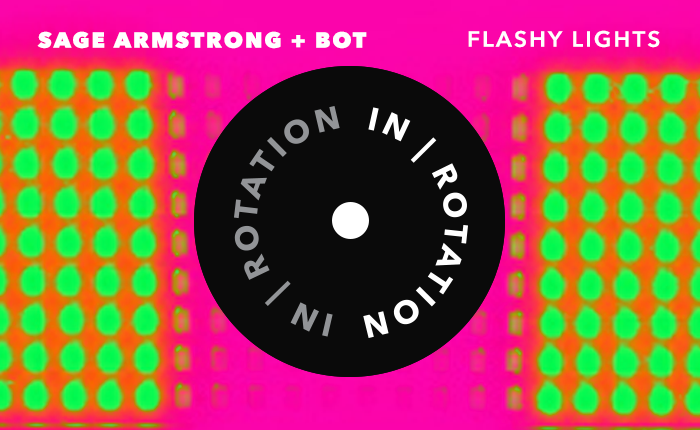 Let's start out with the story of how you two first met.
BOT: We met at the first Dirtybird Campout festival a couple years ago. Then Sage moved to L.A., where I was living, and we started playing around in the studio.
What led you to the studio together?
Sage: We ran into each other three times in the same week at different events, and I came up with the idea [that] we should work on a tune together, where we collab on the beat and I'll do the vox—and BOT was down.
BOT: I'm always open to learn from other producers, and so is Sage. The first song we did together got signed by Dirtybird, so we thought it could be a good idea to do more.
There's no denying the chemistry you share in the studio, considering how frequently you've worked together in the past. Why do you think your pairing works as well as it does?
Sage: I honestly love working with BOT… BOT knows what's HOT! Haha, but really, I think we both have a very picky sound selection and trust one another when we aren't feeling something and are quick to move forward. We knock out ideas really quick together.
BOT: We get along as humans, as well. A studio session always turns into making some food in between or getting a gelato. The shared love for hip-hop is also a binding factor, both personally and musically. Sage always introduces me to these fire, unknown Florida rappers that blow my mind!
Which of your previous collaborations are you most proud of, and why? 
Sage: "She Smokin"—I don't know, it's just so dirty and unique. =)
Give us a breakdown of how "Flashy Lights" came together. What pieces did each of you contribute, and how did the session go down?
BOT: Explained in a simple way, Sage usually comes with an eight-bar rough idea, and by the end of the day, we have a song. "Flashy Lights" was no exception to that process, but to be completely honest, we've worked on so many tracks by now that I do not recall in detail how that one went down!
Sage: I kinda had this idea going already, with no vocals on it, and played it at BOT's studio. I literally freestyle this verse on it, and we just arranged and mixed it.
Please share your fondest memory you have with one another.
BOT: All shared memories that make a friendship—and I'm happy to be able to call Sage a friend.
Sage: Never a dull moment with BOT! Honestly, I'd have to say the time me & BOT worked for the first time in the studio—that was on "She Smoking." Outside of that, this one time I played a b2b with BOT and Astronomar.
Do you have plans to keep this collaborative streak going? What's next?
BOT: We sure do and are already working on more material. We're trying to finalize an EP in the next days.
Sage: Me & BOT are always cooking up something new. Stay tuned. <3
Follow Sage Armstrong on Facebook | Twitter | SoundCloud
Follow Bot on Facebook | Twitter | SoundCloud
Follow In / Rotation on Facebook | Twitter | SoundCloud
---
Share
---
Tags
---
You might also like