Riot Ten Prepares to Break Some Rails With Nocturnal Wonderland 2018 Mix
Upcoming Event
When the lineup was announced for Nocturnal Wonderland a few weeks back, one of the first names we were amped to see scheduled to touch down in SoCal was the king rail-breaker himself. Known for calling the most blistering end of the bass music spectrum home, Chris Wilson, aka Riot Ten, is not only set to bring his own untethered style of neck-snapping bass to the masses live at Glen Helen Regional Park in September, but has also hit us with an official Nocturnal Wonderland mix that's sure to cause a riot in the comfort of your own living room.
"I am so fucking stoked for Nocturnal," the El Paso native tells us, quickly following with the promise that "this is going to be my heaviest set of the year." Coming off the sizzling Ungrateful Dead tour in Australia this past year, and now launching into his highly anticipated Hype or Die tour this fall, the self-described family man has just had another child added to his at-home crew and is forthcoming about the challenges of balancing his DJ life with that of being a good dad.
Tickets for Nocturnal Wonderland 2018 are on sale now.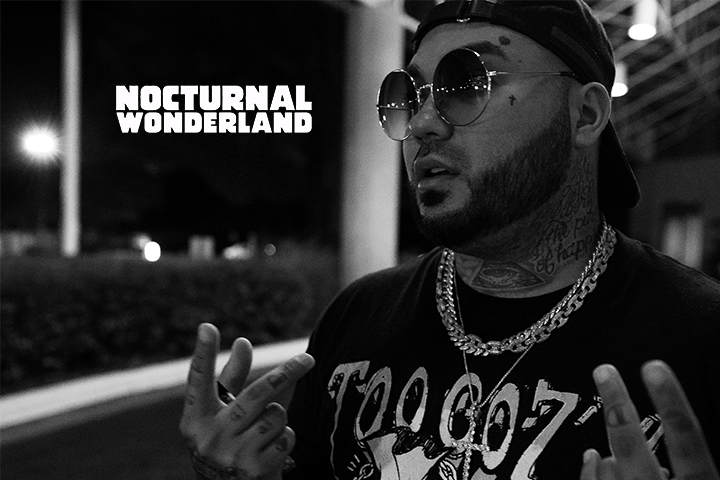 "I'm not going to lie: Balancing everything in my life can be extremely hard," he tells us. "Most of the time, something suffers—whether it's not spending enough time with family or being late on certain projects. Luckily, though, my family is in this with me and understands that I'm doing all of this for them."
Having a solid foundation at home is also what Chris credits with helping him power through those long tours away from home. "For me, family always comes first, and sometimes even taking five minutes to give everyone a hug and a kiss before I leave can go a long way."
For all the Hype or Die fam out there who consider Riot Ten their own papi, don't worry; you know he's been giving you his all, as well, since the success of his all-time classic "Rail Breaker." While we don't need to rehash just how badass that beast is and the thousands of beats it has since spawned in the Riot Ten studio, we were interested to see if there were any tunes Chris considers long ancestors or relatives of the tune that helped launch his career.
"I would say 'Throwin Elbows' by Excision and Space Laces, as that song was an instant classic, and it's hard not to be influenced by such a heavy tune." As with many electronic music artists, the inspiration was felt first as a fan and then as a producer. Having never had an artist formally mentor him as he was coming up, Chris is quick to point out that his Riot Ten sound developed through the influence of "countless artists that continue to inspire me with their own progress and successes. I'm also beyond grateful to those who have reached out and shown support, like Carnage, Steve Aoki, Excision, the Chainsmokers, etc."
For all the young-bloods out there hoping to follow in Riot Ten's footsteps, know that while he doesn't necessarily consider himself a mentor to others, "I love giving advice and helping anyone who asks for it. I know how hard and challenging this line of work can be, so if I can make someone's life easier, I'm all for it. I've also never been afraid to work with smaller artists in the studio who have yet to be heard."
Even if you don't have your sights set on becoming the next breakthrough artist that Riot Ten works with in the studio, part of the appeal Chris brings to the fore is his love of connecting with fans on a number of platforms, including the virtual realms of Fortnite and Rocket League. "I love playing video games! I often play with different fans from Twitter or Instagram. It's become a special bond we have!" When asked if he has a favorite emote dance he could rock out for us live, Chris just laughs and says, "Honestly, I wish I could do any of the emotes. Little fun fact: I am the worst at dancing—literally."
While he won't be busting out his "Orange Justice" moves anytime soon, there's a sure bet that Riot Ten is going to continue banging out dancefloor killers in the months to come. With a number of collabs featuring the likes of Krimer and EH!DE in the can, and rinsing out the dancefloor as we speak, Riot Ten's own love of music comes through when he admits he gets off on dropping new beats live just as much as the dancefloor does. "I love having the monitors turned up high, so I can feel the bass. As far as future collabs, that's a secret, but I do have some HUGE tunes coming out this year that I know the fans will be excited about. My next EP to kick off my fall tour is almost wrapped!"
Speaking of the Hype or Die tour that Chris is about to embark on, fans already know it's not just a Riot Ten experience, but a full-on squad of homies down to rumble on each and every stop. When asked about how he goes about deciding whom to bring along for the ride, Chris is quick to point out, "I honestly fuck with anyone who fucks with me heavily. All the guys on my tour are down-to-earth, talented as fuck, and throw down. I'm so excited to have them with me and to create memories together. There are also a few special guests that haven't been announced yet, so keep an eye out for that."
With heads like Krimer, Carbin, He$h, Bandlez, SubDocta, Algo, B-Sides, Swage, and Fransis Derelle already confirmed, Riot Ten says to expect not only some "big energy" but some "Hype or Die shit all night long."
For now, we're going to have to continue to count down the days until Nocturnal and blast this special mix that Riot Ten has put together for us. To really get into a full sensory experience, Riot Ten suggests pairing the mix with your favorite battle scene from Transformers to get what he calls "the ultimate HYPE OR DIE movie." Either way, warn the neighbors, and turn this one up loud!
Riot Ten's Nocturnal Wonderland 2018 Track List:

Illenium ft. RUNN "Free Fall" (Kompany Remix)
Wavedash x Quest "Star Power"
Yookie "Project 9"
LeKtriQue ft. the Arcturians "Mercy"
Slander x Wavedash "Move Back" (Throwdown Bootleg)
Trampa "Middle Fingers"
Mastadon "Machete"
Downlink "Absolute Fire"
Excision x Space Laces "Rumble"
Space Laces x Getter "Choppaz"
AFK x Carbin "Boss" vs. PhaseOne "Double Up" (Bandlez Remix)
Jayceeoh x Effin – ID
Ivory "Next Level"
Riot Ten x Krimer – ID
Wooli – ID
Hi I'm Ghost "Spooky Riddim"
Nost "You So Fkn Bad"
Sora "Omae Wa"
AFK x Wooli "WDGAF" vs. Raucous "Retribution"
Yellowclaw x Juyen "Do You Like Bass" vs. Svdden Death "Last Life"
Riot Ten x Krimer "Dem Hands Doe"
Riot Ten x Sullivan King ft. DJ Paul "Pit Boss" (BadKlaat Remix)
Ivory "The Fight"
Virtual Riot "Chop Chop"
Riot Ten x Dack Janiels "Lui Kang"
DJ Snake "Propaganda" vs. Tha Trickas x Creaky Jackals "OG Purp" (PhaseOne Remix)
Gammer "The Drop" (Anderex Bootleg)
Bailo x Tyeguys – ID
Riot Ten ft. Rico Act "Rail Breaker"
Riot Ten is playing at Nocturnal Wonderland, which takes place Friday, September 14, and Saturday, September 15, at Glen Helen Regional Park in San Bernardino, CA. Tickets are on sale now.
Follow Riot Ten on Facebook | Twitter | SoundCloud
Follow Nocturnal Wonderland on Facebook | Twitter | Instagram
---
Share
---
Tags
---
You might also like