Rawtek Goes Big and Baile on 'Fineapple / Lips' Two-Tracker for Insomniac Records
Upcoming Event
The members of L.A.'s double-trouble act Rawtek, Levi Jackson and Daniel Medina, have a habit of making bass music in their own way. They call it LIONSOUND, and those who know are already prepared for the big guns they bring to the mix. Either on their own or with any number of name-dropping collaborations, Rawtek craft the heat with rugged rhythms and big-energy beats. Now they're bringing some next-level LIONSOUND to Insomniac Records with a double-sided single made to crush the dancefloor.
Fineapple / Lips is a two-hitter that sees Rawtek teaming up with Herve Pagez and Juyen Sebulba, respectively. For the first round, "Fineapple," the sounds go hard with moombah and funk carioca flair. The beats are traditional Brazilian merged with punchy electronic drums, yet they keep a four-on-the-floor house structure. Topping it off is the perfect Portuguese vocal hook. There's a lot going on here, and though the dynamic builds and drops steadily, "Fineapple" stays cranked up.
The second track, "Lips," with Juyen Sebulba, strips things down just a bit but still rages from start to finish. Heavy electro elements team in a hard-house fashion with the same baile funk matchup as the previous track. The basslines and leads here hit like grenades, which is fitting, since they're punctuated by gunshots and till blings. "Lips" also makes great use of a simple vocal sample. This is another sweat-rending banger.
Both tracks on Fineapple / Lips are serious peak-time hitters, guaranteed to get feet on the dancefloor and heads bouncing along in the air. Rawtek lays down the through line between the clear talents of Herve Pagez and Juyen Sebulba, and they've forged the kind of firepower you can't ignore.
Buy Rawtek's Fineapple / Lips EP here.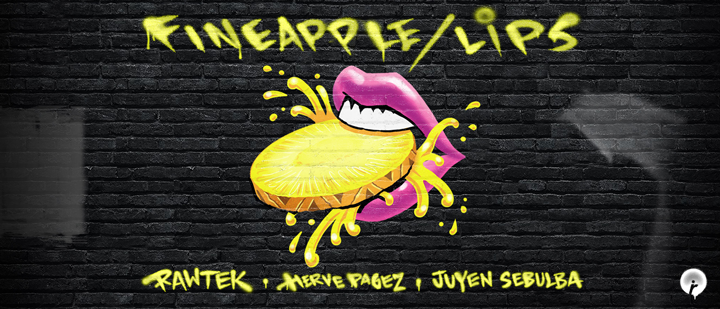 How was that recent party with Mike Cervello? It looked crazy.
It was really dope. The Circle in Huntington always has an amazing crowd. It's very intimate, so you really feel all the energy the people give you. We also tested out a bunch of new music that night.
Speaking of, what are you guys preparing for your upcoming show with ARMNHMR?
We always do our best to make each of our sets different and better than the last. We love to play a nice variety of heavy stuff, so you can expect our set to be a crazy one, for sure. We haven't played the OC Observatory yet, so that will be fun to play there. We've also known the ARMNHMR guys since the beginning of Rawtek a few years ago and have yet to see them play, so we're excited to see the guys crush it, as well.
What was your process for teaming up with Herve Pagez and Juyen Sebulba for this project?
We've actually worked with Juyen and Herve before, on our first EP on Barong Family. Herve Pagez has been one of our favorite producers for years now; whenever we work with him, we already know it's going to be a dope track. He lives out in France, so we've never actually met him in person, but he's definitely one of our favorite people to work with. "Fineapple" has very similar sounds and baile funk style, in comparison to our first collab, "Beleza," so really, it's like a stronger follow-up to that track.
Juyen Sebulba is a beast. We were fans of his music since even before we were producing ourselves. We've become good friends since the first time we met him out here in L.A. He lives in Texas and comes down here a couple times a year, but both songs we've finished with him were made here in our L.A. home studio. "Lips" is such a heavy track. We wanted to make something house-y, heavy, baile funk-ish, [with] lots of fun energy. Fun fact: Levi's girlfriend wrote and recorded the vocals for "Lips," which fit so perfectly for the vibe of the song. This is one of those tracks that always goes off in a club or festival.
We're very proud of both tracks and can't wait for people to hear them.
What was the idea behind doing handmade art as a giveaway?
Both of us love art. We both draw and paint regularly; it's something we've grown up doing our entire lives. We truly believe Rawtek and art go hand-in-hand. We've done graffiti and murals for EPs in the past, so this time, we wanted to switch it up and do art that we could physically give to our fans.
The cover art is really fun to paint, so we did different variations of it on different canvases to give away. They're each one-of-one and original from the next. Being able to expand our artistic abilities, as well as our music, is also a lot of fun for us, so any projects we come up with that involve our art always make us enjoy doing what we do even more.
Did you go into these tracks with any particular style or idea in mind? They definitely fall in that moombah / baile funk space.
Yes, we love making anything that sounds and feels tropical. Over the years, we've gravitated toward Brazilian sounds and baile funk rhythms a lot. There's such a unique energy and flow there, and we love incorporating that vibe whenever it fits in with the songs we're making. Juyen and Herve also both love the baile funk sound, so we love taking our spin on it whenever we work together.
How was this process different from your other collaborations—such as the one with Flosstradamus?
Working with Flosstradamus was very dope. He's a huge inspiration and a legend in our eyes, so we're very grateful that he believes in our sound so much. For "Guava," we wanted to make something more in the realm of heavy trap, rather than the more house/baile funk vibe that "Fineapple" and "Lips" have. We worked with Floss in his studio for a few weeks until it was finished. It's always dope to work with artists you're originally a big fan of; just like Juyen Sebulba and Herve Pagez, we were fans of their work before we even started to collaborate with them. We feel very lucky to be able to work with other producers who inspire us so much.
How do you define LIONSOUND?
LIONSOUND is a tag we used for our music since the very beginning days of Rawtek. Levi's dad is a reggae/dancehall DJ, so he grew up listening to that music his whole life. The term LIONSOUND originates from that music. We adopted it to describe our very heavy, raw, and aggressive take on tropical, Caribbean, and Latin sounds. It's stuck with us through the years, and a lot of our fans know exactly what they're going to hear when it comes to that LIONSOUND.
Is that collab with Wuki for the next Wukileaks a done deal? What can you say about it?
We can't say much. We have a collab with Fight Clvb coming out on Wukileaks soon, but our collab with Wuki is still being worked on. We can't wait to finish that one up, because we can guarantee that it's very, very dope.
Anything else coming up you'd like to mention or plug?
Big things are coming for the end of this year and especially 2019—tons of new music we're working on every day to get out into the world. We're currently sitting on some of the best music we've ever produced, and we're so excited to see what's around the corner. HUGE S/O to Insomniac Records for putting us on, and we can't wait for "Fineapple" and "Lips" to drop!
Follow Rawtek on Facebook | Twitter | SoundCloud
Follow Insomniac Records on Facebook | Twitter | SoundCloud
---
Share
---
Tags
---
You might also like