Phlegmatic Dogs Rumble the House With Audiotistic SoCal 2018 Mix
Both 2018 and another amazing edition of Audiotistic SoCal are winding down, and what a year it's been. To celebrate—or perhaps to detonate—2018 (aka the longest year in recorded history but, fortunately, also a pretty great year for for electronic music), we've enlisted the services of bass lords and performers at this year's Audiotistic SoCal, Phlegmatic Dogs, to share an exclusive mix to ring in the new year.
If you're not familiar, Phlegmatic Dogs are a Russian twosome who have been kicking up quite the stink with their particularly dirty spin on bass house, now going on for the better part of a decade. In that time, in addition to a spate of quality productions and remixes, the duo has carved out a niche crafting low-riding, rumbling bangers that the competition are scrambling trying to catch up to.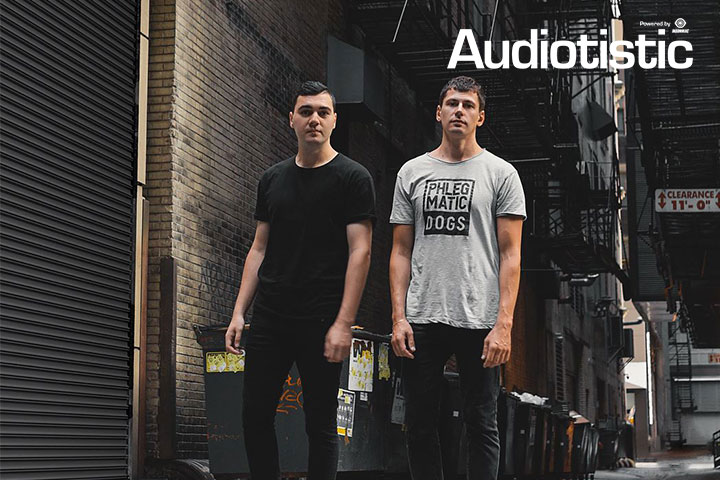 In some ways, their bio tells you all you need to know, but it also raises a thousand new questions: "We are dogz. Two buddies Demian and Slava from Russia, living in Moscow. Live like we want, do what we want. Daily we make hard work—we chase neighbour's cats, steal meat from Mr. Pete's steak shop, warm up in the stranger's entrance hallways, protect our area from other dogs. All the rest of the time, we do bass." It's a head-scratching but concise manifesto. These dudes really like dogs and don't like cats.
The duo have an odd sense of humor, and they make some really banging tunes from their suburban Moscow studio, in between chasing cats and being all-around dog men, whatever that ethos entails.
The story of the duo of Mr. Frenkie (aka Slava) and Dima Demian—two friends and general jokesters—goes back almost a decade now. In 2010, they met when Frenkie was on the road DJing in Demian's hometown. Frenkie was focused on DJing, hip-hop, and making drum & bass; Demian was the house lover. It didn't take long to figure out they had the correct components for a fruitful collaboration.
Forging a fast and tight friendship, it wasn't long before the Dogs started cooking up tracks together of the cleaner, housier variety. "Our first works were very different; we called them 'chicken house.' It was too freaky for the house scene," Demian explained a year ago, "but we were trying to find our shit. It was great to exchange experiences, because we worked in different styles of music."
"From the beginning of our duo, one of us is a house music lover, and another is a bass music maker. We just decided to mix these styles," they recently explained to us. The resulting synthesis is an infectious hybrid with a raw and dirty sound design from their D&B and hip-hop influences, mixed with the smoother and groovier 4/4 format and song structure of house music. It's a chunky, bottom-heavy style with a lot of metallic and plastic-feeling sound design. And they're certainly not shy about sampling. Plus, they have a knack for writing tunes that move bodies on the dancefloor.
Check out the off-kilter square bass skankin' of "Cuatrocats," which features a sample of Jules from Pulp Fiction, asking rhetorically, "In fact, what the fuck am I doing in the back seat?"
Or try "High Volume," which—cribbing a page out of the turntabilism book—samples an old-school "how to set up your stereo" record.
Or their biggest hit, "Keepmastik" (which also makes an appearance in this promo mix), which samples the classic "my gunshots will make you levitate" line from Mobb Deep's "Shook Ones."
You'll notice they're not shy about sampling or throwing everything (including the kitchen sink) into their Pee-wee Herman blender of curiosities. They have shades of Polish duo Catz 'n Dogz and members of the Dirtybird crew and a general sort of fuck-all party vibe.
Bass-loving heavyweight AC Slater, of Night Bass and Trouble & Bass fame, crossed paths with the clean-shaven Russian duo and took them under his wing at Night Bass, where their sound has flourished.
As they've progressed and their international profile risen, Phlegmatic Dogs have received a lot of support in the States, Europe, and other electronic markets but also—more increasingly as of late—in their homeland of Russia, as well.
"As you might know, in Russia, there are more techno and commercial music," they explain, "but we want to be a game changer in our motherland. We became more famous in our country just because we had lots of gigs in America. We enjoy being in places where people enjoy our stuff."
Mr. Frenkie also teaches music production, and the two have cited influences from the worlds of D&B (Dom & Roland, DJ Crush), big beat (Crystal Method and the Chemical Brothers), blog house (Crookers, Switch), and hip-hop (Nas, Rae & Christian).
For this mix, they've put together a selection of prime-time bass house heaters. Night Bass is well represented, with corkers like Phlegmatic Dogs' remix of AC Slater's "Jaws," Volac's "Bass so Low," Flava D's "Pick Pocket," and their own "Keepmastik." You've also got appearances from Bassboy featuring Clarity, Eddie Amador, and Ed Gain.
You'll also catch housey tunes like the Robosonic remix of Eddie Amador's "House Music," a classic from a few years ago that still hasn't outstayed its welcome. Plus, they put a cherry on top: a left-turn closer, the classic 1993 hip-hop jam "6 Millions Ways to Die" by Funkmaster Flex.
The twosome spent much of this year traveling, including this summer's North American NO! Cats tour, an experience they say was "so dope" that they can still "feel the vibes of the dancefloors."
So, get ready to dance out the new year to the dirty, bass-driven sounds of Phlegmatic Dogs if you like your bass house-y or like your house dripped in dirty bass. Either way, we'll catch you on the dancefloor in 2019!
Phlegmatic Dogs Audiotistic SoCal 2018 Mix Track List

Walker & Royce "I.T.B."
Chris Lake & Chris Lorenzo pres. Anti Up "Get That"
AC Slater ft. Acid Mouth "Jaws" (Phlegmatic Dogs Remix)
Paul Sirrell "Now Hear Dis"
Hot 88 "Fire"
Botnek "Can't Remember"
Bleu Clair & Irsan & Devarra "Phone Call"
Marten Hørger & SkiiTour "Redlight"
AC Slater & BIJOU "Louis V"
Aylen "Dope"
Bromley ft. Dread MC "Last One"
Stanton Warriors "Hoping" (Jay Robinson Remix)
Boombox Cartel "NBD" (Phlegmatic Dogs Remix)
Chris Lake & Chris Lorenzo pres. Anti Up "Hey Pablo"
Phlegmatic Dogs "Keepmastik" (Taiki Nulight Remix)
BassBoy ft. Clarity "La La La"
Francois & Louis Benton & Riddim Commission ft. Asha "Only Us"
BassBoy "Bomb the Bass"
Silk ft. Cunning "Rough Tempo"
Flava D "Pick Pocket"
219 Boys "The Freq"
Ed Gain "Something"
ID – ID
Phlegmatic Dogs are playing at Audiotistic SoCal 2018, which takes place Saturday, December 29 at NOS Events Center in San Bernardino, CA. Tickets are on sale now. For more information, visit the official website.
Follow Phlegmatic Dogs on Facebook | Twitter | SoundCloud
Follow Audiotistic on Facebook | Twitter | Instagram

---
Share
---
Tags
---
You might also like