Nitti Gritti Brings on the Booty-Shaking Beats With Crush SoCal 2019 Mix
With Crush swooping into five different regions this year, the chances for you to dive heart-first into those internal-butterfly feels on the dancefloor are higher than ever before. SoCal is currently gearing up for its own iteration of the annual Valentine's Day–themed tryst at the NOS Events Center on Saturday, which is glowing with a diverse lineup from top to bottom. Getter, Showtek, Gammer and Wuki are all being tapped to soundtrack your romantic, platonic or otherwise single-af celebrations—as well as an appearance from genre-blurring party-starter Nitti Gritti. He's ready to get the love-fest buzzing a bit early through a special mix that will offer up a sneak peak into the hard-to-categorize chaos he's going to unleash during his set this weekend.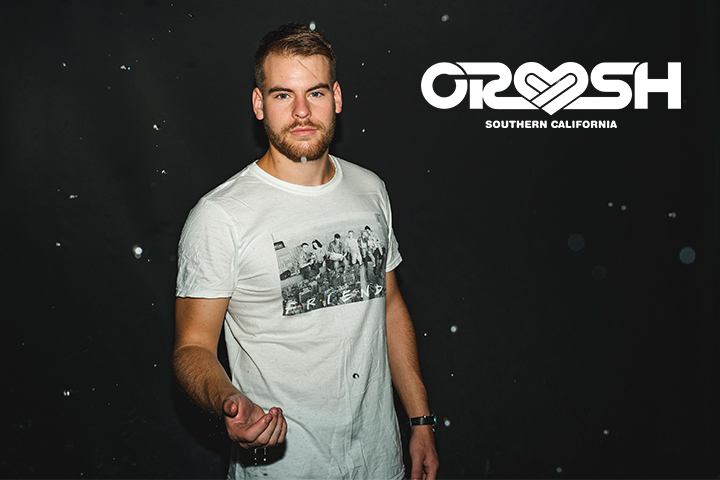 When asked about the approach he took when piecing together his Crush SoCal 2019 mix, Nitti Gritti was keen to keep listeners guessing almost every step of the way. "I just like to make a bunch of really cool edits and mashups," he tells Insomniac. "People expect one thing but then get hit with something completely different."
He accomplishes this feat by dropping in a grip of IDs, private edits, and Frankenstein-style versus tracks, which only goes to show how much thought he puts into the planning process for the mixes he puts out. Most importantly, though, he prefers to keep the execution enjoyable for himself; it's easier for the spectators to pick up on that enthusiasm.
"It's supposed to be fun, and I try and enjoy myself when making a mix, so I know the listener is gonna be excited when they hear the mix."
Fully embracing the ethos of a multidimensional artist, he explores various tempos throughout the 30-minute preview while ripping through neck-breaking bass music, before eventually sprinkling in a healthy dose of house music that doesn't sell you short on the bottom-end.
As he hops between different genres, you'll begin to notice how he makes it a point to include something for almost every type of festivalgoer. Nitti Gritti treats his sets and mixes almost like an open canvas, as a way to appeal to listeners from all walks of life. But it's not just on the decks that he feels the need to keep his sound open-ended.
"The future of my music production will always be creating the best possible song I can—whether that is bass, house, pop, or rock music. It doesn't matter, as long I can make something I love."
"I truly am open to making and releasing almost any style I want. I think I would get bored if I had to make one style of music all the time," he elaborates. Staying true to this motto, he offers a plethora of influences through each live set, various singles, EPs, and even releasing on niche labels that exhibit his drive to tackle as many genres as possible while scoffing at the idea of cornering himself into a specific sound.
"The future of my music production will always be creating the best possible song I can—whether that is bass, house, pop, or rock music. It doesn't matter, as long I can make something I love."
When it comes an artist wanting to connect with fans through their art, it requires much more than just spitting out bangers and hoping they can latch on to what's hiding beneath the surface. Nitti Gritti wants his music to resonate deeply; channeling emotions and building bonds is something he takes seriously in order build a special relationship with his fans.
"I want people who enjoy music to feel happy, sad, inspired, or whatever emotion I was conveying in my music at the time. It's all about having a connection to a song."
If you're keen to the vibes Nitti Gritti brings through this mix, or you're just trying to catch some feelings at Crush, be sure to hit up his back-to-back set with JSTJR at Crush SoCal 2019 this weekend—especially since he promises it will involve "a lot of booty-shaking, shuffling, and head-banging."
Beyond that, be sure to keep it locked on Nitti Gritti, as he's promising to bring a ton of music to his loyal fans in 2019!
Nitti Gritti Crush SoCal 2019 Mix Track List

Kendrick Lamar vs. Adair "Triflin in the Back Seat" (Nitti Gritti Edit)
Shek Wes "Mo Bamba" vs. Kaaris x Mr Carmack "Chargé" (Boombox Cartel Remix)
Tascione "Stuntin"
Nitti Gritti "Crack"
DJ Diesel & Nitti Gritti "Takin Over"
Knife Party vs. Jauz vs. Warface "Hardstyle Police" (Nitti Gritti Edit)
Virtual Riot "One Two"
Svdden Death & Yakz "Rock Like This" (LAXX Remix)
Migos vs. Nitti Gritti "Bouji Chicken Rollercoaster"
Nitti Gritti – ID (First Drop)
Boombox Cartel "NBD"
Nitti Gritti – ID (Second Drop)
French Montana "No Stylist"
Excision vs. Yookie "Dimension Hood" (Nitti Gritti Edit)
Nitti Gritti & Tynvn "Holy"
Trampa ft. Rico Act "Ceremony"
Nitti Gritti "Numb"
Nitti Gritti – ID
Nitti Gritti "My Music"
Nitti Gritti & Shndo "4 on the Floor"
Hi-LO vs. Godamn & Crossnaders "I Love Renegade Girls"
Stoltenhoff & Juten Sebulba "Flute"
GTA &Hendrix & Digital Lab "Hit It!" (Nitti Gritti Remix)
Sister Sledge vs. Martin Solveig vs. deadmau5 "Family Chords"
Nitti Gritti "Fear"
Nitti Gritti & Shndo "Monsta"
Nitti Gritti is playing at Crush SoCal, which takes place Saturday, February 15, at the NOS Events Center. Tickets are on sale now.
Follow Nitti Gritti on Facebook | Twitter | SoundCloud
---
Share
---
Tags
---
You might also like