'Night Owl Radio' 126 ft. Fisher and Paul Woolford
We've got a tasty episode coming in fresh off the stove. Pasquale butters up the airwaves and applies a little heat to whip up a show guaranteed to have your Friday poppin' all the way off. He tosses in everything from roof-ripping techno to mind-grinding bass, filling up more than an hour's worth of truly satisfying selections. Once he is finished feeding us the good stuff, he hands it over to two guests from the EDC Mexico lineup.
Fisher has been buzzing like crazy, after putting out one of the hugest records on Dirtybird last year (you've probably heard "Ya Kidding" getting rinsed more than your favorite shirt). He's also one half of Cut Snake, which means the guy has heaps of fat tracks in his back pocket. The Aussie madman gives the Up All Night spot a proper run by reeling in three legit picks to get you going.
A true steward of the underground, Paul Woolford puts his hands to work and turns in a guest mix that couldn't be any more rave-ready. Between his main alias and his Special Request side project, the UK producer has a wealth of low-key cuts to choose from. He tunnels straight through, and the result feels awfully similar to partying your brains out at a top-secret warehouse location.
Night Owl Radio is available via iTunes, so get to subscribing on your iOS devices.
'Night Owl Radio' 126 Mix Track List:

Calippo "Down With You"
Klangkuenstler "The People"
Darius Syrossian "Moxy"
Holmes John "Superdope"
Tommy Bones "So Nervous"
Pirupa "Wazzup"
Bass Moi "Capture"
Inpetto "G-String"
Jerome Hill "Back & Forth"
LA Riots "This Feeling"
Pirupa "Bad Boys"
Slatin ft. Brett Hartt "Spritzer"
Klangkuenstler "It's the Inside"

Up All Night With Fisher

Mark Jenkyns ft. Mizbee "Sirens"
Thick Dick "Welcome to the Jungle" (Andrea Oliva Extended Remix)
Bontan "The First Time"
Kayoh "Dark Room Destroyer"
Nitti Gritti ft. Mike Dogg "Funky Business"

Paul Woolford Guest Mix

Hardrive "Deep Inside"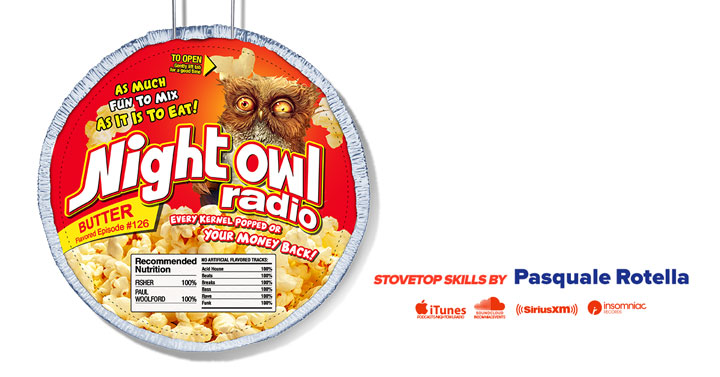 ---
Share
---
Tags
---
You might also like