'Night Owl Radio' 375 ft. Escape Halloween 2022 Mega-Mix
This week is the Escape 2022 Mega Mix!
Night Owl Radio is available via iTunes, so get to subscribing on your iOS devices.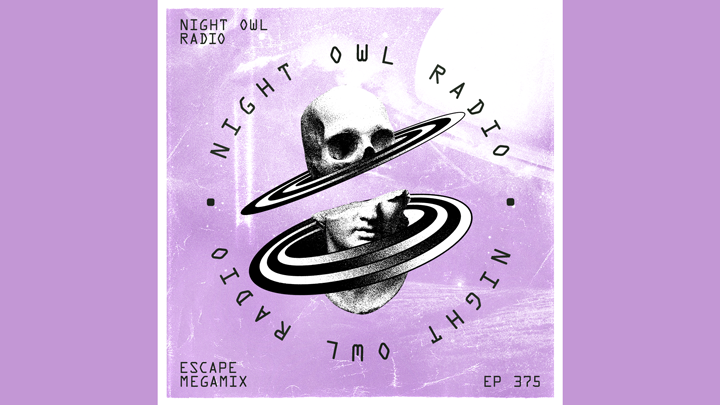 'Night Owl Radio' 375

MEDUZA & Vintage Culture ft. Ben Samama "Under Pressure"
Oliver Heldens ft. Nile Rodgers & House Gospel Choir "I Was Made for Lovin' You"
Ben Klock "Subzero"
HoneyLuv "Your Tongue"
Wax Motif "Bump Bump Bump"
SAYMYNITTI "BING BONG!"
Valentino Khan "Pony"
Florian Picasso "The Tide"
KLOUD "INFECTED"
Tiësto & Deorro "Savage"
Eric Prydz "Pjanoo"
Anyma, Chris Avantgarde "Consciousness" (Eric Prydz Remix)
J. Worra ft. Nathan Nicholson "Lightning to Strike"
Cloonee "MOFO"
KILL SCRIPT "DEGRADE REFLECTION"
Diplo & Wax Motif "Love to the World"
Alesso ft. TINI "Sad Song" (Alesso Remix)
Blossom "Super Bad"
Martin Garrix ft. Bono & The Edge "We Are the People" (Martin Garrix Remix)
Miane "Broken"
SIDEPIECE "Just a SIDEPIECE"
Tiësto & Black Eyed Peas "Pump It Louder"
BIJOU, Marten Hørger "I Know"
HI-LO & Eli Brown "Industria"
ANNA "Impression"
Nina Kraviz "Skyscrapers" (HI-LO Remix)
Anfisa Letyago "Rosso Profondo"
Deborah De Luca & Robert Miles "Children"
Black Tiger Sex Machine & YOOKiE "Deathstalker"
Zingara "Tell Me"
Jkyl & Hyde x Shiverz "Shell Tha Place"
Subtronics ft. Nevve "Space Time"
Moore Kismet "Wasteland"
Lucii "Vibe"
Said the Sky ft. Kwesi "All I Got"
NURKO ft. Dayce Williams "Eternity"
Wooli & Calcium "Restraint"
Virtual Riot & Modestep ft. FRANK ZUMMO "This Could Be Us"
Getter "Inhalant Abuse"
Eptic "No Mercy"
FrostTop "ASTER"
Marshmello "Alone"
Flosstradamus x GTA ft. Lil Jon "Prison Riot"
Kayzo "NEW BREED"
Kayzo "NEW BREED" (SOREN Remix)
Warface "OOH LALA"
Da Tweekaz "Escape"
Sub Zero Project "Trip to Mars" (Astronaut)
D-Sturb & Sound Rush "Embracing the Madness"
Radical Redemption "Contaminated Children"
Kayzo "Welcome to the Doghouse" (SOREN Remix)
Kreation "REM"
Ben Nicky & Callum Higby "The Donk"
Lucky Rabbit "Grow"
Pauline Herr "Obsession"
The Prototypes "Interaction" (DnB VIP)
Skellytn & Doctor Werewolf ft. Richie Loop "Empty the Clip"
Somnium Sound x DRAKK "Decimate"
DJ AniMe & Mad Dog "Come Get Some"
Bob Moses "Never Ending"
Vintage Culture & Goodboys "This Feeling"
Diplo & Miguel "Don't Forget My Love"
Subscribe to the Insomniac Events YouTube channel now.
Escape Halloween 2022 takes place Halloween weekend, Friday, October 28, and Saturday, October 29, at NOS Events Center in San Bernardino, CA. More info here.
Follow Escape: Psycho Circus on Facebook | Twitter | Instagram | TikTok
---
Share
---
Tags
---
You might also like