'Night Owl Radio' 186 ft. Beyond Wonderland SoCal 2019 Mega-Mix
Next weekend is closing in on us faster than you might realize, so hopefully you're not sleeping on locking down your plans to be there when the good vibes start flowing at the next installment of Beyond Wonderland SoCal. The lineup itself should be reason enough to throw on your freshest festival threads and see where the party takes you on Friday and Saturday.
Whether you've already secured a pass or need some extra convincing, Pasquale has just the thing to put you on your way. For this week's episode, he has thrown together a two-hour mega-mix that's rammed from start to finish with crucial cuts from the artists that will be shelling out the goods once Beyond kicks off.
Night Owl Radio is available via iTunes, so get to subscribing on your iOS devices.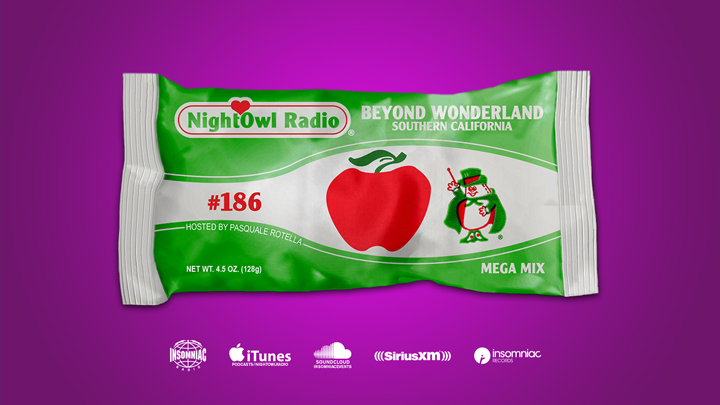 'Night Owl Radio' 186 Track List

deadmau5 "Strobe" (ATTLAS Remix)
J. Worra ft. Dances With White Girls "Modern Medicine"
LNY TNZ ft. Jantine "Set You Free" (Moksi Remix)
Sage Armstrong & BOT "She Smokin"
Jay Robinson "Nineteen81"
Jay Robinson & JM "Hussle"
Dombresky & Noizu "Rave Alarm"
Noizu "Lasers"
Hook N Sling "Turning Me On"
JOYRYDE "Hot Drum"
Habstrakt "Darkness"
Habstrakt "All Night"
JOYRYDE "I'm Gone"
Bijou "Smack"
Galantis ft. OneRepublic "Bones" (Hook N Sling Remix)
AC Slater & Chris Lorenzo "Fly Kicks" (Wax Motif Remix)
i_o & Tommy Trash ft. Daisy Guttridge "Let Me Go"
Feed Me "Sleepless"
Dimitri Vegas & Like Mike, Armin van Buuren, W&W "Repeat After Me"
Deorro, MAKJ, Max Styler "Bring It Back"
Rawtek & Juyen Sebulba "Lips"
Wax Motif ft. Dances With White Girls "Bunda"
Fatum & Declan James "Weapon"
Rawtek & Herve Pagez "Fineapple"
Dubloadz "Nitro"
Say My Name "Bounce"
Bijou "Assassin"
Fatum "Violet"
NWYR & Andrew Rayel "The Melody"
Andrew Rayel & David Gravell "Trance Reborn"
Cold Blue "Ocean in Time"
Cold Blue "Nevada"
Aly & Fila "Beyond the Lights"
Liquid Soul & Zyce ft. Solar Kid "I See You"
Timmy Trumpet & The Golden Army "Mufasa"
Seven Lions & Blastoyz ft. Fiora "After Dark"
Sheck Wes & Crankdat "Mo Bamba" (Moksi Switch Up)
Gucci Mane ft. Drake "Both" (Yehme2 Remix)
Yehme2 & Ricky Remedy "H.I.T.P."
Rusko "Squirrel Beta"
Dubloadz & Yakz "Ghost Vomit"
Benda "Funeral Service"
BadKlaat "Knuckle Sandwich"
Rusko, Dangerous, Fraksure & Simskai "Walalangleng"
Flux Pavilion & NGHTMRE ft. Jamie Lewis "Feel Your Love"
BadKlaat "Campers"
Dubloadz & Virtual Riot "Don't Get Spooked"
Flux Pavilion & Matthew Koma "Emotional"
Said the Sky & Kwesi "All I Got"
Seven Lions, SLANDER & Dabin ft. Dylan Matthew "First Time"
SAYMYNAME "Burn"
DJ Isaac "Bitches"
DJ Paul Elstak, Dr Phunk, Jebroer "Engeltje"
Beyond Wonderland SoCal 2019 takes place Friday, March 22, and Saturday, March 23, at NOS Events Center in Southern California. Tickets are on sale now. For more information, visit the official website.
Follow Beyond Wonderland SoCal on Facebook | Twitter | Instagram
---
Share
---
Tags
---
You might also like