'Night Owl Radio' 341 ft. Beyond Wonderland SoCal 2022 Mega-Mix
This week is the Beyond Wonderland SoCal 2022 mega-mix.
Night Owl Radio is available via iTunes, so get to subscribing on your iOS devices.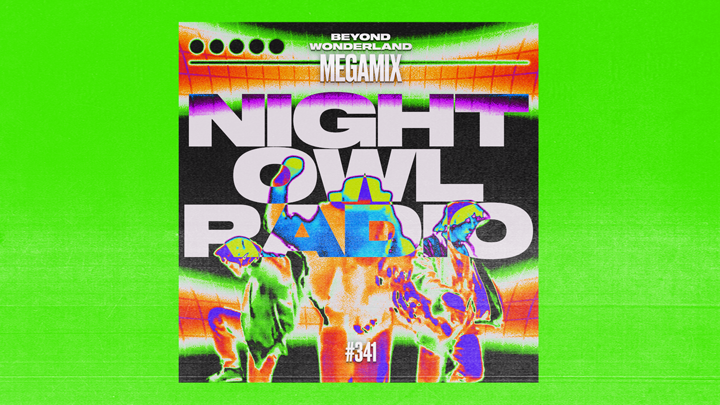 'Night Owl Radio' 341 Track List

Above & Beyond "Screwdriver"
Spencer Brown & Ratio "ID v14"
Biscits "Locco"
J. Worra "Love Boy"
Matroda "Gotta Let You Go"
Timmy Trumpet ft. Lovespeake "Another Level"
HoneyLuv "Your Tongue"
Len Faki & Regal "The End"
Alan Fitzpatrick & Lawrence Hart "Warning Signs"
Todd Terry "Keep on Jumpin'"
Capozzi "Thunder"
Gem & Tauri ft. Fiora "All You Need"
Jauz x Netsky "Higher"
Valentino Khan x Nitti Gritti "Your Body"|
Zeds Dead & MKLA "Alive"
Qrion "Your Love" (Jordin Post & Qrion Mix)
Benny Benassi ft. Ne-Yo "Let Me Go"
Jauz "Bring Et"
Vintage Culture & James Hype "You Give Me a Feeling"
Roger Sanchez "Another Chance"
ALPHA 9 "All We Need"
Marsh "Heaven"
JOYRYDE "MADDEN"
Steve Aoki & DJ Diesel "Welcome to the Playhouse"
Martin Ikin & Biscits ft. Anelisa Lamola "Ready 2 Dance"
Ship Wrek & MKLA "Show Me a Sign"
Juelz "Inferno"
Disclosure & Zedd "You've Got to Let Go If You Want to Be Free"
Pretty Pink "Awake"
Blossom "Super Bad"
Patrick Topping "Lift Off"
Lauren Mia "Lolo Graziano"
Topic, Robin Schulz, Nico Santos & Paul van Dyk "In Your Arms"
Shiba San "All the People"
Kevin Saunderson & KiNK "Idyllic"
Drezo "Heaven"
HI-LO x Reinier Zonneveld "String Theory"
Tokyo Machine "FLY"
Taylor Torrence "Sapphire"
Tinlicker "Healing Forest"
Elevven "One Last Time"
Chris Lorenzo ft. High Jinx "California Dreamin'"
John O' Callaghan ft. Sarah Howells "Find Yourself"
Giuseppe Ottaviani "Explorer"
Blastoyz, Vini Vici & Jean Marie "Gaia"
4B & Teez "Whistle"
SIPPY "Going Insane"
Calcium "Deep Streets"
Zomboy "Valley of Violence"
Kompany "Stomp"
Au5 & Prismatic "Devastate"
Coone "Wanna Play House"
PhaseOne "Decimate"
DJ Snake "Trust Nobody"
Barely Alive "Weeble Wobble VIP"
OG Nixin "Thug Na$ty"
Kai Wachi "Sin"
Nurko & Crystal Skies ft. KnownAsNat "Lost Without You"
STAR SEED & Tsu Nami "Ultraviolet"
Jessica Audiffred "Nindo"
Sub Zero Project "Fly With Me"
NTXC "WTF!"
Lady Faith "Believe"
Ben Nicky & Callum Higby "The Donk"
SOREN "Rave Music"
k?d "Return to Nothingness"
MitiS ft. SOUNDR "Homesick"
Sootheslayer & Follow the Sun "Nova"
DJ Mad Dog & AniMe "Come Get Some"
Seven Lions & Andrew Bayer ft. Alison May "Returning to You"
Highlnd ft. Misdom "Colors"
Subscribe to the Insomniac Events YouTube channel now.
Beyond Wonderland SoCal 2021 takes place Friday, August 27, and Saturday, August 28, at NOS Events Center in Southern California. Tickets are on sale now. For more information, visit the official website.
Follow Beyond Wonderland SoCal on Facebook | Tw7itter | Instagram
---
Share
---
Tags
---
You might also like