'Night Owl Radio' 185 ft. Timmy Trumpet and 12th Planet
Before the weekend officially sets in, Pasquale wants to make sure you get locked into party mode properly with a few of the serious jams he came across throughout the week. The vibes are on point, per usual, and he lays them on thick with picks pulled from a great deal of different genres, including a brain-rattling drum & bass section at the tail end of the episode.
Showing up to take the energy to extreme heights this week, we have the horn-tooting Aussie talent who goes by the name of Timmy Trumpet. The live instrumentalist has been shaking up the festival circuit, blowing the lid off of dancefloors with his on-the-spot brass skills. Beyond Wonderland SoCal will get a front-row seat to see how he gets down in a couple of weeks, and his Up All Night picks offer a quick preview of the bombast he will be huffing and puffing into the crowd.
Storming out with a slimy guest mix appearance is the dubstep don himself, 12th Planet. The L.A.-repping producer has been dragging the dancefloor through his stanky low-end state by state as part of his three-month Swamplex Tour, which came about after he unloaded the Swamplex Terrestrial EP on Disciple Records. He's about to bog down his hometown in the thick of it next weekend with a stop at Academy in Hollywood. The 30-minute mix he's kicked down for the occasion is a nice way for you to get acclimated before it happens.
To wrap up the show, Pasquale pays his respects to one of dance music's most iconic frontmen, Keith Flint, of the Prodigy fame, whom the world tragically lost this past week. His legacy lives on, of course, and he's honored through a mini-mix tribute that rolls through the act's greatest hits.
Night Owl Radio is available via iTunes, so get to subscribing on your iOS devices.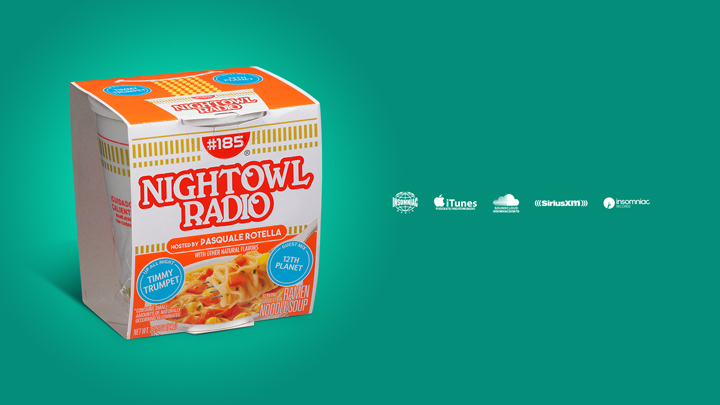 'Night Owl Radio' 185 Track List

Soul Divide "It's Time for House"
Honey & Badger "Zodiak"
Lupe Fuentes ft. Dances With White Girls "No Rules"
Tony Romera & Dustycloud "Fantasy"
Hidden Face "Heartbreak"
Henry St. Social "Acid Love"
Sammy Legs "The Chugger"
Yotto "Walls" (Joris Voorn Remix)
MASTERIA "Lose Control"
Aylen "Bring It"
Jay Robinson "Nineteen81"
Golf Clap "Demo Tapes"
Matroda ft. BRUX "True G"
Vol2Cat "You Don't Know"
Genix "UR1"

Timmy Trumpet – Up All Night
W&W x Armin van Buuren "Ready to Rave"
Alok & Timmy Trumpet "Metaphor"
Marshmello ft. Khalid "Silence" (Illenium Remix)

Danny Byrd ft. Hannah Symons "Starting It Over" (Turno Remix)
Critical Impact ft. Skibadee "Bulletproof Vest"
Circuits "Euphoria Part 1"

12th Planet Guest Mix

The Prodigy Mini-Mix Tribute
Follow Timmy Trumpet on Facebook | Twitter | SoundCloud
Follow 12th Planet on Facebook | Twitter | SoundCloud
---
Share
---
Tags
---
You might also like